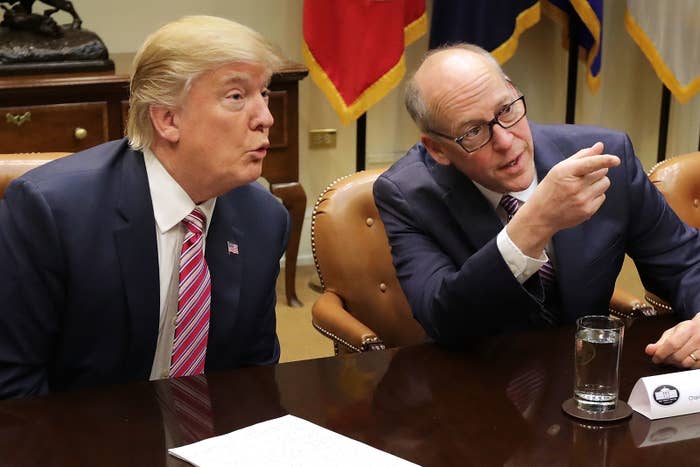 WASHINGTON — The Republican bill to repeal Obamacare is dead. Long live the Republican bill to repeal Obamacare.
House Republicans insisted Tuesday they are still working on an imminent plan to reform the country's health system just days after their American Health Care Act failed to muster enough support to pass a planned vote last Friday.
Republican leadership ultimately admitted defeat and shelved that vote. Energy and Commerce Committee chairman Greg Walden declared the bill dead. But on Tuesday he was more optimistic.
"You know, we're approaching the Easter season. Some things rise from the dead," Walden told reporters.
While the House is turning to other legislative priorities — most imminently a funding bill to keep the government open — several House members said Tuesday they are trying a new approach to get health care done.
"To my Democrat colleagues who were celebrating Friday's action, I think their celebration is premature," said Republican whip Steve Scalise.
"I think we're closer today to repealing Obamacare than we've ever been before, and surely even closer than we were Friday. So we're going to keep working."
Congress must pass a bill by the end of April to keep the government funded and that debate promises to be contentious on its own. There are also other major priorities pushing for front-burner attention, such as tax reform. The Trump Administration has been non-committal about when and if they'll continue to pursue Obamacare repeal.
"Have we had some discussions and listened to ideas? Yes. Are we actively planning an immediate strategy? Not at this time," said press secretary Sean Spicer on Tuesday.

The conservative Freedom Caucus has taken the brunt of the public blame for the failure of the AHCA. They overwhelmingly opposed the bill, though they were not alone.
On Tuesday, several Freedom Caucus members insisted that they are keeping the movement to repeal Obamacare alive. Rep. David Brat said they have reached out to several members of the moderate Tuesday Group and are trying to set up a full meeting.
The Freedom Caucus and Tuesday Group pulled the AHCA negotiations in opposite directions in recent weeks, and Republican leadership ultimately couldn't win over either contingent.
Brat said one problem with AHCA negotiations were that they in part done through the media. He said that by getting disparate Republican factions together in person they can work towards a successful compromise.
Several other Freedom Caucus members repeated this message, saying that it would be a mistake to write the AHCA off as dead and gone.
But in the Senate there was no such hesitation. Senate Majority Leader Mitch McConnell was blunt when asked about the fate of health care reform.
"It's pretty obvious we were not able, in the House, to pass a replacement," said McConnell.
"Our Democratic friends ought to be pretty happy about that because we have the existing law in place and I think we're just going to have to see how that works out."