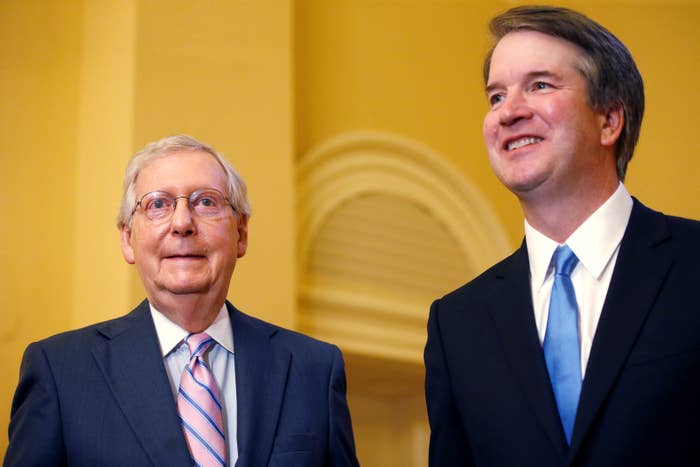 WASHINGTON — Senate Republicans are already laying the groundwork to confirm Brett Kavanaugh to the Supreme Court by early next week, even though neither of the two women who have made allegations against him have yet testified before Congress.
Senate Majority Leader Mitch McConnell told Republican senators Tuesday to prepare to stay in DC throughout the weekend, which would fast-track the final vote on a once-safe nomination that has been blown off the rails in recent weeks by daily stories about Kavanaugh's past.
Moving up the vote would also help Republicans in the event Kavanaugh's nomination gets voted down, by giving them more time to nominate and confirm a replacement before the midterm elections in November.
The Senate Judiciary Committee is scheduled to question both Kavanaugh and Christine Blasey Ford, the woman who alleges he sexually assaulted her when they were in high school, on Thursday.
Several Republican senators said Tuesday they have been told to be available through the weekend for possible votes on Kavanaugh's nomination. If the committee votes Friday and the Senate stays in DC, a final confirmation vote could take place as early as next Tuesday.
Sen. Chuck Grassley, who chairs the Judiciary Committee, tweeted Tuesday that he had set up a "potential" meeting for Friday, in which they could vote on Kavanaugh's nomination "if we're ready to vote." The nomination would then head to the full Senate.
"I think it's going to be pretty hard to move this along without having votes on, certainly Friday and Saturday," said Republican Sen. Orrin Hatch, a member of the Judiciary Committee, who said he expects the Senate to be in session through the weekend.

McConnell has not said publicly that he is targeting Tuesday, but both parties are looking to next week. McConnell has said repeatedly in recent days that Kavanaugh will be confirmed. He told supporters Friday that Republicans would "plow right through" and put Kavanaugh on the court.
"We have set for ourselves at least on the Republican side October 1, and October 1 is the date for the new term of the Supreme Court. I don't know if we will make it but I hope we will get close to it," said Republican Sen. John Kennedy.
While Democratic senators are expected to question Ford and Kavanaugh directly, Republicans are bringing in a woman lawyer to do their questioning instead of the 11 male GOP members who sit on the committee. Grassley has not identified the lawyer and said her identity will likely not be known until the day of the hearings.
"We have done it because we want to de-politicize the whole process like the Democrats politicized the Anita Hill thing. The whole purpose is to create an environment where it's what Dr. Ford has asked for, that it be professional and not be a circus," said Grassley.
Certain details of the hearing, such as how much time senators will have to question Ford and Kavanaugh, remain unsettled.
There is currently no plan for the committee to hear from Deborah Ramirez, a Yale classmate of Kavanaugh's who told the New Yorker he exposed himself to her at a party. Several Republican senators said this week they were not concerned about voting on Kavanaugh without hearing from Ramirez first.
"I felt more strongly about the first accuser [Ford], for her to be heard. But the second one, I don't know, it just seemed a lot looser and the people who were supposedly there didn't remember," said Republican Sen. Bob Corker.
Ramirez, Ford, and Democrats have all called for the FBI to investigate the Kavanaugh allegations. But that appears to be going nowhere. Grassley instead opted to have committee staff interview witnesses via phone. While Democrats have pushed for calling those witnesses to testify under oath, Grassley's office rebutted this by saying it would still be a crime to have lied to committee staffers.
UPDATE
This story was updated to include Sen. Chuck Grassley's statement that he had set up a potential committee meeting to vote on Kavanaugh's nomination for Friday.