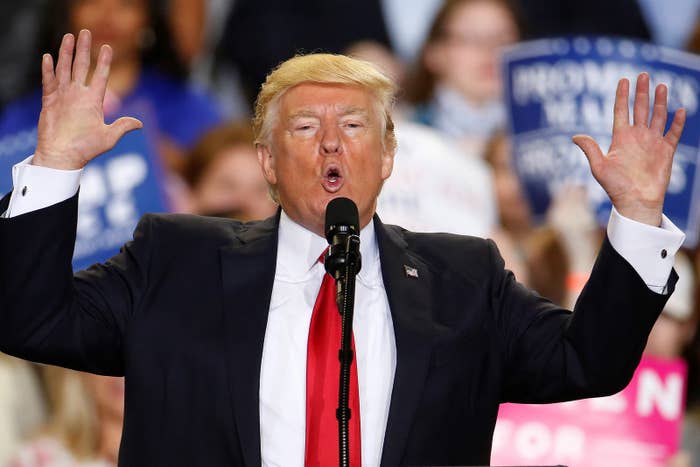 After being shaken down by Democrats on a budget bill, Republicans are pushing hard to start repealing and replacing Obamacare this week, a move that would both save face and serve as the signature accomplishment of the young Trump presidency.
But they remain, as ever, a few votes short and could head home for another week off on Thursday night with nothing to show for it.
Republicans badly need a major accomplishment to point to after the Democrats' surprisingly thorough victory on the new spending bill to keep the government running until September. Democrats got their way on budget cuts, science funding, denying money for a Mexican border wall and protecting funds for Planned Parenthood and sanctuary cities. The agreement was seen as so lopsided that President Trump took to Twitter to defend it, blaming the deal on Senate rules.
Entering this week, Republicans were confidently declaring they either had or were about to have the votes in place for their American Health Care Act instead, assuring members that they'd get what they want there, at least.
That Utah Rep. Jason Chaffetz, a yes vote, was heading back to Congress early after a foot surgery seemed to indicate that they were close. "It's a handful of votes to get us over the finish line," Rep. Chris Collins said late last week.
Instead, that momentum hit a wall. Rep. Billy Long, a former yes vote, came out against the AHCA Monday. He was followed by Rep. Fred Upton, another moderate, on Tuesday. A group of mostly moderate Republicans are refusing to support the bill and none have publicly switched from a no vote to a yes this week.
A senior GOP aide confirmed Monday they are still short of the needed votes. In fact, since the hardline conservative Freedom Caucus who helped defeat the last version of the health care bill endorsed the amended AHCA last week, no new Republicans have gotten on board. Instead, several moderates changed their position from yes to no or undecided.
There are a variety of reasons for the opposition, including $880 billion in cuts to Medicare. But the largest sticking point is that the AHCA would gut Obamacare's protections for the roughly one-in-four Americans with pre-existing health conditions. While insurance companies would still be required to cover them, the bill would allow states to waive the rules requiring insurance companies to charge those with pre-existing conditions the same rates as healthy people.
The bill addresses the needs of those with pre-existing conditions by requiring states that waive protections to invest in high-risk pools that will cover more expensive patients. But when used in the past at the state level, these pools tended to be underfunded and provided more limited coverage and sometimes inferior care.
Republicans now find themselves empty handed on some key issues despite controlling both chambers of Congress and the White House. Stripping federal funds from Planned Parenthood and giving that money to local health centers, a major priority for some conservative Republicans, was kept out of the budget bill on the promise that it would be passed through the AHCA. If the AHCA doesn't pass, those members will get nothing.
Republican Study Committee Chair Rep. Mark Walker said that some of the GOP base will not be happy if that plays out.
"After this was made a big deal that we would take that money, not take it off but redirect that money to community health centers, I believe people expected us to do exactly that," he said.
One frustration for Republicans, said Walker, is that the health debate has now dragged on so long that it's conflicting with other priorities like tax reform.
Meanwhile, conservatives are not being shy about their disappointment with the budget bill. Practically all of Trump's promises failed to materialize. Trump wanted billions of dollars for a border wall; he got less than half of that request for border security, not a wall — and with conditions attached. Trump wanted to cut the Environmental Protection Agency by one-third; he got a cut of 1%. Trump wanted a massive increase in defense spending; he got a modest one. He wanted to cut funding from sanctuary cities; he didn't get it.
"There's just a lot of areas where it doesn't necessarily advance the president's agenda, in spite of what [OMB] Director [Mick] Mulvaney has said," Freedom Caucus chairman Mark Meadows said. "I think it'll be 180 Democrats and 60-80 Republicans [who vote yes]. And it'll pass without conservatives."
Trump is now implying he will let the government shut down before signing a similar deal in the fall.
House Republicans will huddle on Thursday to see if they can find a way to push the AHCA over the edge. But with the House taking next week off, and other priorities pushing for attention, the odds grow longer every day.

If Republicans fail to work some last-minute magic on the AHCA, that leaves President Trump in the uncomfortable spot: just more than 100 days into his presidency, the most substantial piece of legislation he will have signed is a funding bill that could have been drafted under a Democratic president.