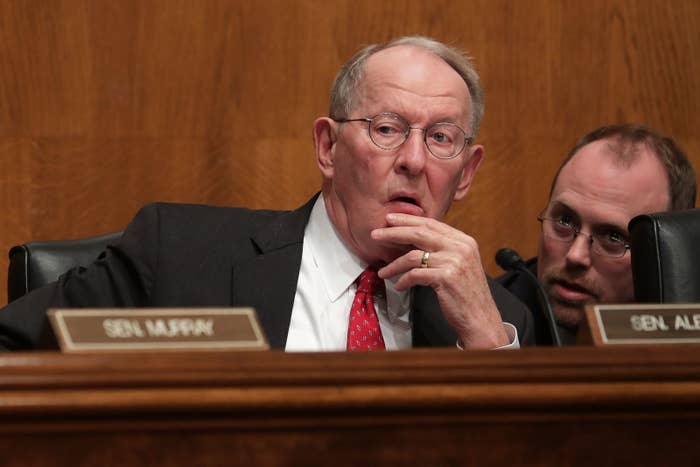 WASHINGTON — Republicans will have to prop up Obamacare by adopting policies they once railed against, the chairman of the Senate's health committee said Wednesday.

While Republicans still plan to repeal the Affordable Care Act, Sen. Lamar Alexander said they will have to adopt some Obama administration policies to keep marketplaces stable until that can happen.
"Republicans are going to have to do some things that we may not normally do like cost-sharing or reinsurance," Alexander said, referring to two Obamacare policies designed to help reduce the cost of healthcare.
"We may not like those things, but we may have to do those things for the next two-to-three years to make sure people can buy insurance."
Alexander was speaking after a committee meeting, in which several witnesses warned of a March deadline to give insurance companies some sense stability to prevent the marketplaces from going into turmoil.
With insurers needing to begin their regulatory filings for 2018 this May, witnesses said companies will need a signal from Congress on what the health care system will look like over the next few years.

Alexander asked how crucial the cost-sharing and reinsurance programs, introduced by the Obama administration and opposed by Republicans, are to maintaining that stability.
"I think they're critical. They are required," said Marilyn Tavenner, CEO of America's Health Insurance Plans, the largest insurance lobby group..
Tavenner, who is also the former Administrator of the Centers for Medicare and Medicaid Services, said that without thosee programs more insurance companies will pull out of state marketplaces in 2018, while those that remain will jack up their premiums.
National Association of Health Underwriters CEO Janet Trautwein and Tennessee Department of Commerce and Insurance Commissioner Julie McPeak agreed that the markets will be thrown into turmoil if they are not given some guarantees by March.
Congressional Republicans and Democrats are unlikely to agree to an Obamacare replacement plan that quickly. Former Kentucky governor Steve Beshear, a Democrat, warned the committee that beginning repeal without a replacement plan is a matter of life and death.
"I promise you this, if you rush to repeal [without a comprehensive replacement plan] you will throw the market into chaos, you will hurt American families, and some of those folks are going to die," said Beshear.
Cost-sharing is a subsidy to help lower out-of-pocket costs for people in the individual insurance market. Republicans have denounced the subsidy for years, and even sued the Obama administration over it, but millions of people use the subsidy, especially in states won by President Donald Trump.
Reinsurance is essentially an insurance program for insurance companies, mitigating the risk of insuring more high-cost patients. It expired at the end of 2016. To this day Republicans angrily denounce it as a bailout to the insurance industry. But the program's expiration could be a contributing factor to rising premiums.
Much of the committee meeting consisted of Democrats accusing Republicans of undermining the Affordable Care Act, while Republicans described the law alternately as a collapsing bridge and burning building.
But Sen. Alexander said both sides will likely need to swallow their pride and work together to iron out a solution by March.
"If we do some things we normally don't like to do and Democrats do some things they normally don't, maybe we can take a step to ending the Hatfields vs. McCoy's six-years argument we've had," he said.