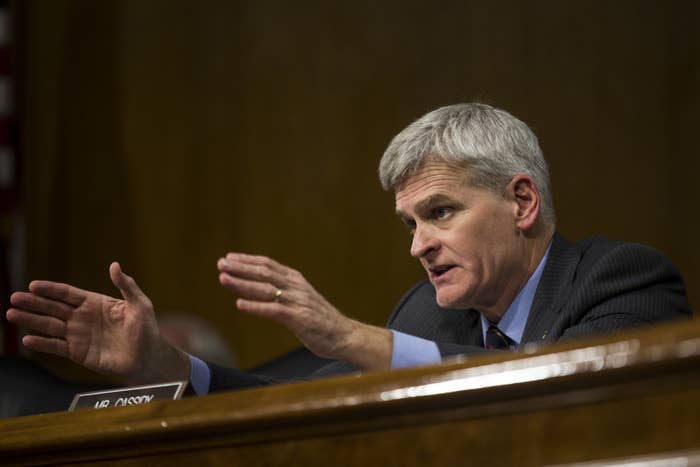 Senate Republicans are considering bringing back pre-existing condition protections in their health plan and appear to have won over a key swing vote.

Pre-existing conditions were at the heart of a heavily controversial compromise that allowed the AHCA to pass through the House of Representatives. The bill, under an amendment sponsored by Rep. Tom MacArthur, allows states to waive Obamacare rules that ban insurance companies from charging higher premiums to people with pre-existing health conditions.
That won over a block of hardline conservative votes but led to an ugly Congressional Budget Office report that found that sick Americans would pay drastically higher costs. While House Republicans protested that high-risk pools would cover sick people priced out of the insurance market, the CBO report raised a lot of eyebrows among Senate Republicans.
Emerging from a closed-door meeting in which Senate Majority Leader Mitch McConnell gave a PowerPoint presentation outlining some broad planks for a potential Senate health care bill, Louisiana Senator Bill Cassidy indicated that the pre-existing condition waivers are on their way out. Other senators declined, however, to explicitly address the waivers, as the Senate bill is being written.
Cassidy, one of the most vocal Republican critics of the American Health Care Act, publicly endorsed the Senate's still-in-development health plan for the first time Tuesday.
Cassidy has been pushing his own alternative health care bill that would let states choose to keep major swaths of the Obamacare system in place and had criticized the House's changes to pre-existing conditions protections.
But Cassidy said a simple "yes" when asked if he could see himself voting for the still-in-the-works Senate plan on Tuesday, and said it passes the "Jimmy Kimmel test" — that no one is denied coverage just because of a pre-existing condition.
Asked what brought him around to supporting the plan, Cassidy said "it is very cognizant of pre-existing conditions, which is a good thing."
Cassidy would be a huge get for Republicans, who can only lose two of 52 votes to pass a bill under the Senate's budget reconciliation process. But it's still far from a guarantee that they will have the votes they need. And even then, they'll have to settle their differences with the House.
Sens. Susan Collins of Maine and Lisa Murkowski of Alaska are believed to have significant objections to the bill, including the plan to rollback Obamacare's expansion of Medicaid eligibility. West Virginia Sen. Shelley Moore Capito, who has 180,500 constituents that gained health insurance from the Medicaid expansion, could also be a holdout.
On the other end, senators like Rand Paul, Ted Cruz and Mike Lee are potential holdouts if the bill does not go far enough. In particular, Paul has objected to the congressional and White House plan to provide citizens with tax credits to help pay for insurance. He sees this as a new entitlement program that is outside of the role of the federal government.
"He's irretrievably gone. He's not going to vote for any bill that has refundable tax credits to help low-income people buy health care," South Carolina Sen. Lindsey Graham said of Paul. "We're stuck. We can't get there [50 votes] from here. I'm very leery of a health care bill passing the Senate that can get through the House."
Senators are making changes to the AHCA's tax credits to tie them to income. The House version bases its payments solely on age, ranging from $2,000 per year for a 20-year-old to $4,000 per year for a 60-year-old.
The Senate bill is also expected to take a slower approach to rolling back the Medicaid expansion. Several senators have spoken of having a "softer landing period" than the House bill, which rolls back the eligibility criteria starting in 2020. At that point the expanded population (making between 100% and 138% of the poverty level) would be grandfathered forward but kicked off Medicaid rolls once they rise above that income line.
The Senate bill is expected to add a few more years to that deadline, though this is far from unanimous and some Republicans think the rollback should happen immediately. The issue splits the 20 Republican senators who come from states that expanded Medicaid and the 32 that do not.
Even then, the lines are not always clear. Over 400,000 Louisiana residents gained access to health care through the Medicaid expansion, but Louisiana Sen. John Kennedy said Tuesday that costs are growing out of control and adding more money to Medicaid is "like adding paint to rotten wood."
There is still no text of the Senate bill. Several Republicans had previously said they expected to have draft legislation this week, though most were non-committal on that target Tuesday. McConnell would only say that they plan to bring forward a written bill soon.
"We're getting closer to having a proposal that we'll be bringing up in the near future," he said.