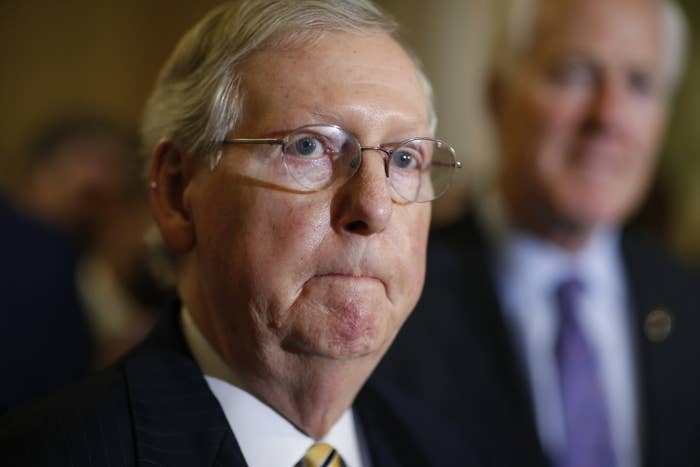 Republicans are calling off a vote on their health care plan just days before the deadline and will move on to tax reform, Senate Majority Leader Mitch McConnell confirmed Tuesday.

"We don't have the votes," said Louisiana Sen. Bill Cassidy, who coauthored the bill with South Carolina Sen. Lindsey Graham.

With the Senate now moving on to tax reform, another Republican-only attempt to repeal Obamacare will almost certainly not occur until 2018, an election year.
Republicans had hoped to vote on the Graham-Cassidy legislation to repeal Obamacare and replace it with a state-run block-grant program later this week, but on Monday night Sen. Susan Collins became the third Republican senator to officially oppose the bill, killing its chances of passing.

Graham vowed Tuesday that the bill he coauthored with Sen. Bill Cassidy would come back some day, but acknowledged that the effort is dead for now.
In addition to Collins, Sens. Rand Paul and John McCain said that they would oppose the Graham-Cassidy bill and there were other members on the fence — at least publicly — including Alaska Sen. Lisa Murkowski, who opposed the last repeal effort, and Sen. Ted Cruz, who said he hadn't yet gotten to a "yes" on the bill. Cruz had said, however, that he wanted to support it.
In a statement Tuesday on the decision to abandon the bill for now, Murkowski did not say if she would have ended up supporting it. But she did offer praise to both Graham and Cassidy for their work, while highlighting the "unique challenges" Alaska faces as a sparsely populated state and the difficulty of getting real data on the effects of the Cassidy-Graham bill in such a short period of time.
"We still have a lot of work to do on health care. I think you all know that," Murkowski told reporters with a laugh Tuesday.

Republicans had a hard deadline of Sept. 30 to pass legislation to repeal Obamacare with just 50 votes. Now they will need the cooperation of Democrats to repeal or alter the Affordable Care Act or start over from the beginning.
"We basically ran out of time," Wisconsin Sen. Ron Johnson, who cosponsored the health care bill, said.

Republicans have dedicated their next shot at passing legislation with just 50 votes — a process known as reconciliation — to tax reform. In theory they could attempt a mega-bill containing another attempt at Obamacare repeal and tax reform, but several senators said Tuesday that would be unworkable.
Graham said his plan is to begin the long-term work toward passing repeal after tax reform, in the next reconciliation bill, which wouldn't likely come until later next year, near the election, when members are often loath to vote on controversial legislation.
"Patience is a virtue. Time is actually on our side," said Graham. "The votes we were lacking were actually more about process than substance. We can fix the process and we can improve the substance, so that's why I'm optimistic."
That timeline comes with its own problems, however. The party would have to either move up the next reconciliation bill to just before the 2018 midterms or attempt it after the election, when they could lose seats in the Senate or the House.
Cassidy and Graham had made some changes to their bill in recent days, including offering more money for Kentucky, Maine, Arizona, and Alaska — the states represented by skeptics of the bill — in order to try to squeeze it through the Senate before the end of the week. But despite the tweaks, a single hearing on the bill, and lobbying by senators and President Donald Trump, those efforts failed.
Louisiana Sen. John Kennedy spoke disparagingly of the way his fellow Republican senators handled the health care bill, expressing frustration over the lack of transparency, communication, and honesty over what members really wanted.
Kennedy said that concerns over aspects of the negotiations leaking ended in many members, included himself, not even knowing what was in the bill. "By the end I didn't know what the hell I was defending," he said, later adding: "It's gonna leak, duh! That's what people do around here, they leak stuff."
Clearly exasperated, Kennedy continued: "The fault we got here is we got too many people running around like a bunch of free-range chickens. This is the Senate, every senator is an island unto himself or herself, but at some point you've gotta talk to each other and if you make changes you gotta tell each other about the changes."
"We need to put together a bill and go pass it," he said.
Graham said he'd push to do just that moving forward. "There are a couple of people, more than a couple, who like the idea but thought the process was just too short, too disjointed," Graham said, citing conversations with both McCain and Murkowski. "So, we've listened, and we're adjusting."
Ema O'Connor contributed reporting to this story.
This is a developing story. Check back for updates and follow BuzzFeed News on Twitter.