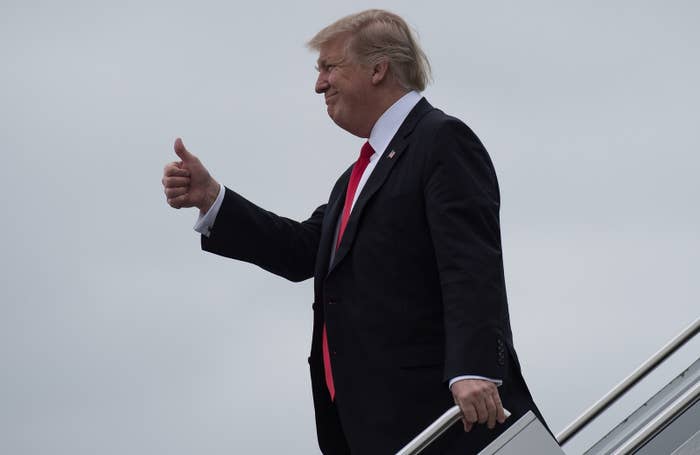 WASHINGTON — Republican leaders in Congress have finally released their plan to repeal and replace the Affordable Care Act.

The plan — dubbed the American Healthcare Act — promises to fulfill President Donald Trump's vow to broadly repeal Obamacare, including the individual mandate, while preserving the law's ban on denying coverage to people with pre-existing conditions. The plan also continues to allow parents to keep children on their insurance up until the age of 26.
But the new bill is sure to anger politicians on the left and right, and its passage through Congress is far from certain. Democrats will point out that the plan opens the door for weakened (but cheaper) health care coverage, higher prices for new enrollees and the elderly, and it includes a ban on federal money paying for insurance that covers abortions.
In lieu of an individual mandate to buy insurance, the bill penalizes people who let their coverage lapse. Anyone who goes more than two months without insurance and then applies for a new plan will have to pay a 30% premium surcharge for one full year.
House and Senate Republican leadership, as well as the White House, are united behind the plan. But to the conservative wing of the party, it looks far too much like retooled Obamacare than a full repeal.
But those defectors will face pressure from their party and the White House to fall in line.
"Today marks an important step toward restoring health care choices and affordability back to the American people," said White House press secretary Sean Spicer.
"President Trump looks forward to working with both chambers of Congress to repeal and replace Obamacare."
One major point of contention among Republicans is a new advanced tax credit program that will provide thousands of dollars to most Americans to pay for health insurance. The credits replace Obamacare subsidies, which will be repealed in 2020. The tax credits are based on age, with a 20-year-old receiving $2,000 per year while someone over 60 will receive $4,000 per year.
After a leaked version of the draft was circulated in recent weeks, the House Freedom Caucus blasted this tax credit system.
"We didn't say we're going to repeal Obamacare and start a whole new entitlement program," Rep. Jim Jordan said last week.

The final tax plan is cheaper than the draft version rejected by conservatives, in that it now starts rolling back the tax credits at higher income levels. The rollback starts at $75,000 of income ($150,000 for joint filers) and the tax credit decreases by $100 for every further $1,000 of income.
Republicans say they do not know the total cost of the tax credits.
These subsidies cannot go towards paying for health insurance plans that offer abortion coverage. The bill also would cut federal funding to Planned Parenthood.
One massive problem for Republicans was what to do with the ACA's Medicaid expansion. Several Republican-held states had accepted the expansion and fought hard against its repeal.
In the end they went with a compromise. The plan would grandfather forward people who have been accepted onto Medicaid under the expansion. But as of 2020 states cannot continue to add people to Medicaid under the expanded criteria.
Washington will continue to subsidize existing Medicaid patients even past 2020, with the idea that those numbers will gradually regress as people earn more money and leave the program.
Meanwhile, states that did not accept the Medicaid expansion will receive $2 billion in extra Medicaid funding over five years. There is also a section of the bill kicking lottery winners off of Medicaid.
After 2020 Medicaid funding will be decided through a per-capita formula based on 2016 rates that rise with inflation. This is a sharp break with the current system where anyone who qualifies for Medicaid can get it. The federal costs of the program will essentially be capped.
The plan repeals most of the Obamacare taxes and grants new tax exemptions to encourage people to invest in health savings accounts.
The plan also provides $10 billion per year for a decade to a "state stability fund" that states can put towards high-risk coverage pools, or they can spend the money in other ways if they see fit.
In an attempt to bring down premiums, health insurers will have more flexibility. But that could come at a cost to some, in particular the elderly. Older people can be charged five times as much as young, healthy people under the new plan, as opposed to the Obamacare cap of three to one.
Republicans say that ultimately, young people will end up getting slightly more under the tax credit system than Obama subsidies, while older people will be subsidized slightly less. With the lack of an individual mandate, this is another measure to try to nudge younger, healthier people into buying insurance.
The plan has not been scored by the Congressional Budget Office and it's not clear how it will effect the rate of uninsured Americans.