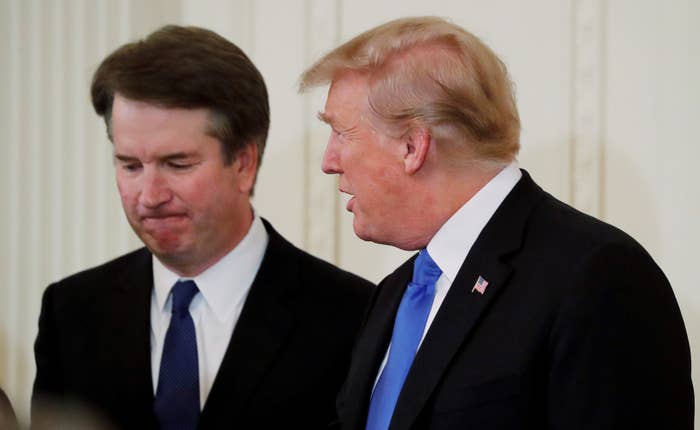 New sexual assault allegations against Supreme Court nominee Brett Kavanaugh threw Capitol Hill into disarray Wednesday, but Republicans are refusing to change course and still plan to vote on the nomination early next week. Several of them, including President Donald Trump, said explicitly they do not believe the new accusations.
Just one day before the Senate Judiciary Committee is planning to hear testimony from Kavanaugh and Christine Blasey Ford, who accused him of sexually assaulting her when they were in high school, a new woman, Julie Swetnick, came forward with explosive allegations in a sworn affidavit.
Swetnick, who claimed that Kavanaugh was present when she was gang-raped at a party and that he and his friend Mark Judge would regularly spike the drinks at parties to "cause girls to lose inhibitions and their ability to say 'no.'" Swetnick is represented by Michael Avenatti — a high-profile Trump opponent who also represents porn star Stormy Daniels, who has sued the president and spoken in detail about having an affair with him.
Swetnick is the third woman to go public with sexual misconduct allegations after Ford and Deborah Ramirez, a Yale classmate of Kavanaugh's. But while Ford's story temporarily halted the nomination process, it seems the new allegations will have no such effect. Unlike the other two cases, Swetnick's claims have elicited a backlash from Republicans. That is in large part due to her lawyer.
"The lawyer to porn stars has just taken this debacle to an even lower level. I hope people will be highly suspicious of this allegation presented by Michael Avenatti," said Sen. Lindsey Graham in a statement.
Graham dismissed the new allegations, which include that Kavanaugh attempted to get girls drunk so that they could be gang-raped at parties, as outrageous. "If Republicans bail out on this good man because of the smears and character assassination perpetrated by Michael Avenatti, we deserve our fate," he said.
In a press conference Wednesday night, Trump said that Swetnick's accusations — as well as those of the other two women who have come forward — are "false."
"These are all false to me," Trump said, when asked if he thought all three women were lying. "These are false accusations in certain cases and in certain cases even the media agrees with that. "
Republicans also expressed doubts that Swetnick would continually attend parties where gang rapes were occurring without ever contacting the police. Sen. Tom Cotton said the allegations were "not credible," while Sen. Bill Cassidy described the new developments as "clearly a tactic to delay, hoping we'll push [the nomination] to after the midterms."
Graham said it was "curious" that no charges were brought forward for decades until 2018, two days before a confirmation vote. "I have a difficult time believing any person would continue to go to — according to the affidavit — ten parties over a two-year period where women were routinely gang raped and not report it. … This is outrageous, internally inconsistent, and I hope the U.S. Senate will see this for the smear campaign that it is," he said.
A spokesperson for the Republicans on the committee said committee lawyers were in the process of reviewing Swetnick's claims. Republicans said Judiciary Committee staff have reached out to Swetnick and invited her to give a statement to committee staff. Cassidy said he expects Avenatti to block that from happening.
"If she is serious about it, she will show up. If this is merely a delay tactic, what you'll see is Avenatti make an excuse for why it can't happen," he said.
Avenatti did not respond to a request for comment.
Not all Republicans were as publicly skeptical of Swetnick's claims. Sen. Susan Collins, a potential swing vote on Kavanaugh's nomination, said Wednesday of Swetnick's sworn statement, "I take it very seriously." She said she needs time to review it further.
There are currently no plans for further hearings after Kavanaugh and Ford testify Thursday. A committee vote is scheduled for Friday, which could set up a final vote on the Senate floor as early as Tuesday. Democrats continue to call for an FBI investigation, but neither the White House nor Judiciary Committee chair Chuck Grassley will grant them that wish.
All eyes are on a few key Republican senators who could possibly be swing votes, such as Collins, Lisa Murkowski, and Jeff Flake. It would take two Republicans to sink the nomination if every Democrat votes against Kavanaugh.
Flake gave a speech on the Senate floor decrying the treatment of both Kavanaugh and the women who have made accusations against him. "These are human beings," he said. He also chided his fellow senators for not learning from Anita Hill's treatment during the Clarence Thomas hearings in the early 1990s.
But notably, Flake did not call for the process to be slowed down or for there to be further hearings before a vote.