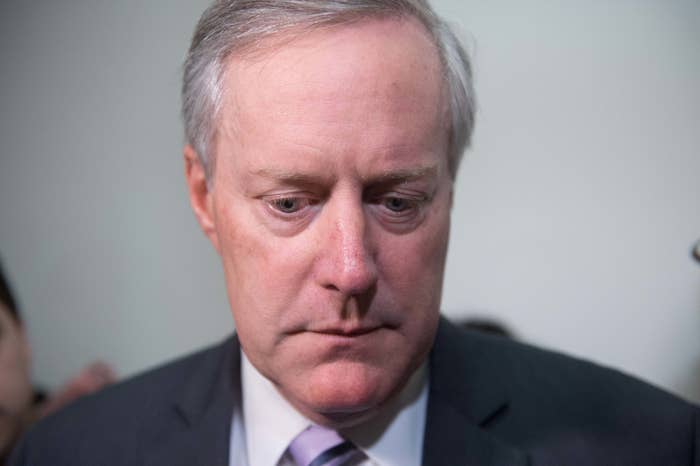 WASHINGTON — Republicans have found something new to disagree on — who is responsible for the collapse of Obamacare replacement negotiations.
Claims of progress and optimism faded Wednesday as a planned negotiation meeting was cancelled because no one saw much point in it. Moderates and hardline conservatives remain far apart and there is no breakthrough in sight.
Who is responsible for the stalled progress depends on who you ask. The conservative group Heritage Action blamed moderate Republicans in a call with reporters Wednesday. Heritage Action CEO, Michael Needham, accused members of the moderate Tuesday Group of betraying the party's promise to repeal Obamacare and secretly desiring to keep the law in place. The Club for Growth called it "big-government liberalism at work among House Republicans."
Tuesday Group member Rep. Chris Collins dismissed this as a fundraising ploy. He said the hardline conservative Freedom Caucus has "moved the goalposts" and blew up hopes of a compromise.
"They wanted a bridge to yes. We built them a bridge. They don't want to cross the bridge. The problem is with the Freedom Caucus," said Collins.
The finger-pointing follows a brief burst of optimism Monday when Vice President Mike Pence took charge of negotiations. After an initial series of meetings, Republicans vowed they were making progress toward a final plan to replace the Affordable Care Act.
The deal centered around giving states the option to waive major pillars of Obamacare, including rules that ban insurers from denying coverage to people with preexisting conditions or charging sick people more.
But in the end no deal could be reached. Moderates do not like the optics of doing away with things like essential health benefits and the preexisting condition clause, while the Freedom Caucus insists on making those subject to voluntary waivers. As of Wednesday, neither side is budging.
Collins now says Freedom Caucus chair Mark Meadows was not telling the truth when he said Monday he wanted to get to a yes vote.
"Actions speak louder than words and actions the last two days would seem to indicate those words were not sincere," said Collins.
The Freedom Caucus has taken heat for their public stance that they would not support the first Republican health care bill, which caused Paul Ryan, in defeat, to cancel a planned vote. President Trump has repeatedly blasted the group on Twitter.
They insist they have given up major concessions, including agreeing to a tax credit program they find distasteful, preserving some Obamacare mandates, and putting more than $100 billion over a decade into high-risk pools.
One argument that's hard to rebut is that Republicans repeatedly voted to repeal Obamacare when they knew it would be vetoed by President Obama. Yet when the Freedom Caucus tried to push a 2015 bill that had once received unanimous Republican support, the party was not willing to put it before President Trump.
"Everyone voted for the 2015 bill. Now there's real bullets," said Rep. David Brat. "You shouldn't use rhetoric that you don't believe in."
After this week Congress takes a two-week break. When they return they will have one week to hammer out a bill or resolution to keep government funded past a fiscal cliff at the end of the month.
After that, there is impatience for Republicans to move on to tax reform, which some hope can deliver a much needed win for the party.
Freedom Caucus chair Mark Meadows says he still believes a deal will go through. He said he would not get into the subject of who is responsible for the lack of progress, but said he had constantly worked toward a solution.
"There is no one more self-critical than me," said Meadows. "There's no one who's negotiated [more] in good faith moving the goalposts closer to those who have differing opinions, not further away."
Some Republicans have also been rubbed the wrong way by the finger-pointing itself and and comments that have been made in the media. Republican Study Committee chair Mark Walker said he's been frustrated to see some of the negotiations be inaccurately relayed to reporters.
"I think the Tuesday Group is trying to get there, I think a good bit of the Freedom Caucus guys are trying to get there, but it just takes a couple of either group to spin this thing sideways," he said.
As for the core of the disagreement, letting states do away with nearly all of the major consumer protections introduced in Obamacare, Walker says it's a tough sell.
"I think it's poor optics and it's bad legislation," he said.