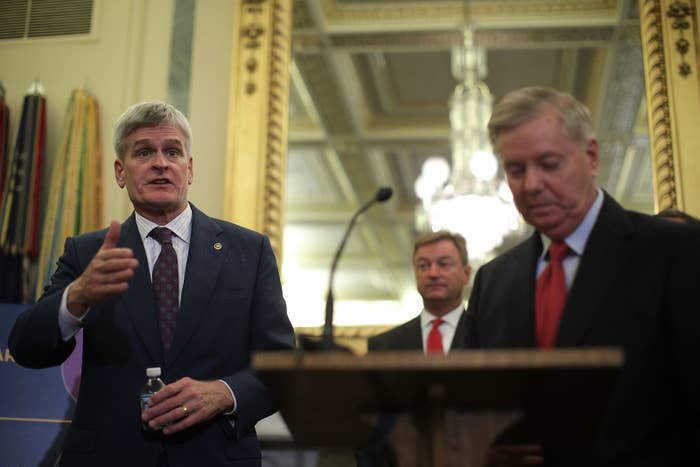 Republicans have reworked their Obamacare repeal bill to funnel more money to states that also happen to be represented by senators pushing back against repeal.
The new bill from Sens. Lindsey Graham and Bill Cassidy, dubbed Graham-Cassidy 2.0, would change funding formulas to provide more money to Arizona, Kentucky, Alaska, and Maine. In what's surely a quirk of happenstance, those states are represented by three senators who have come out against the bill — Susan Collins, Rand Paul, and John McCain — and one who previously voted down a repeal bill, Lisa Murkowski.
The rewrite comes as Republicans enter their final week to repeal Obamacare for the foreseeable future. The 50-vote threshold they are attempting to use expires on Saturday, at which point they would need 60 votes to pass legislation. (If Collins, Paul and McCain continue to be no votes on the bill, it will fail).
While funding would be up compared to the previous version of Graham-Cassidy, the new bill would still mean significantly less money for all states compared to keeping Obamacare over the long term.
Like the earlier version, the bill would repeal Obamacare's rules, subsidies, and Medicaid expansion and instead send a capped amount of funding to the states for them to set up their own health systems. The bill is opposed by doctors, hospitals, and insurers, and currently lacks the 50 votes needed to pass the Senate.
The new bill also makes it even easier for states to do away with current Obamacare protections. In Graham-Cassidy 1.0, states could apply for waivers of Obamacare rules against denying coverage to, or raising prices on, people with preexisting health conditions. Under Graham-Cassidy 2.0, states wouldn't even have to apply for waivers but instead just outline their plans.
States could also change the rules on what forms of coverage must be provided, opening the door for insurers to offer bare-bones plans at cheaper prices.
This appears to be an overture to critics like senators Rand Paul, Ted Cruz, and Mike Lee, who have been pushing for more deregulation. States would still be obligated to explain how their plans will maintain "adequate and affordable" health coverage for people with preexisting conditions, but health groups have warned this is a significant weakening of protections.
California has already said it will sue the federal government if Graham-Cassidy passes into law because it will make millions of insurance plans illegal due to abortion coverage.
Collins and Paul came out Monday saying they oppose the new version of the bill (Paul had vocally opposed Graham-Cassidy 1.0 as well). McCain has not yet commented but his opposition to Graham-Cassidy was largely based on the rushed process — the bill was made public just two weeks ago. Murkowski, who is believed to be a likely no vote, has not yet commented on the new bill.
Both Graham and Cassidy appeared in front of the Senate Finance Committee Monday as part of the only committee hearing into the bill currently scheduled. When pressed on his bill not defining what "adequate and affordable" coverage must look like, Cassidy countered that the dictionary definitions are clear enough for everyone to understand.
But by the time the committee hearing had ended, Collins had made her announcement and the bill appeared to be headed for certain defeat.
Asked if his bill was dead, Cassidy said "I don't know that." He said he's going to "keep plugging away" at Obamacare repeal but said he would not be making any more changes to Graham-Cassidy. "No, because we think we've got pretty good policy right now," he said.