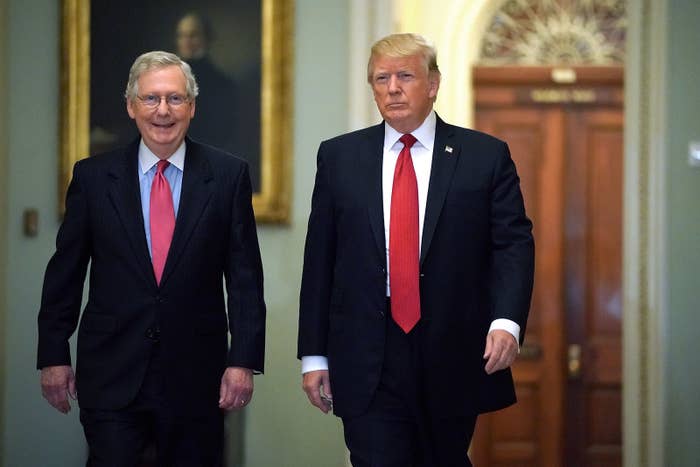 Republicans are using tax reform to once again take a crack at repealing a major chunk of Obamacare.
Senate leadership confirmed Tuesday that their tax bill will include repealing the Affordable Care Act's individual mandate, a move that would lead to 4 million fewer people with health insurance in 2019 and 13 million fewer people insured by 2027, according to the Congressional Budget Office. The Senate is expected to release its tax reform bill this week, with a vote planned for after Thanksgiving.
The individual mandate charges people a tax penalty if they can afford health insurance but do not buy it. It is a key part of Obamacare because it incentivizes healthy people to buy insurance, bringing down premiums for the broader group. Repealing the mandate on its own would cause a 10% jump in premium costs per year as healthy people leave the markets, the CBO projects.
Shortly after the news broke, groups of doctors, insurers, and hospitals released a joint letter calling for the individual mandate to be preserved. "Eliminating the individual mandate by itself will likely result in a significant increase in premiums, which would in turn substantially increase the number of uninsured Americans," said the letter.
But the upside for Republicans is that repealing the mandate gives them more money to play with on taxes. By allowing people to opt-out and lowering the number of insured on the individual markets, the government will have fewer people to subsidize. The result is a savings of $338 billion total over the decade from 2018 to 2027, according to the CBO.
This could allow the party to "puff up" tax relief for the middle class, as Senate Majority Leader Mitch McConnell put it, as well as make certain tax cuts permanent instead of having them expire after 10 years. (Under Senate rules, tax cuts in the bill must be budget neutral to be made permanent.)
Democrats at a Senate Finance Committee meeting Tuesday seemed surprised by the development. "I'm just puzzled by the brain power my colleagues … are putting into their unrelenting efforts to take health care away," said Ohio Sen. Sherrod Brown.
Oregon Sen. Ron Wyden said the tax bill is now "a major health care bill" and that the individual market is "an integral part of the Affordable Care Act."
Repealing the individual mandate was not included in the House's proposed tax bill. House Ways And Means Committee chairman Kevin Brady said it was left out because members feared it could not pass the Senate. The Senate and House must ultimately agree on identical wording to pass a tax bill through Congress.
Doing away with the individual mandate has been pushed hard by a number of Republicans including senators Tom Cotton and Pat Toomey. President Donald Trump has also endorsed the idea. Earlier in the day Tuesday, Kentucky Sen. Rand Paul said he would introduce a repeal amendment if it weren't included in the main bill.
But it could alienate others, and, as with the party's numerous failed attempts to repeal Obamacare earlier this year, Republicans can only afford to lose two votes in the Senate. Three Republican senators (Susan Collins of Maine, Lisa Murkowski of Alaska, and John McCain of Arizona) combined to kill the Senate's Obamacare repeal plan in the summer.
But that was a far more expansive repeal plan and it's not yet clear if their votes on tax reform would hinge on the individual mandate.
"I'm going to wait 'til I see what the bill looks like out of the committee. But it's an unusual approach, right?" said Collins, when asked about including individual mandate repeal in the tax plan.
One option for Republicans is to pair the mandate repeal with another health care bill — the bipartisan Alexander-Murray legislation designed to stabilize the Obamacare markets. Passing both bills together could counteract some of the destabilizing effects of repealing the individual mandate on its own.
McConnell has so far refused to put Alexander-Murray on the floor for a vote, despite it having two dozen cosponsors split evenly between the two parties. There is now talk that Alexander-Murray could be put forward separately from tax reform, but leadership has not conclusively signaled its intentions.