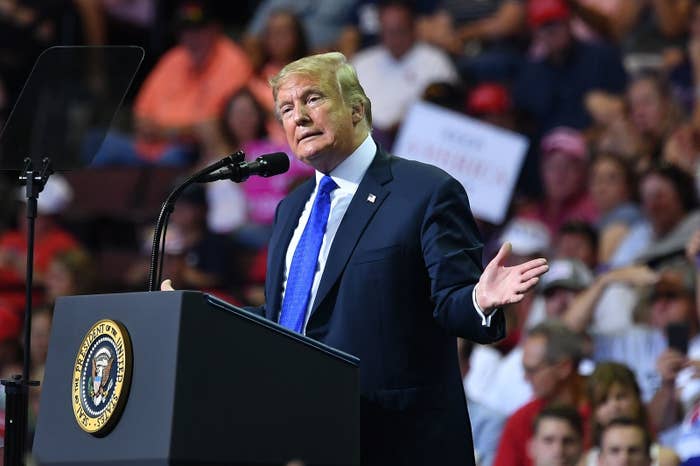 Republicans are changing course and going on the offensive against the women accusing Brett Kavanaugh, as voting on his Supreme Court nomination is expected to start as early as Friday.
Last week Republicans were noticeably delicate in how they handled Christine Blasey Ford's allegations. Many praised Ford, and even as some defended Kavanaugh, they were careful not to say Ford was lying.
That tone has changed drastically this week just as recent polling shows the Kavanaugh fight is riling up the GOP base. New documents, including a letter released by Republicans, and mockery from the president himself hit directly at the credibility of the women who accused Kavanaugh of sexual harassment.
On Tuesday, Senate Judiciary Committee staff publicly released a letter from a man who identified himself as an ex of Julie Swetnick's, another woman accusing Kavanaugh, that makes claims about her sexual preferences and mental health.
The letter is from former meteorologist Dennis Ketterer who claims to have had a sexual relationship with Swetnick in the 1990s. The letter did not directly address any of Swetnick's allegations against Kavanaugh, but it portrayed her as someone who was mentally ill and fond of group sex.
Asked why he released the letter, committee chair Chuck Grassley said his policy is to release all correspondence that is credible and has a name connected to it.
"I would not want to make a judgment that I say what should be out or not. I think that we've been trying to make everything that we can public. That's in the spirit of transparency," said Grassley.
Last week President Trump described Ford as "a very fine woman" and a "very credible witness." But he took the opposite approach at a rally in Mississippi Tuesday evening, mocking Ford's account of being sexually assaulted by Kavanaugh when they were in high school.
"How did you get home? I don't remember. How'd you get there? I don't remember. Where was the place? I don't remember. How many years ago was it? I don't know," said Trump, imitating her testimony. "What neighborhood was it in? I don't know. Where was the house? I don't know. Upstairs, downstairs, where was it? I don't know. But I had one beer, that's the only thing I remember."
The crowd cheered along in response. Trump chalked it up to a political conspiracy, saying of Democrats, "they want to destroy people. These are really evil people."
The speech did elicit blowback from some key Republicans seen as possible swing votes. "I thought those comments were wrong," said Sen. Susan Collins. Sen. Jeff Flake called the remarks "appalling, frankly," and Sen. Lisa Murkowski called them "wholly inappropriate." All three are waiting on the results of the FBI investigation into Kavanaugh to decide how they will vote.
But others defended the president's speech as being factually accurate, if uncouth. "The style of his comments were probably not my own, but the substance… was substantiated," said Sen. Thom Tillis. (In fact, Ford told the Judiciary Committee she remembered many more details than Trump said. While she could not identify the house and said she could not recall how she got home, her testimony including detailed descriptions of the house and where and how the alleged attack took place.)
Also on Tuesday, a statement credited to one of Ford's ex-boyfriends — the name was redacted — that purports to contradict her committee testimony was also leaked to Fox News. The letter refuted that Ford was claustrophobic or afraid of flying — which she and friends have attributed to ongoing trauma after her attack — and claimed she had helped a friend prepare for a polygraph test, which is in conflict with her sworn testimony.
CNN and the New York Times later identified the ex-boyfriend as Brian Merrick. He declined to comment to CNN and did not respond to requests for comment from BuzzFeed News on Wednesday.
Ford's team said she stands by her testimony and released a statement from the friend she supposedly helped with the polygraph test, Monica McLean, which said, "I have NEVER had Christine Blasey Ford, or anybody else, prepare me, or provide any other type of assistance whatsoever in connection with any polygraph exam I have taken at anytime."
Democrats have pushed back, particularly against Trump's statements. Sen. Dianne Feinstein, ranking member of the Judiciary Committee, called Trump's comments "appalling" and said he sent "a clear message to victims of sexual assault that they should not be believed."
But with so much coming out every day, even senators are struggling to keep up. Asked about the Swetnick letter released by the Judiciary Committee, three Democrats on the committee — Chris Coons, Richard Blumenthal, and Sheldon Whitehouse — responded that they weren't aware of it.
The Senate is waiting on the results of an FBI investigation into the Kavanaugh allegations. The bureau has not contacted Ford for an interview in the investigation, her lawyers confirmed Wednesday, though Ford's team has made several overtures. Kavanaugh has reportedly not been interviewed either.
Grassley said he expects the White House to receive the results of the FBI investigation Wednesday. If true, this would allow the Senate to plan a procedural vote on Kavanaugh as early as this Friday, setting up a final vote over the weekend.