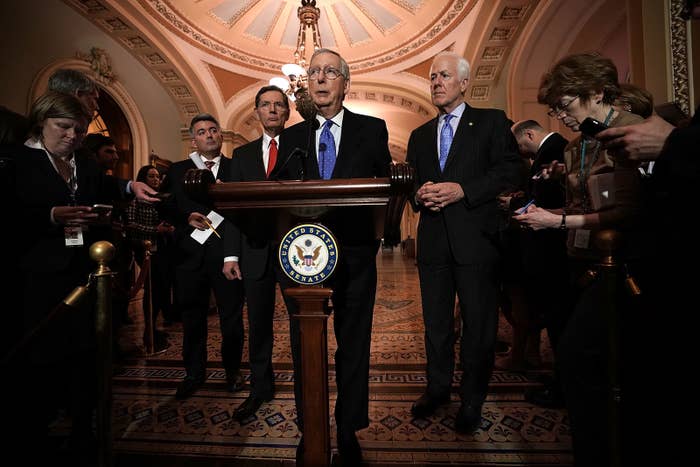 Senate Republicans are tossing aside a bipartisan deal to protect DREAMers and are going back to the drawing board, despite a threat by Democrats to shut down the government within days without one.

Senate Majority Leader Mitch McConnell said Wednesday Congress would be "just spinning our wheels" if it voted on an immigration deal reached by a bipartisan group of senators without assurances from President Donald Trump that he will sign it.
Democrats are vowing to withhold support for a bill to prevent a government shutdown Saturday unless a deal to revive former president Obama's Deferred Action for Childhood Arrivals program, or DACA, is included. Republicans overwhelmingly say there is no chance for a deal to get done by this week. And talks are restarting from scratch regardless. The party whips in the House and the Senate have formed a new negotiating group and have started meeting, while McConnell said he is waiting on direction from the White House.
"I'm looking for something that President Trump supports and he's not yet indicated what measure he's willing to sign. As soon as we figure out what he is for then I would be convinced that we were not just spinning our wheels going to this issue on the floor," said McConnell.
McConnell's deference to the White House comes after Trump has already said he would defer to Congress, telling lawmakers they would come up with a DACA solution "and I'm going to sign that solution." Trump's chief of staff also said Thursday after meetings with members of both parties on Capitol Hill that Congress would take the lead.
Adding to the confusion over the president's priorities, Kelly told the Congressional Hispanic Caucus Wednesday morning that Trump's campaign promise to build a wall along the entire length of the US-Mexico border was uninformed, two members who were at the meeting said. According to CHC cochair Rep. Ruben Gallego, Kelly said the Trump administration is no longer pursuing that promise.
"[Kelly] specifically said that there's some areas of the border that don't need a wall and the president didn't know that when he was making his campaign promises," Gallego said.
That leaves Congress set up for a major showdown in just two days. Even with the midnight deadline on Friday to keep the government open, Democrats are holding to their vow not to support a spending deal without DACA protections. Minority Leader Chuck Schumer insisted Democrats have the upper hand because Republicans control both chambers of Congress and the White House, saying a shutdown would be seen as their responsibility.
"We want to do everything we can to avoid a shutdown, but we Democrats believe that if there is one, it'll fall on the Republicans' backs, plain and simple," said Schumer.
The decision by Senate Republicans to abandon the so-called gang of six DACA deal comes the same day that it was set to be officially introduced by its principal negotiators, Senate Democratic Whip Dick Durbin and South Carolina Republican Sen. Lindsey Graham. The bill would grant a path to citizenship to 690,000 DREAMers — undocumented people who entered the country as children. Trump announced in September he would cancel the program and it expires on March 5. The Graham-Durbin deal would also provide funding for border security and allow parents of DREAMers to stay and work in the country on a temporary basis.
The bill has already drawn opposition from some Republicans in the House and Senate. In the House, the far-right Freedom Caucus remains opposed to any deal that will give DREAMers a path to citizenship.
Republican Sen. Tom Cotton of Arkansas said Tuesday he supports a path to citizenship, but he opposes the deal because it does not sufficiently fund border security. He also noted that the bill doesn't address another major priority for the Trump administration: ending chain migration, the process of immigrants becoming citizens and then sponsoring family members.
Others cited similar reasons for not getting behind the bill or, like McConnell, pointed to Trump's lack of support. "Hopefully Senator Durbin and others realize that the gang of six bill is not the path forward," said Senate Majority Whip John Cornyn.
Emerging from a conference meeting of Republican senators Wednesday, Sen. Roger Wicker said, "Just listening in lunch I see no way that anything's going to happen this week but a potential CR," or short-term spending bill to keep the government open.
Republicans are currently working on a short-term funding bill that would keep the government afloat into mid-February, but it will need the support of nine Democrats to pass the Senate. Republicans are offering to include a six-year extension of funding for the Children's Health Insurance Program, a major priority for Democrats, in the hopes of getting their votes. Funding for CHIP, which provides subsidized health insurance for children of low-income families, lapsed in September, but Congress approved another injection of money to keep CHIP going at the end of the year.
Democrats will have to choose between sticking to their guns and potentially forcing a government shutdown over DACA or taking the CHIP funding for now and hoping for an immigration bill to pass before the March deadline.
Schumer said Wednesday there is broad agreement within his party to oppose any deal that does not include DACA and CHIP.
"There is very, very strong support not to go along with their deal," said Schumer.