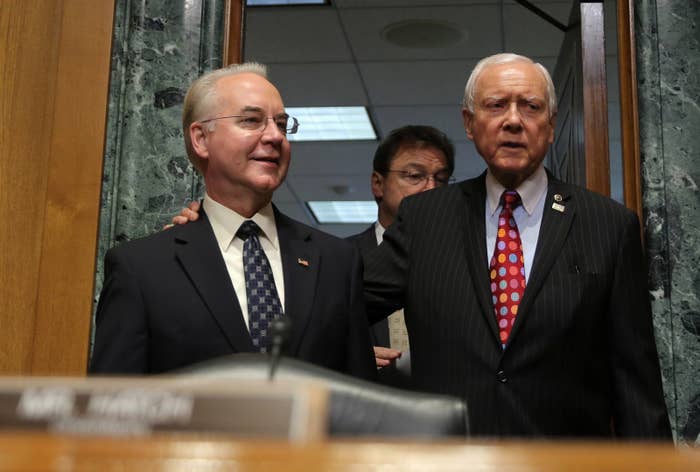 Senator Orrin Hatch brushed aside public opposition to the Republicans' health care plan Tuesday as people looking for a handout.
The American Health Care Act, which was passed by a majority of House Republicans last week, has come under fire from lobby groups including the American Medical Association and the AARP, as well as a large swath of the general public, according to recent polls.
Hatch, a Utah Republican who is currently working on the bill in the Senate, was asked Tuesday how that public reaction will affect the decisions senators are making on the bill.
"The public wants every dime they can be given. I mean face it, once you get them on the dole they're going to take every dime they can," said Hatch.
"We've got to find some way of getting things under control or this country in the near future is going to be gone."
Hatch made the statements immediately after leaving a meeting of Republican senators to discuss Medicaid, the publicly-subsidized health insurance program for low-income Americans. As written by the House, the AHCA cuts $840 billion from Medicaid over the next decade.
Hatch described Medicaid costs as "out of control" and said Republicans need to reign them in. But any substantial cuts to the program will be contentious, especially in states that expanded Medicaid under President Obama's Affordable Care Act in order to insure millions of new people.
Senator Rob Portman of Ohio was in the same meeting as Hatch, and said Tuesday that he wants to see some kind of protections for the 700,000 people in his state that gained insurance through the Medicaid expansion.
"It's important to me because one, we're facing the worst drug crisis in the history of our country and more people are dying from opioid overdoses than any other cause of accidental death," said Portman. "In my own state it's at epidemic levels. This [Medicaid] expanded population is heavily impacted by that."
But so far Republicans seem determined to roll back the Medicaid expansion. Many have described Medicaid costs as spiralling out of control. Sen. Pat Toomey of Pennsylvania argued Tuesday that the House's suggested $840 billion cut is in fact not a cut at all because it still means more Medicaid funding than pre-Obamacare levels.
"The House bill spends more money on Medicaid than... before Obamacare came along. And for eight years an awful lot of Republicans have said they want to repeal Obamacare, so I wouldn't characterize it as cuts," said Toomey.
What is clear so far is that the Senate will make changes to the AHCA. Republican Senators must walk a delicate line to win over enough moderates and conservatives to pass the bill without the help of the Democrats. They can afford to lose just two of 52 Senators and even if they do reach that goal, the new bill must also be passed again by the House.
Republicans initially announced that a 13-member working group would take the lead on drafting the Senate health bill. They quickly came under fire because there were no women in the group. On Tuesday, Republicans insisted that membership is actually informal and all Republican senators will be involved. Majority Leader Mitch McConnell went so far as to say "there is no particular working group." Sen. Shelley Moore Capito, not originally listed as part of the group, attended Tuesday's meeting.
Republicans aren't giving a public timeline for when they want to pass the bill, but if they move as quickly as the House it could take several months.