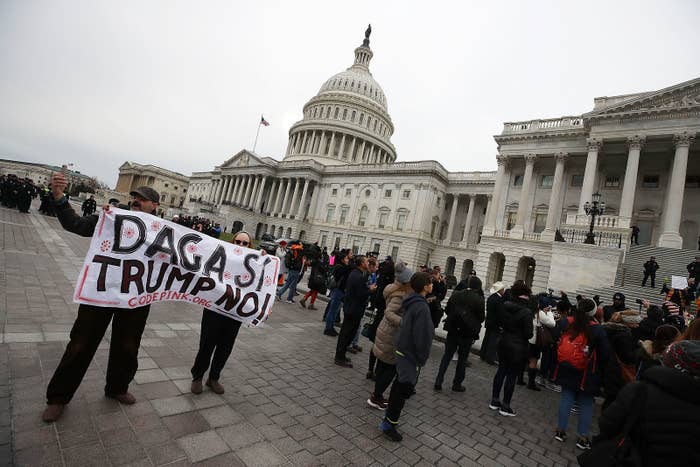 House Democrats and a group of Republicans are working to force a vote on proposals to save DACA, over the objections of Speaker Paul Ryan.
Republican Rep. Carlos Curbelo filed a discharge petition Wednesday that, if it can get 218 signatures, would force votes on a series of DACA bills. Republican leadership is pushing back and hoping to quash the petition.
So far 17 Republicans have signed on. They'll need just eight more Republican signatures to get to 218 if every Democrat supports it. However, that gap will soon rise to nine Republicans, because one signatory, Rep. Charlie Dent, is retiring and is expected to leave in the coming weeks.
Republican Rep. Jeff Denham, the author of the petition, said Wednesday he is "extremely confident" in its chances of succeeding. "My confidence comes because I've had hundreds of conversations, not just with Republicans, but with every member of the House, to see where they're at with this important policy."
DACA, the Deferred Action for Childhood Arrivals Program, allowed hundreds of thousands of children of undocumented immigrants to live and work in the country. Trump announced last fall he was canceling the program and gave Congress six months to pass a replacement. That deadline came and went with Congress unable to reach a deal.
However, a series of court injunctions have effectively kept DACA in place. The cases are expected to ultimately be settled by the Supreme Court. That's taken the urgency out of the debate for many politicians, but Curbelo said his group isn't willing to wait any longer.
"Too much time has passed. This is the time to act," he said.
Curbelo said he told Ryan on Tuesday he was filing the discharge petition and that Ryan made it clear he did not support it. Discharge petitions — which allow a majority of members to bring any issue to the floor without the speaker's support — are rare, and many Republicans see it as ceding control of the floor to Democrats.
"I don't believe in discharge petitions. Why not? Because you're turning the floor over," said House Majority Leader Kevin McCarthy.
Curbelo said he did not believe his petition is an act of defiance against Ryan, and argued the way it is written "empowers" leadership to have a major role in the debate.
The petition would force votes on four DACA bills under so-called "queen of the hill" rules — meaning whichever plan gets the most votes and at least a majority passes. One of those bills would be essentially a blank slate for leadership to present its plan.
The other three slots are filled by a hardline bill from Judiciary Committee Chair Bob Goodlatte, and two bipartisan bills, including the DREAM Act. All would have a difficult time passing the Senate. The Goodlatte bill is too conservative for Democrats, while the bipartisan bills don't contain as much border wall funding as Republicans — and President Donald Trump — have fought for.
A spokesperson for Ryan provided a statement saying, "We continue to work with our members to find a solution that can both pass the House and get the president's signature."
Discharge petitions are limited to the second and fourth Mondays of each month. Due to the House schedule, that makes the earliest possible date it could come to the floor June 25, members said.
Despite Congress already spending an immense amount of energy on DACA only to end up with nothing, some say they still have hope. Republican Sen. Jeff Flake, one of the leaders of bipartisan negotiations in the Senate that failed in February, said the House passing a bill could break the inertia.
"Without the courts putting a deadline there for us, it's tough to get through. But if the House would move [a bill] that would be a good thing," Flake said.
Lissandra Villa contributed to this report.