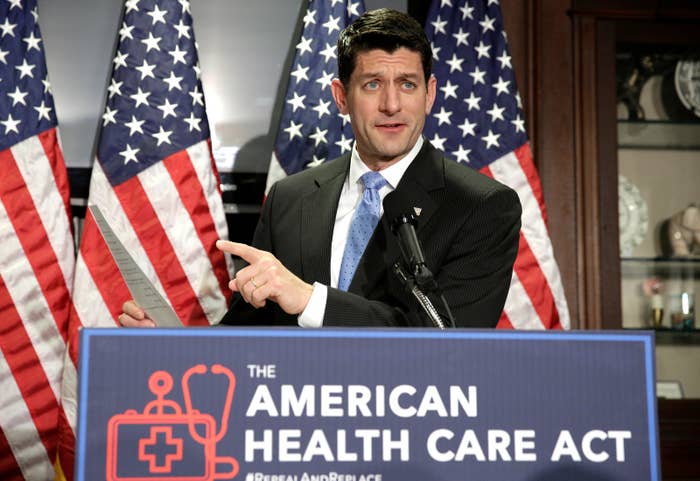 WASHINGTON — The Republican health care plan would save Washington $337 billion over the next decade, but result in 14 million fewer people with insurance by next year and 24 million by 2026 compared to Obamacare, according to a new report by the Congressional Budget Office.

While the CBO projects that the GOP's American Health Care Act would eventually fulfill one of its key goals of bringing down premiums, it paints an ugly picture for Republicans of heading into the 2020 election with higher premiums and millions more uninsured Americans.
A projected 14 million more people would go uninsured in 2018 under the GOP law compared to Obamacare, mostly because of the repeal of the latter's individual mandate penalties. Some individuals would choose not to buy insurance given that freedom, while others will forgo insurance because of higher premiums, the CBO report says.
The Trump administration adamantly rejected the report Monday evening. Health and Human Services Secretary Tom Price said the projections of uninsured people rising are "virtually impossible" and said he believes the AHCA will insure more people than Obamacare.
"We disagree strenuously with the report," said Price, faulting the CBO for only looking at the legislation and not taking into account the other planks of the Republican plan — regulatory changes and further legislation that the administration says are in progress. However, passing more broad legislation would require winning over Democrats in the Senate, which is currently a nonstarter.
Even in the area of premium costs, the CBO projects things to get worse before they get better.
The report projects premiums for individuals to rise by 15–20% in 2018 and 2019 compared to what would happen if Obamacare was left in place. After 2020, premiums are expected to fall relative to Obamacare as they are offset by grants to the states and the elimination of requirements on insurance companies.

By 2026, premiums for individuals are projected to be 10% lower than under Obamacare, but that year the CBO projects there will be 52 million uninsured people, compared with 28 million under Obamacare.
Costs will not move in lockstep for everyone and older people will be charged more in particular under the new GOP plan. Under Obamacare, older Americans can be charged up to three times as much as their younger, generally healthier counterparts. The AHCA loosens that cap to five times as much, "substantially reducing premiums for young adults and substantially raising premiums for older people," according to the CBO report.
Those changes can be extreme. The CBO projects that under the AHCA a 21-year-old making $26,500 would see their out-of-pocket premium costs fall to $1,450 from $1,700 under Obamacare. But a 64-year-old making the same amount would see costs jump from $1,700 to a whopping $14,600.
However, people with much more income — $68,200 — would always come out ahead, according to the CBO's projections. A 21-year old would have their premiums drop from $5,100 under Obamacare to $1,450, while a 64-year-old would see their premiums drop from $15,300 to $14,600, according to the CBO.
The number of uninsured people is expected to continue to grow because the AHCA halts Obamacare's Medicaid expansion in 2020 and states are expected to restrict eligibility for new people to enter the program, which provides health insurance for low-income people and individuals with disabilities.
The AHCA would bring down costs by $1.2 trillion between 2017–26, while also cutting taxes by $900 billion. The net savings for government would be $337 billion.
House Speaker Paul Ryan praised the CBO report on Monday, focusing on its contention that the law will bring down costs eventually. "This report confirms that the American Health Care Act will lower premiums and improve access to quality, affordable care," Ryan said in a statement.
The speaker added that the law is "just the first of a three-pronged approach" to health care, promising that Congress and President Donald Trump will take "additional steps … that will further lower costs and increase choices."
In the week leading up to the release of the report, Republicans took frequent shots at the veracity of CBO projections. The report concedes that there are many uncertainties.

"The ways in which federal agencies, states, insurers, employers, individuals, doctors, hospitals, and other affected parties would respond to the changes made by the legislation are all difficult to predict," says the report. The projections are in the middle of the distribution of potential outcomes.
Outside Your Bubble is a BuzzFeed News effort to bring you a diversity of thought and opinion from around the internet. If you don't see your viewpoint represented, contact the curator at bubble@buzzfeed.com. Click here for more on Outside Your Bubble.