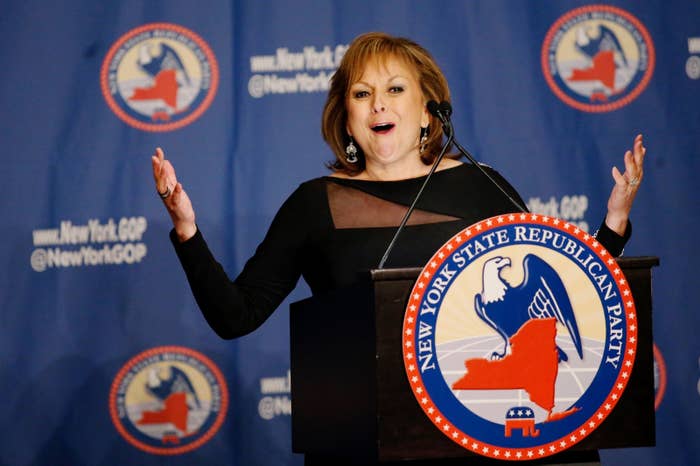 ORLANDO, FL — Republican governors gathering in Florida are divided over how to repeal Obamacare, in what may be the start of a nation-wide split between red states that accepted Obamacare and those that rejected it.
There are 18 Republican-controlled states that accept subsidies for medicaid and medicare through The Affordable Care Act. Another 15 have refused the subsidies.
President-elect Donald Trump now must make a choice. About half of the Republican governors have rejected Obamacare as a wasteful program and want it to be repealed.
Yet doing so will strip insurance from people living in the other half of the red states.
That divide was glaringly obvious at a Republican Governor's Association panel Tuesday. It featured governors from three states that rejected Obamacare's Medicaid expansion — Florida, South Carolina and Wisconsin — and a fourth, New Mexico, that accepted it.
New Mexico Governor Susana Martinez said she expects key planks of Obamacare to be preserved under Trump. Her state has cut its uninsured rates in half since it expanded Medicaid.
"There are parts of it that (Trump) thinks are good parts of the Affordable Care Act," said Martinez. "He will pull together a team that will then say 'how do we make this affordable?'"
Florida Governor Rick Scott then jumped in to denounce Obamacare in its entirety.
"It is a disaster. It doesn't work. It didn't control costs. It was a complete lie," he said.
"Every time government gets involved in healthcare costs are going up, because they don't know how to fix it."
Wisconsin Governor Scott Walker said the success of Republicans on election night means that a "market-driven alternative" to Obamacare will be put in place.
It's still unclear what that will look like, or what the transition will be. On the campaign trail Trump talked about repealing and replacing the Affordable Care Act. After the election he expressed openness about keeping some planks of it in place.
All of the governors on the panel agreed States need to be free to set up distinct systems for their own populations.
Martinez said during the panel that she wants to preserve the ban on rejecting coverage for pre-existing conditions, and letting parents keep children up to the age of 26 on their healthcare plans.
She also rejected the idea that there will be any gap between the repeal of Obamacare and the start of its replacement during which people would be stripped of insurance.
"To say it's off and nobody's insured, that is not the intention," she said in an interview after the panel.