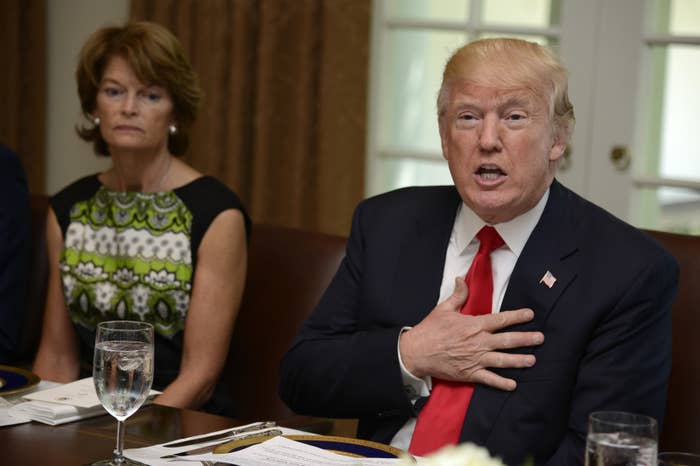 President Donald Trump reportedly criticized the House's Obamacare repeal and replacement bill as too "mean" in a White House meeting with GOP Senators Tuesday.

Republican Senators are currently battling through negotiations on their own health plan, which is expected to be significantly different than the House's American Health Care Act (AHCA). However, those negotiations are largely taking place behind closed doors.
During a lunchtime meeting at the White House between 15 senators and Trump, the president said the AHCA was "mean" and asked them to craft a "more generous" bill, according to the Associated Press and CNN, citing congressional sources with knowledge of the meeting.
CNN reporter Jim Acosta later tweeted that Trump also called the bill a "son of a bitch," according to a source.
The reported remarks come just over a month after Trump celebrated the AHCA in the White House Rose Garden after it passed the House, calling the bill "a great plan" that was "very, very incredibly well-crafted" and promised "we're going to get this passed through the Senate."
The comments would be in keeping with Trump's contradictory approach to the health care file. Trump once promised "insurance for everybody" and vowed that no one should be blocked from health insurance because they can't afford it.
The AHCA was projected by the Congressional Budget Office to cause 23 million fewer people to have insurance over the next decade compared to Obamacare, and found that premiums would skyrocket for people with pre-existing conditions and women seeking maternity care in states that waive Obamacare regulations on insurers.
Republicans in the Senate are making changes of their own, acknowledging that they need 50 senators to pass a health bill through the Senate's budget reconciliation process (with Vice President Mike Pence breaking the tie). As was the case in the House, moderates and hardline conservatives are trying to push the bill in opposite directions.
Moderates appear to have won some concessions. Whereas the AHCA included tax credits based purely on age to help people buy insurance, the Senate plans to alter those credits to be more generous to lower-income Americans. The Senate is aso looking at slowing down the rollback of Obamacare's Medicaid expansion by several years.
Republicans are trying to win over more moderate voices such as Sen. Susan Collins of Maine, but could end up alienating conservatives, such as Sen. Rand Paul of Kentucky and Mike Lee of Utah.
If the party can get 50 senators on board, the Senate could pass a bill extremely rapidly without first needing to get the plan through a committee. The bill passed by the Senate, would then go to the House and the two chambers would need to agree on a final bill to send to President Trump to sign into law. Republicans hope to reach that goal by this summer.