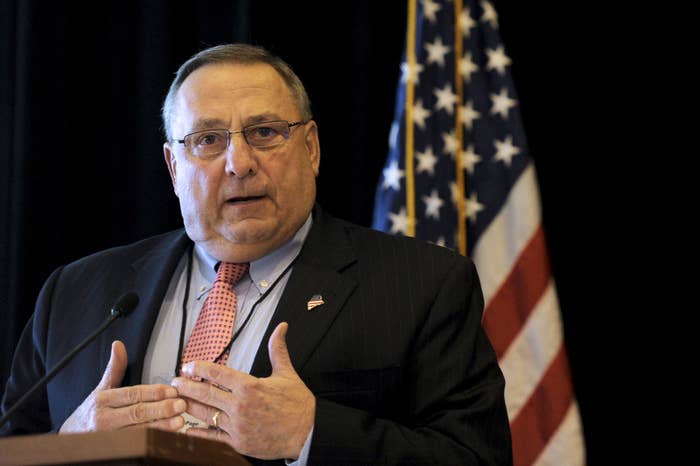 Months after it seemed doomed, Obamacare is set to expand its impact even further, despite Republican attempts to block it.
Maine became the first state to use a referendum to expand Medicaid Tuesday when residents there voted 59% to 41% in favor of expanding the federal insurance program for low-income and disabled Americans. And there appears to be nothing the Republican Gov. Paul LePage — who vetoed five separate attempts by the state legislature to expand Medicaid — can do about it.
Maine would become the 32nd state plus the District of Columbia to use the Affordable Care Act to expand Medicaid, the publicly-funded health insurance system for low-income Americans.
LePage, a fierce Obamacare critic, is promising to again block Medicaid expansion. He called it "fiscally irresponsible" and says he will not sign off on expansion until the state legislature figures out how to pay for it. But it's far from clear that he has the legal ability to do this. Maine's constitution states that "the veto power of the Governor shall not extend to any measure approved by the vote of the people."
The constitution uses binding language to say the governor "shall" make a public proclamation affirming the results of the vote. If LePage refuses, the matter is likely headed for the courts. Maine Attorney General Janet Mills, a Democrat, did not immediately respond to requests for comment Wednesday.
"I was surprised at his comments because it was a very strong vote," said Maine Sen. Susan Collins, a Republican. "I'm not going to comment on what the governor should or should not do other than to say I was surprised at his comment."
Collins said she never takes positions on state referendum questions.
Elections on Tuesday could also ultimately result in Medicaid being expanded in Virginia as well. Democrat Ralph Northam won the governorship, and depending on how recounts pan out the party has a shot at retaking the state House of Delegates from the Republicans. Even if they fall short, Democrats say they intend to push Medicaid expansion.
"It will certainly be a significant priority for the governor," said Virginia Sen. Tim Kaine, also a Democrat. "I think we have a really good chance of getting it done."
The more states that expand Medicaid, the harder it becomes for Republicans to ultimately repeal Obamacare. Republican governors in expansion states like Brian Sandoval of Nevada and John Kasich of Ohio became vocal opponents of Obamacare repeal efforts when Congress took up the subject earlier this year.
In expansion states, adults who make up to 138% of the federal poverty level qualify to enroll in Medicaid ($16,600 for an individual, $28,400 for a family of four.) The federal government covers 90% of the added costs while the state is responsible for the remaining 10%.
Eligibility to qualify varies in the 19 states that have not expanded the program, however, but the income threshold can be below half the federal poverty level for parents — and those without dependents may not qualify at all. The federal poverty level starts at $12,000 for an individual and rises for each child in a household; e.g. it is $24,600 for a family of four.
Excluding Maine, of the 18 remaining non-expansion states, half allow for referendums, which could be used to enact Medicaid expansion through a ballot initiative in the future: Idaho, Wyoming, Utah, South Dakota, Nebraska, Oklahoma, Missouri, Mississippi, and Florida.
CORRECTION
Democrat Ralph Northam won the gubernatorial contest in Virginia on Tuesday night. A previous version of this story misstated his name.