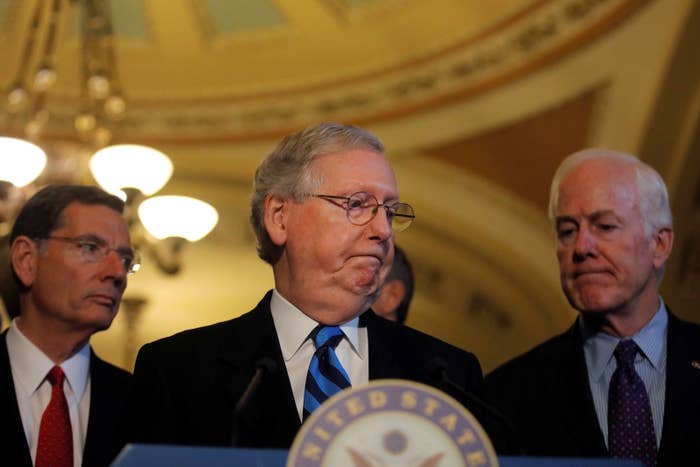 The Republican effort to repeal Obamacare died at midday on Tuesday.
The latest GOP effort is now doomed after three Republican senators announced they would vote against a procedural measure to repeal Obamacare. Sen. John McCain is in his home state of Arizona recovering from a medical procedure, leaving Republicans at least two votes short.
Senate leadership had already started from scratch just hours earlier. When months of trying to craft a replacement plan for Obamacare fell apart on Monday night, Republicans made a last-ditch attempt to save their bill by bringing up a straight repeal of Obamacare instead, while giving Congress a two-year window to pass a replacement plan.
That bill had already passed in 2015, but was vetoed by President Obama. Conservatives largely endorsed the plan, but moderates killed it by midday on Tuesday.
Senators Lisa Murkowski of Alaska, Shelley Moore Capito of West Virginia, and Susan Collins of Maine all announced they would vote no on a motion to proceed to a vote on the Obamacare repeal bill, saying they couldn't support repeal without a replacement plan. Collins was the only Republican senator to vote against that plan in 2015; both Capito and Murkowski supported it at the time.

Senate Majority Leader Mitch McConnell still plans to hold the vote, saying Tuesday night that the Senate will take up the procedural measure "early next week." If that were to pass — a major if given the current opposition — a final vote to repeal Obamacare, with a two-year delay, would come days later.
President Donald Trump told reporters on Tuesday he was "disappointed" that Senate Republicans could not pass their health care plan, adding that getting 48 out of 52 Republicans to support the health care plan was "pretty impressive," but just not enough. "Because the margin is so small — the majority margin is so small — we're going to have to go out and get more Republicans elected in '18," he said.
Trump added that letting Obamacare fail "will be a lot easier."
"And I think we're probably in that position where we'll let Obamacare fail. We're not going to own it. I'm not going to own it. I can tell you the Republicans are not going to own it. We'll let Obamacare fail and then the Democrats are going to come to us," Trump said.
But some Republicans say they remain hopeful. Kentucky Sen. Rand Paul argued that some form of a repeal bill must be viable because Republicans already voted in support of repeal when Obama was president.
"There's some variation of repeal certainly that must pass. Or these people really don't believe anything they've said," said Paul.
Sens. Lindsey Graham of South Carolina and Bill Cassidy of Louisiana say they are still pushing their own health care amendment, which they hope can win over some bipartisan support.
Collins and Murkowski both said in statements on Tuesday that they believe the Senate should start working on health care within the committee process — in which Democrats would also have a say in the final outcome, and members could call witnesses from the health care industry to write new health care proposals.
"As I've been saying, the Senate should take a step back and engage in a bipartisan process to address the failures of the ACA and stabilize the individual markets," Murkowski said in a statement. "That will require members on both sides of the aisle to roll up their sleeves and take this to the open committee process where it belongs."
Republicans are now faced with a series of uncomfortable choices. Do they work with Democrats on a new bill? Do they pass subsidies they had previously decried as insurance-industry bailouts in order to stabilize the individual markets? Or do they do nothing, leaving Obamacare in place and risking premiums rising even higher in certain areas.

The immediate choice is whether to pass a bill that provides cost-sharing reduction payments to insurance companies before leaving for summer recess. Those payments are designed to compensate insurers for covering high-cost patients under Obamacare. Republicans have long railed against the funding, but insurers warn that they will have to significantly jack up premium costs without them.
Asked what Republicans' failure to repeal Obamacare says about their ability to govern, Wisconsin Sen. Ron Johnson told reporters: "Well, we didn't succeed this time, during this round, but there will be other rounds."
Emma Loop contributed to this story.
UPDATE
This story has been updated to include McConnell's announcement that a procedural vote on health care will occur next week.