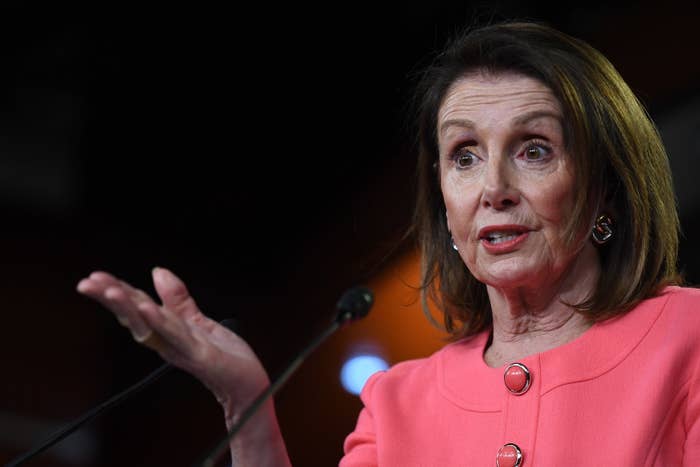 WASHINGTON — House Speaker Nancy Pelosi accused Attorney General Bill Barr on Thursday of committing a crime by misleading Congress in testimony last month.

"Attorney General Barr's decision to mislead the public in his testimony to Congress was not a technicality — it was a crime," Pelosi tweeted.
In a press conference with reporters, Pelosi accused Barr of disrespecting the Constitution because of ties to President Donald Trump, Senate Republican leader Mitch McConnell, and special interest groups. Asked if Barr should go to jail, she said the Democratic-controlled House Judiciary Committee will decide how to proceed.
"When you see Barr sitting there, what's his motivation? His motivation, his loyalty, is not to his oath of office, and it is to Donald Trump — but all of it, and the Republicans in Congress, is to the special interests," Pelosi said.
Justice Department spokesperson Kerri Kupec responded, "Speaker Pelosi's baseless attack on the attorney general is reckless, irresponsible, and false."
Pelosi's allegations are based on a March 27 letter from special counsel Robert Mueller to Barr that said Barr's public summary of Mueller's investigation into Russian interference in the 2016 presidential election "did not fully capture the context, nature, and substance of this Office's work and conclusions."
Two weeks later, at an April 9 House Judiciary Committee hearing, Florida Democratic Rep. Charlie Crist asked Barr about media reports that members of Mueller's team were "frustrated at some level with the limited information included" in Barr's report, and asked if he knew what they were "referencing." Barr, who confirmed Wednesday that he'd received the letter from Mueller on March 28, said no.
The following day, Barr told Maryland Democratic Sen. Chris Van Hollen in another hearing, "I don't know whether Bob Mueller supported my conclusion."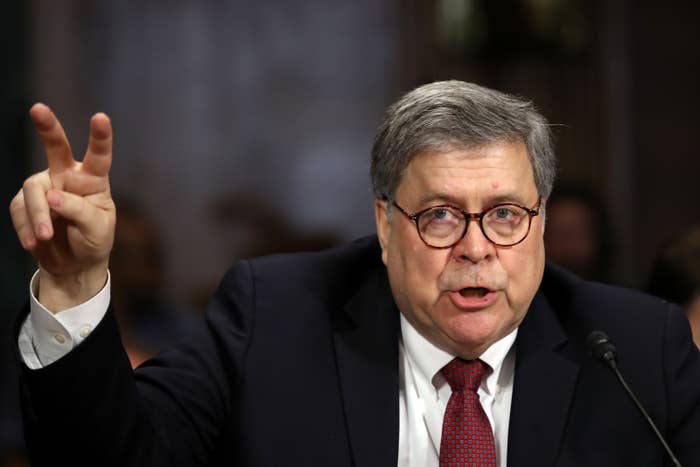 Senate Democrats questioned Barr extensively on Wednesday about the letter, which was made public that morning by the House Judiciary Committee. Democrats have accused Barr of not only hiding the existence of the letter but also lying to Congress in the two hearings in April about the substance of Mueller's concerns.
On Wednesday, Barr testified that he did not give untruthful answers to Congress on April 9 when he denied knowing what media reports about frustration within Mueller's team were referencing. He said he'd spoken to Mueller directly, rather than the unidentified members of Mueller's team cited in press reports. He said he did not believe that Mueller objected to the accuracy of Barr's summary but, rather, that the special counsel worried it lacked context and was being misrepresented.
"My view of events was that there was a lot of criticism of the special counsel for the ensuing few days, and on Thursday [March 28] I got this letter. And when I talked to the special counsel about the letter, my understanding was his concern was not the accuracy of the statement of the findings in my letter but that he wanted more out there to provide additional context to explain his reasoning on why he didn't reach a decision on obstruction," Barr said.
Barr was supposed to testify before the House Judiciary Committee on Thursday but told members Wednesday evening that he would not show up. Barr objected to the committee's request that lawyers as well as members of Congress be allowed to question him at the hearing. The Justice Department also announced it wouldn't comply with a subpoena for an unredacted copy of Mueller's report. Committee Chair Jerry Nadler said Thursday he would continue negotiating with Barr about giving the committee an unredacted copy of the Mueller report, but added that the committee would hold Barr "in contempt if he stalls or fails to negotiate in good faith."
A handful of House Democrats had called for Barr's resignation last month, after he held a press conference about Mueller's report before it was released to the public. Pelosi did not join those calls at the time but suggested that Barr was spinning the report on Trump's behalf and called on Mueller to testify before Congress.
California Democratic Rep. Eric Swalwell, who is also running for president in 2020, ratcheted up the rhetoric on Thursday, saying Congress should impeach Barr.
"Since taking office, [Barr] has parroted the President in accusing our Intelligence Community of illicit spying on the Trump campaign, repeatedly and purposefully mischaracterized the content of Mueller's report, lied to Congress, refused to turn over subpoenaed documents, and refused to testify to the House Judiciary Committee without dictating the terms of the hearing," Swalwell said in a statement.
"He is a real-time obstructer who is working overtime to make sure Congress can't conduct its constitutionally mandated oversight of the Executive Branch; he must be held accountable. I've already said Attorney General Barr should resign; if he refuses, Congress must begin the process of removing him."
UPDATE
This story was updated with a statement from Swalwell.