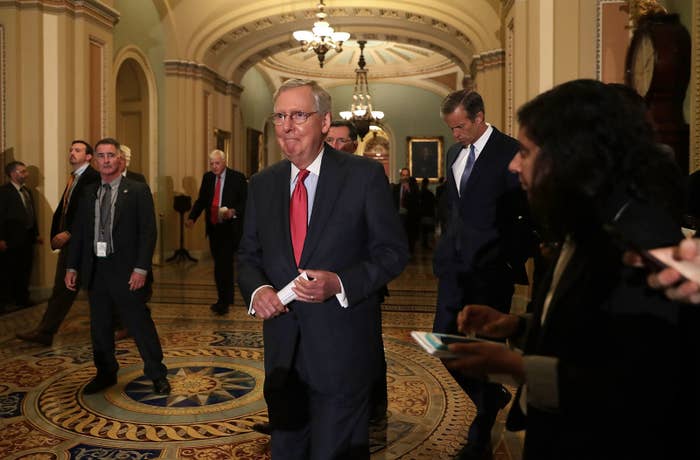 WASHINGTON — Senate Majority Leader Mitch McConnell strongly condemned any foreign involvement in the election Monday and supported calls for a bipartisan investigation, but wouldn't say whether he believed Russia tried to swing the election for Donald Trump.
"The Russians are not our friends," said McConnell. "I think we ought to approach all of these issues on the assumption that the Russians do not wish us well."
McConnell said he has confidence in the Senate Select Committee on Intelligence to thoroughly investigate the Russian hacking of DNC and RNC emails. This would be on top of investigations by the Obama administration and the Senate Armed Services Committee.
"This simply cannot be a partisan issue," said McConnell.
McConnell's statements are in direct contradiction to the views of President-elect Trump, who has brushed off the reports of Russian hacking as partisan sour grapes.
"Really clearly what this is is an attempt to try to delegitimize President-elect Trump's win," said Trump communications director Jason Miller on a call with reporters Monday.
"First after the election it was the recount nonsense, then it was the discussion of the popular vote, now it's anonymous off-the-record sources with conflicting information trying to raise other issues."
Trump also took a direct shot at the CIA Friday, saying "these are the same people that said Saddam Hussein had weapons of mass destruction."
McConnell, however said he has the highest confidence in the intelligence community and the CIA in particular. McConnell highlighted that Minority Leader Chuck Schumer and other Democrats would be part of the Senate investigations into Russian hacking.
Schumer put out his own statement praising McConnell's support of bipartisan investigation.
"This issue should not and must not turn into a political football," said Schumer.
House Speaker Paul Ryan released a statement that denounced any possible Russian cyberattacks as "entirely unacceptable" but notably did not call for any investigation by the House.
Instead, Ryan warned that "exploiting the work of our intelligence community for partisan purposes" would be a threat to national security.
The Obama administration is urging Congress to investigate the cyberattacks. White House press secretary Josh Earnest said Monday that members need to "spare us the hand-wringing" and move forward quickly with their investigations.
McConnell said he has not had discussions with Ryan about the matter. When asked if he personally believes that Russian actors tried to influence the election for Trump, McConnell would not say.
"Prior to the election the director of national intelligence released a statement saying that the Russian government directed the recent compromises of emails," he said.
"That is what the intelligence community believes can be said in unclassified remarks without risking sources and methods. Anything else is irresponsible, likely illegal and potentially for partisan political gain."