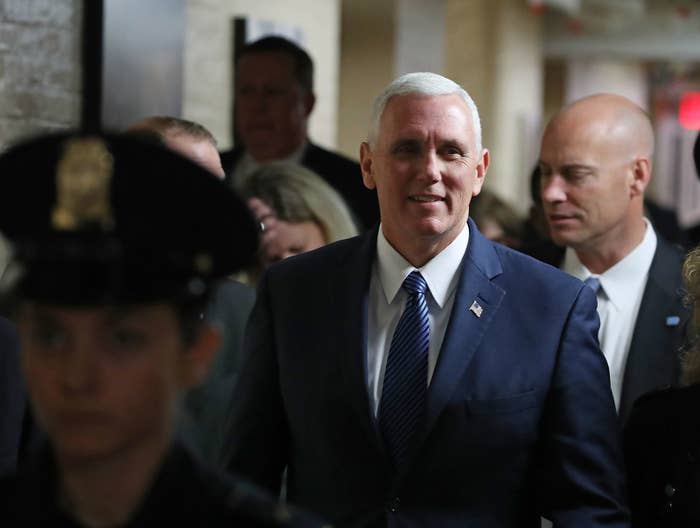 WASHINGTON — Vice President-elect Mike Pence told House Republicans to "buckle up" and warn their families they're in for a busy few months.
During a closed-door meeting with House Republicans Thursday morning Pence said that President-elect Donald Trump is planning an extremely busy and ambitious legislative agenda for his first 100 and 200 days in power.
Pence said the top priorities will be repealing the Affordable Care Act, a tax overhaul, and building up defense, according to several people in the room.
Speaker Paul Ryan laid out a plan to pass a short-term continuing resolution to fund the government from December until the end of March. Ryan "made it clear it came from the president-elect," said Colorado Rep. Mike Coffman.
The idea is to close out Obama's fiscal year with the status quo, then work on a more ambitious plan for Trump's first year in office. The plan received broad support.
"Would you rather negotiate with Harry Reid and Barack Obama or with Donald Trump? It's a pretty easy choice," said Oklahoma Rep. Tom Cole.
Pence told reporters after the meeting that Trump plans to work with leadership in the House and the Senate.
"We're going to move an agenda that's going to rebuild our military, revive our economy and, in a word, make America great again," he said.
Several members of the anti-establishment Freedom Caucus said there was a sense of unity in the room, and backed the short-term funding plan under the circumstances. Even Republicans who opposed Trump seemed to be happy.
"I think the world of Mike Pence," said Virginia Rep. Scott Rigell. "I think he is, let's just say an outstanding counter-balance if you will to the president-elect."
Coffman, who condemned Trump during the campaign, said the meeting with Pence was "very impressive" and "very positive."

"He didn't give a lot of substance in terms of the way forward other than to say, quote-on-quote, 'buckle up'. It's going to be a fairly aggressive agenda in terms of getting things done to move the economy forward," he said.