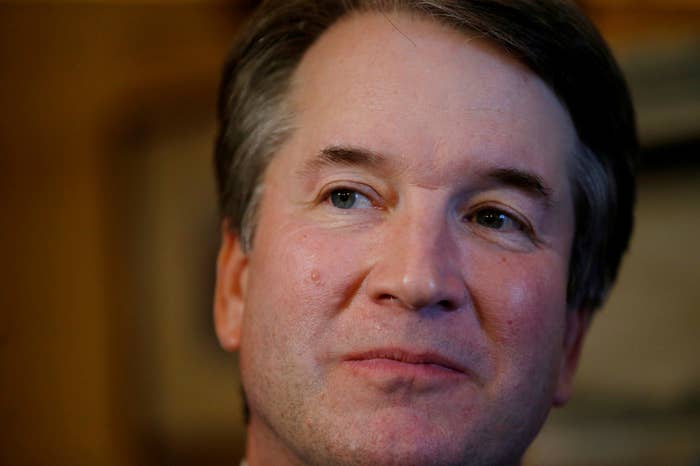 Brett Kavanaugh's path to the Supreme Court was looking fairly smooth Tuesday afternoon, but after President Trump's personal lawyer Michael Cohen pleaded guilty to eight federal charges — including campaign finance violations — Democrats felt they had gained new ground in fighting Kavanaugh's nomination.
Democrats had been focused on at least trying to slow the nomination by engaging in an extended fight over access to thousands of documents from Kavanaugh's time in the George W. Bush administration. The pivot to tying Kavanaugh to Cohen Wednesday morning was abrupt, with Senate Minority Leader Chuck Schumer calling for the Senate Judiciary Committee to delay the nomination hearings because Kavanaugh could one day be involved in hearing a case against the president.
"It is unseemly for the President of the United States to be picking a Supreme Court justice who could soon be, effectively, a juror in a case involving the president himself," said Schumer.
Minority Whip Dick Durbin went even further, saying, "we are on the threshold of a constitutional crisis." However, Judiciary chair Sen. Chuck Grassley refused to delay the hearings. Democratic Sens. Mazie Hirono and Ed Markey said Wednesday they would refuse to even meet with Kavanaugh. "He has been nominated by someone implicated, and all but named as a co-conspirator, in federal crimes," tweeted Markey. Sen. Kamala Harris used similar phrasing, saying the confirmation should be delayed until the Cohen investigation concludes because Trump is an "unindicted co-conspirator in a felony criminal investigation."
Cohen pleaded guilty to breaking campaign financing laws by making payments to buy the silence of two women who claimed to have had affairs with Trump. Cohen said he acted "in coordination with and at the direction of" an unspecified presidential candidate.
The news could also provide new grounds for red-state Democrats up for reelection this fall to oppose Kavanaugh. Democrats will need to be united and win over at least one Republican to bring down the nomination.
Out of the gate, the two-pronged attack against Kavanaugh was that he would overturn the right to an abortion and dismantle the Affordable Care Act and the pre-existing condition protections that come with it.
But it appeared not to be working on key swing senators, who rejected the popular notion that the Supreme Court is evenly split on abortion, with four justices who will reliably vote to uphold abortion protections and four justices who will reliably vote to allow new restrictions.
"I don't think it is as clean as a four-and-four split," said Alaska Sen. Lisa Murkowski, who is pro–abortion rights and seen as one of the Republicans most possible to flip.
Joe Manchin, a Democrat representing the right-leaning state of West Virginia, also dismissed the idea that Kavanaugh will necessarily be the swing vote on abortion. "I was a governor. I've put robes on people. You can't predict how a person is going to vote," he said.
This put Schumer in a bind. By branding Kavanaugh as the man who will overturn Roe v. Wade, it would look bad if a handful of Democrats end up voting for him. Yet Democratic senators up for election in states won by Trump — like Manchin, Joe Donnelly of Indiana, Heidi Heitkamp of North Dakota, Jon Tester of Montana, and Claire McCaskill of Missouri — will be under intense pressure to approve the confirmation.
The confirmation fight had increasingly become about process (the documents), but Tuesday's development provides a new angle — corruption! indictments! — arguably something voters will pay more attention to than memo transparency.
Still, the day after the Cohen news, red-state Democrats mostly stuck to the line about needing to see more information. Manchin even said he opposed pausing the nomination. "I'm not in favor. I think we need to do our job. All of us have a job to do," he said.
But the lines of attack are already changing. Schumer highlighted that Kavanaugh has argued that presidents should not be subject to civil lawsuits or criminal investigations while in office, and that impeachment is the proper remedy for presidential abuses.
Schumer painted Kavanaugh as someone who believes presidents are "virtually above the law." This allows Democrats to attempt to tie Kavanaugh directly to Trump — and possible Trump misdeeds. "At this moment in our nation's history," Schumer said, "the Senate should not confirm a man to the bench who believes that presidents are virtually beyond accountability."