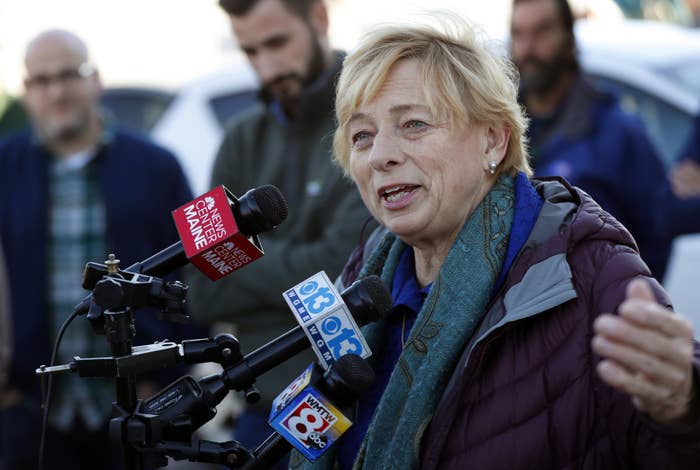 WASHINGTON — Hundreds of thousands of low-income people will gain health insurance after Medicaid expansion became a big winner of the midterm elections.
All three states that had ballot initiatives to expand Medicaid — Idaho, Utah, and Nebraska — voted yes on expansion. This alone will lead to over 300,000 people getting health insurance.
This will bring the number of states to expand Medicaid since the passage of the Affordable Care Act to 39, plus the District of Columbia. Just over a year ago, Republicans came a John McCain thumb-width away from repealing the ACA, including the Medicaid expansion.
It was one of the most controversial parts of the repeal plan, given that it would have stripped millions of people of health insurance and taken billions of dollars out of health care for the poor.
The Democrats winning control of the House removes any repeal threat for at least the next two years. But with each state that chooses to expand Medicaid — taking federal subsidies to insure people living in poverty — it becomes more politically difficult to eventually take away.
The momentum did not stop there on Tuesday, as several state elections will help further growth of Medicaid. The state legislature in Kansas had already approved Medicaid expansion, but it was vetoed by Republican then-governor Sam Brownback. On Tuesday, Republican Kris Kobach lost to Democrat Laura Kelly, who ran on a pro-Medicaid expansion platform.
Maine is another state that saw expansion vetoed by its Republican governor, Paul LePage. When voters passed expansion through a ballot initiative, LePage refused to recognize it, and the issue has gone to the courts.
LePage was term-limited out and on Tuesday pro-expansion Democrat Janet Mills won the gubernatorial race to replace him. Hours after her victory she vowed to promptly see Medicaid expansion through.
In Wisconsin, Democratic challenger Tony Evers attacked Gov. Scott Walker for not taking federal expansion dollars (Wisconsin introduced its own, much smaller version of Medicaid expansion.) Evers defeated Walker on Tuesday. While Republicans still control the state legislature, expansion is now much more of a possibility.
Only two of the largest states have not gone through with Medicaid expansion — Texas and Florida. While thoroughly red Texas does not appear set to do so any time soon, Florida narrowly missed a step in that direction Tuesday. The Democratic candidate for governor, Andrew Gillum, who is pro-expansion, was defeated by Republican Ron DeSantis. Expansion in Florida would impact far more people than many smaller states combined, with up to 1.3 million Floridians being eligible to gain insurance.
CORRECTION
Republican former governor Sam Brownback vetoed Medicaid expansion in Kansas. A previous version of this post misidentified him.