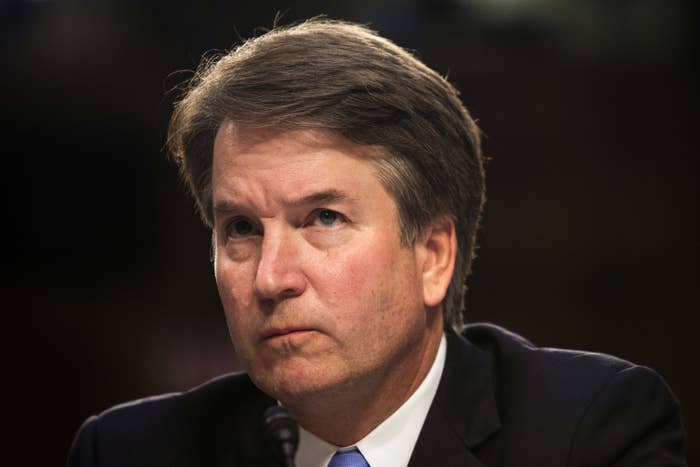 Senate Majority Leader Mitch McConnell guaranteed supporters Friday that Brett Kavanaugh will be appointed to the Supreme Court, even though the Senate Judiciary Committee has not yet heard from the woman accusing Kavanaugh of sexual assault.
Speaking at the Value Voters Summit, a social conservative event in Washington, DC, McConnell told the audience not to worry about Kavanaugh's future.
"You've watched the fight. You've watched the tactics. But here's what I want to tell you. In the very near future, Judge Kavanaugh will be on the United States Supreme Court," said McConnell, eliciting a long round of applause.
He continued, "So, my friends, keep the faith, don't get rattled by all of this. We're going to plow right through it and do our job."
McConnell's confident statements come as the Senate Judiciary Committee is trying to plan a new hearing to question Christine Blasey Ford, the woman who alleges Brett Kavanaugh held her down, groped her, and covered her mouth when she attempted to scream during a party when they were both in high school.
The committee initially scheduled a hearing on Monday for Ford to testify. Her lawyers say she is open to testifying, but not on that day. When and how the hearing would play out is being negotiated among Republicans, Democrats, and Ford's attorneys. In a statement late Thursday night, a spokesperson for Sen. Chuck Grassley, the chair of the Judiciary Committee, said that Grassley "remains committed to providing a fair forum for both Dr. Ford and Judge Kavanaugh."
Ranking Democrat on the committee Sen. Dianne Feinstein called on Republicans Friday to "show a little compassion" and accused Grassley of refusing to accommodate Ford's schedule.
"Republicans today announced their intention to move forward with a hearing on Wednesday without talking to Dr. Ford or her attorneys. This announcement was made knowing that Dr. Ford already said she couldn't come before Thursday. These are serious allegations that should be treated with gravity and respect," said Feinstein in a statement.
Grassley's office has not confirmed the Wednesday date for the hearing. As of Friday afternoon there was no clarity on whether Ford will testify or when.
Republicans hold an 11-to-10 majority on the committee. Even if one Republican were to flip and the committee votes against recommending Kavanaugh, McConnell could still schedule a Senate floor vote on his own. It would take two Republican senators voting no, along with every Democrat, to defeat the Kavanaugh nomination.
Also on Friday, President Trump shed his uncharacteristic restraint and attacked Ford's credibility. Trump questioned why she didn't call the FBI at the time of the attack and described Kavanaugh as "under assault by radical left wing politicians."
Ford has called for an FBI investigation into her allegations, but those calls have been rebuffed by Grassley.
On Friday, faculty from Yale Law School faculty, from which Kavanaugh graduated, sent an open letter to the committee calling for a "fair and deliberate" confirmation process. "Allegations of sexual assault require a neutral factfinder and an investigation that can ascertain facts quickly," reads the letter.