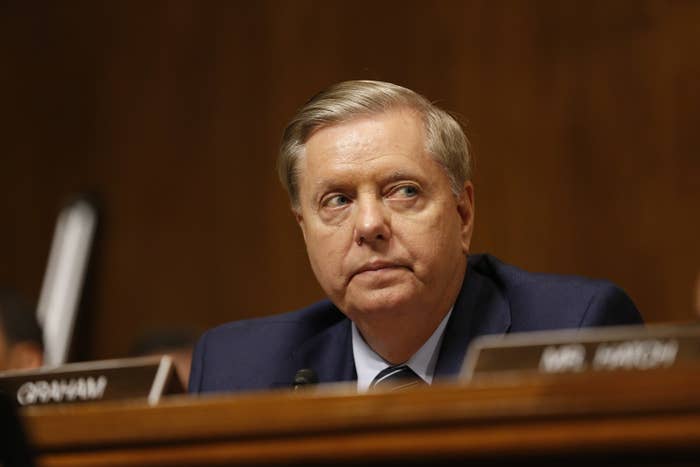 South Carolina Sen. Lindsey Graham went on a tirade against Democrats during the hearing on Supreme Court nominee Brett Kavanaugh and suggested Christine Blasey Ford hadn't done enough to dissuade him from supporting Supreme Court nominee Brett Kavanaugh.

A visibly angry Graham accused Democrats of using Ford, who testified under oath Thursday that Kavanaugh sexually assaulted her in high school, as part of a political plot.
"Here's what I'm more convinced of, my friends on the other side set it up to be just the way it is. I feel ambushed," Graham told reporters, after Ford finished testifying.
Later Thursday, during Kavanaugh's portion of the hearing, Graham became the first Republican senator to question a witness directly, foregoing the option of having lawyer Rachel Mitchell do it for him.
Graham asked Kavanaugh few questions, using the majority of his time to attack Democrats while raising his voice. "If you wanted an FBI investigation, you could have come to us! What you want to do is destroy this guy's life, hold this seat hope and hope you win in 2020. You've said that. Not me! ... This is the most unethical sham since I've been in politics, and if you really wanted to know the truth, you sure as hell wouldn't have done what you have done to this guy," Graham said to Democrats on the committee.
He then followed, by asking Kavavanaugh, "Are you a gang rapist?"
Kavanaugh said no.

Graham continued, directing his comments at Democratic Sen. Dianne Feinstein. "Boy, y'all want power. Boy, I hope you never get it. I hope the American people can see through this sham. That you knew about it and you held it. You had no intention of protecting Dr. Ford, none! She's as much of a victim as you are. God, I hate to say it because these have been my friends, but let me tell you when it comes to this. You're looking for a fair process. You came to the wrong town at the wrong time, my friend."
Earlier Thursday, an animated Graham told reporters that the hearings were part of a Democratic plan to push the nomination past the midterms so that they can win the Senate and block Trump from filling the Supreme Court seat. Asked if he found Ford credible, he said he believes something happened to her but her memory had holes and her story was uncorroborated.

"That's the facts I'm left with, a nice lady who's come forward to tell a hard story that's uncorroborated. [If] this is enough, God help anybody else who gets nominated," he said.
Graham also dismissed the need for an FBI investigation, saying Ford had not provided enough detail to justify a search warrant or an arrest warrant. He also said an FBI investigation would take too long and he did not want to "reward" political gamesmanship. Graham said Ford should "talk to somebody to work through this" but made clear he does not see any reason to vote against nominating Kavanaugh.
"I don't doubt something happened to her. But she is saying this is Brett Kavanaugh but she can't tell me the house, she can't tell me the month, or the year," said Graham.
Graham took a much stronger stance than other Republicans leaving the committee room. Just seconds earlier, Senate Whip John Cornyn said of Ford, "I have no reason to find her not credible. There are obviously gaps in her story. We know that happens with people who are traumatized — gaps."
Kavanaugh will sit for questioning when the committee returns from recess later this afternoon.
Sarah Mimms contributed to this story.
UPDATE
This story was updated to include Graham's comments in the Judiciary hearing with Kavanaugh.