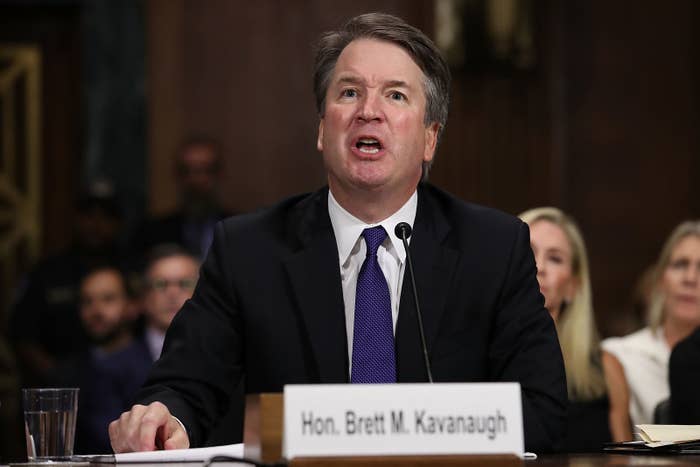 President Donald Trump has ordered a one-week FBI investigation of Supreme Court nominee Brett Kavanaugh, a day after senators heard testimony from the judge and Christine Blasey Ford, who accused him of sexually assaulting her in high school.
Senate Republicans agreed to ask the president to order the investigation Friday after a dramatic day of negotiations on the Hill.

The Senate Judiciary Committee voted to advance Kavanaugh's nomination earlier Friday, but only after Republican swing vote Jeff Flake surprised everyone by adding new conditions.
After some high-drama negotiations delayed the committee vote, Flake said he would agree to move the nomination out of committee — but only if the final Senate vote is delayed for one week, during which time the FBI can investigate sexual harassment allegations against Kavanaugh. Senate Republican leaders agreed to those conditions after meeting with members Friday afternoon, Sen. John Cornyn told reporters.
"This country is being ripped apart here, and we've got to ensure we do our due diligence," Flake said Friday.
Sen. Chuck Grassley, who chairs the Judiciary Committee, said in a statement Friday that the committee "will request that the administration instruct the FBI to conduct a supplemental FBI background investigation" that "would be limited to current credible allegations against the nominee and must be completed no later than one week from today."
Whether "credible allegations" go beyond just Ford's testimony to the other women who have accused Kavanaugh of sexual misconduct is unclear. Flake and Sen. Ted Cruz told reporters that it will be up to the FBI to determine whether to investigate the stories of Deborah Ramirez and Julie Swetnick.
Trump agreed to go along with the call for an FBI investigation after telling reporters earlier Friday he was open to it if that's what Grassley wanted. "I will be totally reliant on what Sen. Grassley and the group decides to do," Trump said.
Ford's attorney Debra Katz thanked senators for supporting the push for an FBI investigation, but also questioned Republicans' decision to put a one-week time limit on the probe. "A thorough FBI investigation is critical to developing all the relevant facts. Dr. Christine Blasey Ford welcomes this step in the process, and appreciates the efforts of Senators Flake, Murkowski, Manchin and Collins — and all other senators who have supported an FBI investigation — to ensure it is completed before the Senate votes on Judge Kavanaugh's nomination. No artificial limits as to time or scope should be imposed on this investigation," Katz said in a statement.
Flake noted, however, that the FBI's investigation into Anita Hill's sexual harassment allegations against now-Supreme Court Justice Clarence Thomas took only three days. "This is a good-faith effort to move forward and to deal with this," he said.

Kavanaugh said in a statement sent by the White House that he would cooperate with the FBI probe. "Throughout this process, I've been interviewed by the FBI, I've done a number of 'background' calls directly with the Senate, and yesterday, I answered questions under oath about every topic the Senators and their counsel asked me. I've done everything they have requested and will continue to cooperate," he said.
Mark Judge, who Ford says was in the room when Kavanaugh allegedly sexually assaulted her, also indicated Friday that he would be willing to talk to the FBI "confidentially."

"I will cooperate with any law enforcement agency that is assigned to confidentially investigate these allegations," Judge wrote in a letter to Judiciary Committee chair Chuck Grassley and his Democratic counterpart Sen. Dianne Feinstein.
Judge was in DC Friday meeting his lawyers, HuffPost reported. His attorney Barbara Van Gelder told BuzzFeed News that while her client has asked not to talk publicly about the allegations he has never said he wouldn't cooperate with the FBI. "If asked, he will," Van Gelder said in an email.
Republicans will still go ahead with a procedural vote at noon Saturday to prepare Kavanaugh's nomination for a final vote in the future, Cornyn told reporters. A second procedural vote and the final vote will be on hold until the Senate gets the FBI's report, Flake said.
"We've had a good day today by moving the nominee," Grassley said, as he left McConnell's office.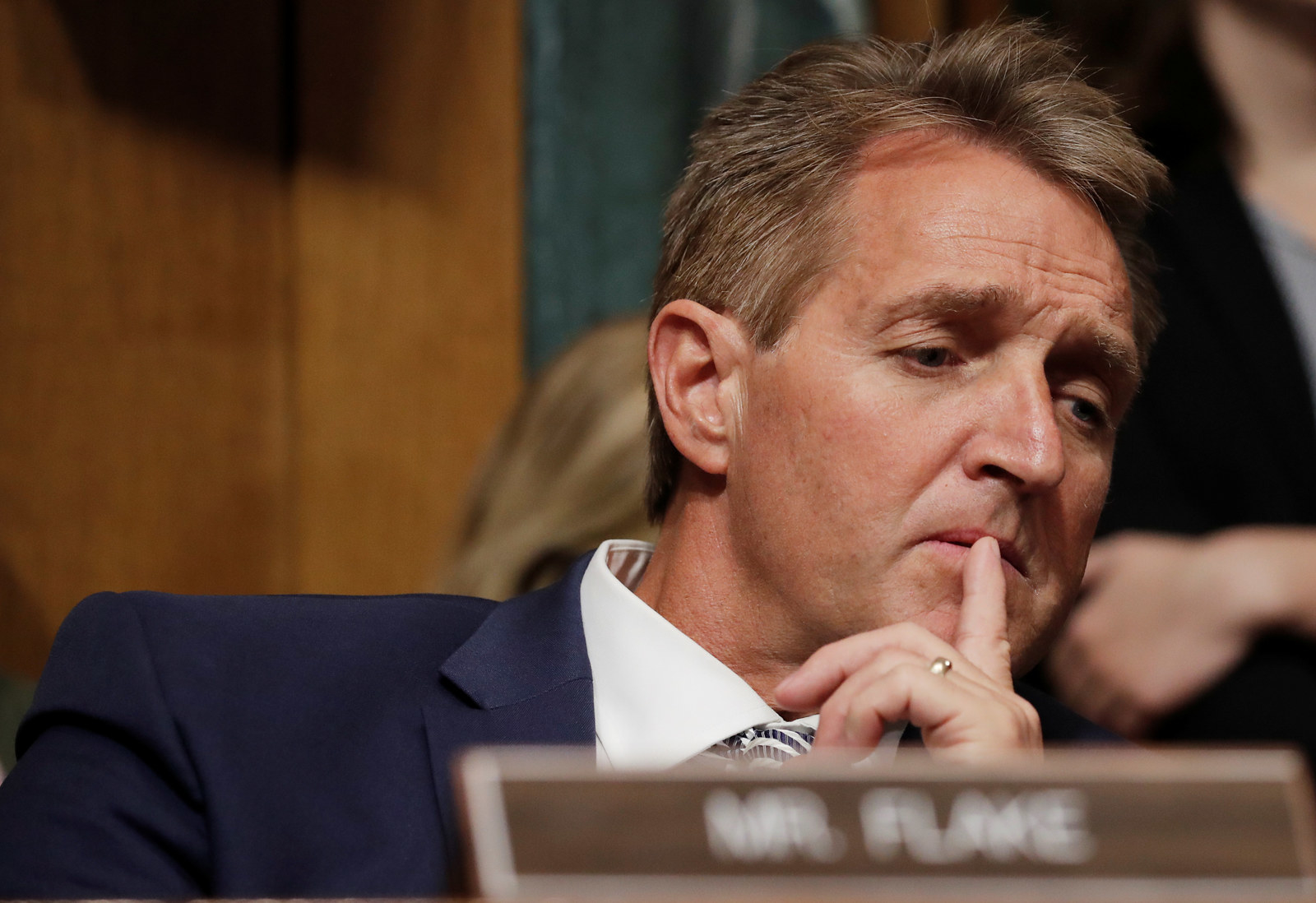 Flake's demand for an FBI investigation was not binding, but he held a huge amount of leverage to make it happen. Democrats have already been calling for an FBI investigation for weeks, which the White House has rebuffed, and other swing vote Republicans had indicated they supported Flake's plan.

If Flake and one other Republican senator band together, they can work with Democrats to sink the Kavanaugh nomination. Sens. Susan Collins and Lisa Murkowski still have not announced which way they'll vote on Kavanaugh and both said Friday they support the request for a one-week delay for an FBI probe.

Democratic Sen. Joe Manchin, who also hasn't said how he'll vote on Kavanaugh's nomination, said he, too, supported Flake's call.

Asked what message this sends to victims of sexual assault, Sen. Lisa Murkowski said, "I think it says that the Senate is going to do its due diligence as it needs to do."

Flake ultimately voted to approve of Kavanaugh's nomination in committee Friday, acting as the deciding factor in an 11–10 party-line vote in favor of approving the nomination. It next heads to the full Senate.
After the committee voted Friday, Trump said he wasn't sure if Kavanaugh's nomination would move forward and said he had "no message" for other Republicans who remain undecided.
"I don't know if this is going to continue onward or are we going to get a vote. … But I think it will work out very well for the country. I just want it to work out well for the country. If that happens, I'm happy," Trump told reporters.
Asked if he has thought of a replacement for Kavanaugh, however, Trump said, "not even a little bit."
The president tweeted his support for Kavanaugh Thursday night, following tense testimony from both Kavanaugh and Ford, who has accused the judge of sexually assaulting her when they were both in high school. At the time, Trump tweeted that the Senate "must" vote. But when asked what message he had for Collins and Murkowski Friday, he said they should vote their conscience.

"I have no message. I mean they have to do what they think is right. There's no message whatsoever. They have to do what they think is right, they have to be comfortable with themselves and I think that's what they are."
Flake's move initially left a lot of confusion among senators on both sides of the aisle. Republicans met in McConnell's office to figure out their move.
Sen. Orrin Hatch, a Republican on the Judiciary Committee, told reporters on his way into the meeting that he doesn't "have any problem" with the possibility of an FBI investigation, although he would prefer no delay. "I think it's overkill. I think it's over-utilization. But they have a right to request it, I don't have any problem with that," he said.
Flake announced Friday morning he would support Kavanaugh, after hearing from both the judge and Ford. Shortly after, he was confronted in an elevator by sexual assault survivors who told him their stories and emotionally expressed their disappointment in him. "You're telling me that my assault doesn't matter," one of the women said, crying.
Flake would not say later Friday whether those women changed his mind. "It has been remarkable over the past week, the number of people who, you know, saw Dr. Ford ... and were emboldened to come out and to say what had happened to them. And I've heard from friends, close friends, and had no idea," Flake told reporters. "I think that that's important, and people out there need to know that we've taken every measure that we can within reason to make sure that this process is worthy of this institution."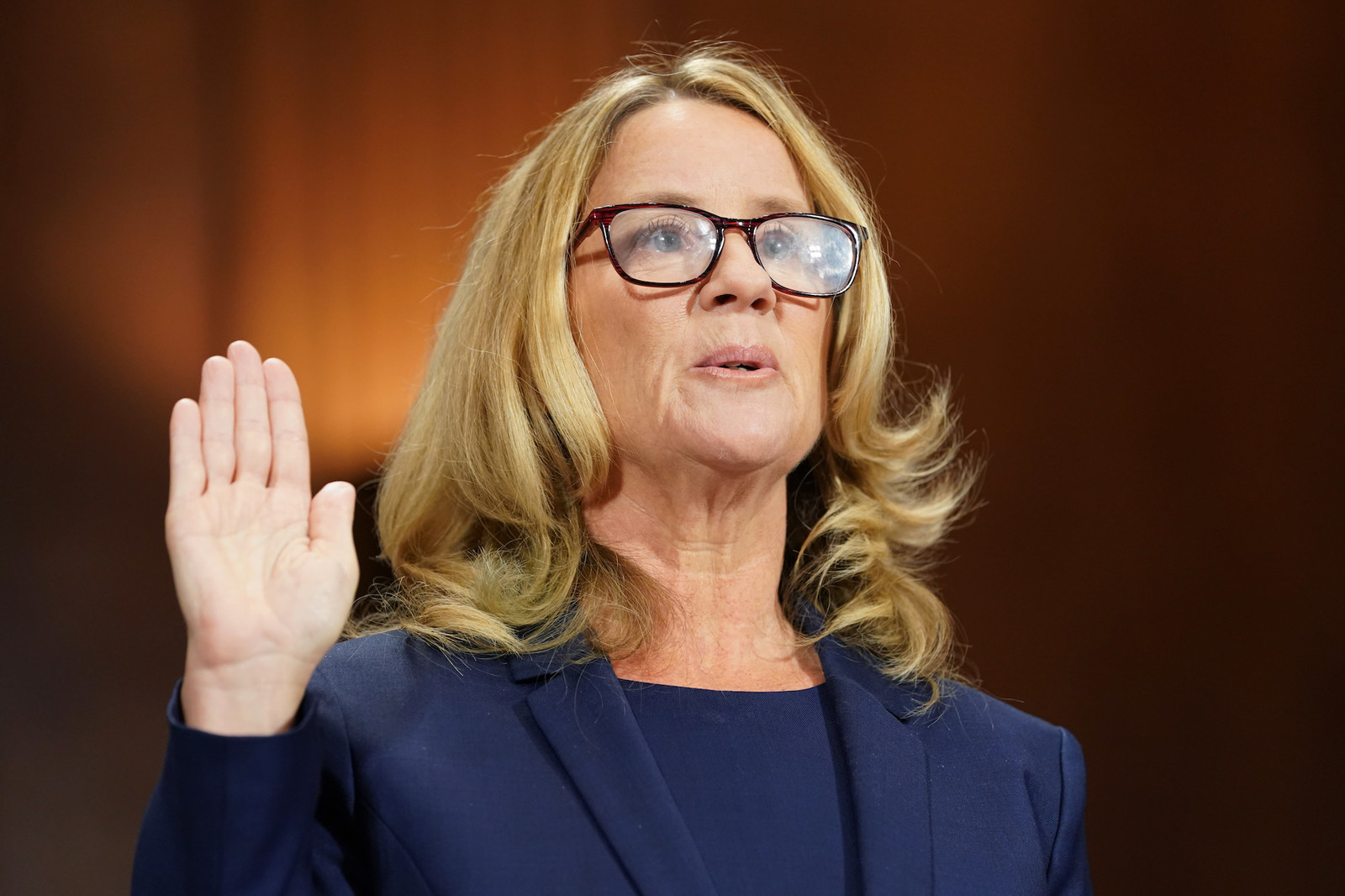 Once he got to the committee chamber Friday morning, Flake began huddling just outside of the committee room with Democrats eager to change his mind. Flake exited toward a back room and had gestured toward Democratic Sen. Chris Coons, a close friend, to join him. Sens. Amy Klobuchar and Patrick Leahy were spotted walking back to meet with Flake as well.
Democratic Sen. Sheldon Whitehouse said that "given what was happening" in the back room, the planned 1:30 p.m. vote on Kavanaugh would need to be delayed.
Grassley initially refused to delay the vote, but when 1:30 came around he was approached by a staffer and after a brief discussion headed to the back room himself. Just before 2 p.m., he returned to the committee room and called a vote.

Flake was allowed to make a statement before the vote began. "We had conversations ongoing for a while with regard to making sure that we do due diligence here, and I think it would be proper to delay the floor vote for up to but not more than one week in order to let the FBI continue to do an investigation, limited in time and scope to the current allegations that are there," he said.

Sen. Ben Sasse, another Republican, spent time before the committee continued its meeting, talking at length with Whitehouse and, at times, Leahy. Sasse voted in favor of Kavanaugh's nomination as well.

As Democrats huddled outside the conference room, joined by more and more confused Republicans, cameras in the room captured a solemn-looking Lindsey Graham, who has been a fierce advocate for Kavanaugh's nomination. The South Carolina senator turned to his colleague, Hatch, closed his eyes and silently shook his head. Moments later, Graham could be seen shaking his head and rolling his eyes.
After the chaos of Friday, Graham said that while he was ready to vote "now" to confirm Kavanaugh, he respects the Republicans who called for an FBI investigation. "It can be done quickly and then we will be able to move forward to an up-or-down vote in the Senate next week," he said.
"I've never felt better about the Supreme Court nomination of Judge Brett Kavanaugh than I do right now," Graham said.

David Mack, Chris Geidner, Lissandra Villa, Sarah Mimms, and Stephanie K. Baer contributed to this story.
This is a developing story and will be updated. Follow BuzzFeed News on Twitter for updates.