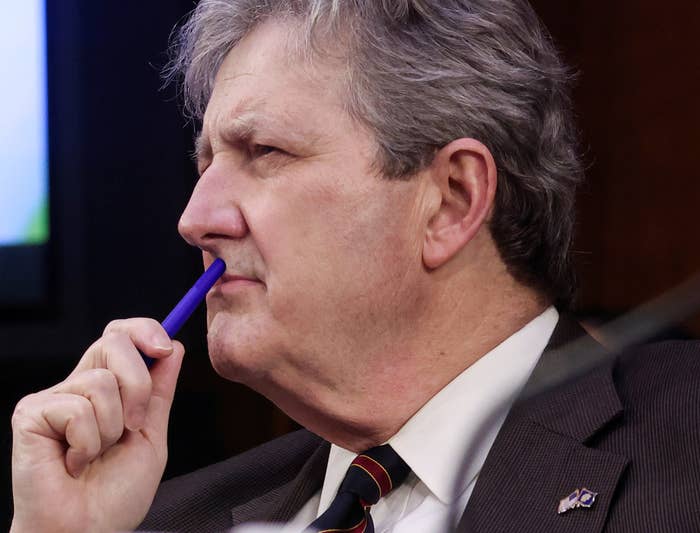 WASHINGTON — It was entering hour five of the first day of Supreme Court nominee Amy Coney Barrett's confirmation hearings — and the energy level in the room was winding down — when John Kennedy, the junior senator from Louisiana, began to talk.
"We all watched the hearings for Justice Kavanaugh. It was a freak show!" Kennedy shouted, invoking Christine Blasey Ford's testimony accusing Kavanaugh of assaulting her. "It looked like the cantina bar scene out of Star Wars."
Kennedy warned Barrett that Democrats may try to do the same to her. "Before it's over with, they may call you Rosemary's baby for all I know," he said. The next day he joked about how ignorant an adult would have to be to be truly impartial on all issues: "I'm like Bluto in Animal House. I'm just fat, drunk, and stupid. I think the Germans are the ones who bombed Pearl Harbor. Climate change? Didn't it cause the Cold War?"
In the Senate, Kennedy is chiefly now known for distilling dry, complex, or even gravely serious issues down to a memorable soundbite, like saying that giving Equifax an IRS contract would be like "giving Lindsay Lohan the keys to the minibar." He does it in practically every interview. He once told a judicial nominee "just because you've seen My Cousin Vinny doesn't qualify you to be a federal judge." He said of former Trump lawyer Michael Cohen "Jesus loves him, but everyone else thinks he's an idiot."
But some people who knew Kennedy from Louisiana politics say the politician they see on TV acts and sounds different than the person they remember. They say he used to carry himself as closer to an Oxford-educated lawyer, which he is, than a fountain of folksy rejoinders.
Kennedy's public image can sometimes verge on country bumpkin — but in fact he is one of the best-educated members of the Senate. He graduated magna cum laude from Vanderbilt University. He edited the Virginia Law Review and was elected to the Order of the Coif at the University of Virginia Law School. He went to England to earn a civil law degree with first-class honors from Oxford. As treasurer of Louisiana, he ran the state's finances for 17 years.
There's a history of politicians dialing up their affectations for the cameras. George W. Bush spoke with a thicker Texas accent than his parents, and it only got thicker after he entered the White House.
"There is the pre–running for the US Senate Kennedy and there's post–running for US Senate Kennedy."
Kennedy has been in the Senate for less than four years. He doesn't have a powerful committee chairmanship or a presidential trajectory, and he isn't one of the high-profile moderates that people look to in tight votes. But with his thick Southern drawl, his aw-shucks demeanor, and his memorable one-liners he's become one of the most-quoted politicians in Washington, giving him a higher profile than many of his peers.
HuffPost described him as "the folksiest man in the Senate" and he inspired a surprisingly difficult quiz titled "Who said it: Sen. John Kennedy or Foghorn Leghorn?" News shows love him and reporters seek him out to provide a quick turn of phrase or some homespun wisdom to spice up their articles.
"I needed a quote for my story," one Capitol Hill reporter once remarked to colleagues in the Senate basement. "And what do you know? I put a nickel in John Kennedy and a quote came out."
It's not just the quips. Kennedy has carved out a niche as the twangy outsider expressing dissatisfaction at Beltway dysfunction. "This is Washington, DC. Politics is in everybody's blood, kind of like herpes," he said. He described the Senate as "running around like a bunch of free-range chickens." When a budget staredown threatened to shut down the government he lamented that "our country was founded by geniuses, but it's being run by idiots."
If Kennedy's persona can at times seem larger than life, there are those who say it is exactly that.
"He's always had sort of an accent. But there was never that good-old-boy, cornpone, Foghorn Leghorn-type of persona that he has now," said Bob Mann, an LSU communications professor and former operative in Democratic Party politics in Louisiana.
Mann said the change took place in 2016, while Kennedy successfully ran for the Senate. "There is the pre–running for the US Senate Kennedy and there's post–running for US Senate Kennedy. Those are two completely different people," he said.
Kennedy always had a knack for what would make a good quote, said Jan Moller, a former political reporter for the New Orleans Times-Picayune who is now executive director of the Louisiana Budget Project. But Moller says he's definitely seen a change from Baton Rouge Kennedy to Washington, DC, Kennedy.
"He was always quotable, but not cornpone," he said. "It's the same DNA, it's just a different stage."
For a long time, Kennedy was a Democrat. He first ran for Senate as the most progressive challenger in the Democratic field in 2004. He endorsed John Kerry over George Bush and railed against politicians raiding Social Security to fund tax cuts for millionaires.
He switched parties in 2007 and tried for a Senate seat as a Republican in 2008, losing to Democratic incumbent Mary Landrieu. In 2016 he ran again, branding himself as a populist outsider. With help from Donald Trump, he won the race by 20 points.
Trey Ourso, a Democratic campaign veteran, said he sees a very different John Kennedy now than he recalls from back in the days when they were in the same party.
"I don't remember him being like that," said Ourso. "I just don't remember him being as over-the-top with all of the outrageous soundbites that he puts out there these days. I suppose he must rehearse them or have a book of them."
He may not have a book but Kennedy does get good mileage out of his lines. He's reused the politics-as-herpes joke several times to different reporters. He said he'd "rather drink weed killer" than support automatic tax increases. But he also said he'd rather drink weed killer than support Obamacare or join the Washington insiders club. The Baton Rouge Advocate traced that line back to Kennedy's days as state treasurer.
Kennedy and his allies acknowledge the changes but say they're aesthetic, deep down he's the same as he's always been — it's a matter of dialing things up a notch for the cameras, as most good politicians do.
Roy Fletcher, a legendary Republican media consultant who handled four of Kennedy's past campaigns, rejects the characterization of Kennedy as a chameleon. Fletcher argues that Kennedy was a fiscal conservative even when he was a Democrat, and the one time he strayed outside his comfort zone was the 2004 race when Kennedy faced a crowded Democratic field and needed to run to the left to distinguish himself. It didn't work, and, according to Fletcher, Kennedy didn't enjoy the experience. "To be himself he had to be a Republican. So he switched," said Fletcher. "I contend he was always a Republican, he just didn't know it."
Kennedy's speech used to be flatter and have a faster cadence. He sounded a lot like his old boss, former Louisiana governor Buddy Roemer. This was hindering Kennedy's efforts to distinguish himself, said Fletcher, so he slowed his speech down to a more leisurely pace, giving him a distinct vocal style.
"It helped John tremendously," said Fletcher. "Suddenly people found him much more engaging. They didn't have that off-putting 'oh, that's Roemer' reaction.'"
You can easily tell the difference. Those looking to compare can watch old debate video or go to the Louisiana government website and watch archived meetings of the State Bond Commission (BuzzFeed News cannot, in good conscience, recommend doing this because these budget meetings are exceedingly dry).
For his part, Kennedy insists he hasn't changed. He said he has always used his now-famous colloquial speaking style because it helps get his meaning across.
"That's always been my approach. I talk straight and I try to answer the question," he told BuzzFeed News. "The American people are busy. They don't read Aristotle every day. They don't have time, they're earning a living. They catch a bit of the news here and a bit of the news there and I try to answer the questions and not make complicated something that's fairly simple so they can understand what my position is. That's something I've always done."
Paul Stephan is a University of Virginia Law School professor now, but in the '70s he was a classmate of Kennedy's there. The two served as executive editors of the Virginia Law Review. He said Kennedy always had public service in mind, though he was more dialed back in those days. "John's public persona has changed over time. Or maybe it's just when we were students he just didn't need a public persona," said Stephan.
He said Kennedy is still the same person he knew all those years ago, "I have the highest regard for him."
The key to understanding Kennedy's evolution may be to look at Louisiana itself. He's been a Democrat and a Republican, an intellectual and a common man, but his shifts have always been in lockstep with the attitudes of his home state.
"I think John Kennedy's career mirrors the changes in Louisiana politics," said longtime Democratic strategist and Louisiana native James Carville.
When Democrats were in control, Kennedy was a Democrat. His party switch happened in 2007, right as the Republicans were about to sweep control all across the South. When Louisiana went full-on MAGA, so did Kennedy.
"Louisiana went from populist Democrat to staunchly deep-red Republican at the federal level and John Kennedy has been all those," said Moller. "He's been all the things Louisiana has been over the past 30 years."
It's proved to be a successful strategy. "He's a good politician. He's never not been a good politician," said Mann. "He's just been good in a completely different way with a completely different persona."
Kennedy has mostly avoided rocking the boat. His sayings always criticize Washington in general but rarely, if ever, his own party leadership.
At times there is clearly no conviction behind the colloquialisms. In one scrum during the DACA debate of 2018, he decried the tendency in Congress for everyone to dig in their heels rather than be open to compromise. Seconds later, in response to the very next question, he said he would not vote for any DACA deal that didn't meet his preconditions. He refused to back a bipartisan bill that would have brought down premiums on the Obamacare markets, saying propping up the markets is like "putting paint on rotting wood."
After finding his niche, Kennedy had been cruising along largely controversy-free until last December. Trump's dealings with Ukraine had consumed Congress and the House was on its way to impeaching him. Kennedy shocked many of his colleagues by promoting a Russia-backed conspiracy that Ukraine interfered in the 2016 presidential election to try to get Hillary Clinton elected.
This flew in the face of the findings of the US intelligence community, which determined Russia had interfered to help Trump win. But Kennedy embraced a counter-narrative that grew out of right-wing conspiracy theory forums on the internet, saying Ukraine interfered to throw the race to Clinton. Other Senate Republicans rejected this theory. "They didn't (interfere), it was the Russians, I'm 1,000% confident," said Sen. Lindsey Graham. Sen. Mitt Romney said there is a big difference between hoping one candidate wins and getting involved in the way Russia did. One reporter suggested Romney tell that to Kennedy, who was standing right behind him.
Faced with media and public backlash, Kennedy played dumb. In an interview with NBC, he said he did not attend a Senate briefing where intelligence officials said a Russian propaganda campaign was driving the attempts to frame Ukraine for election interference. When former National Security Council senior director Fiona Hill warned the Ukraine story was Russian disinformation, Kennedy said she "is entitled to her opinion."
Kennedy pulled through. Trump was acquitted in the Senate and Kennedy sold himself as one of Trump's chief defenders. He has returned to his media role as a voice of reason shaking his head at both sides, while also appearing alongside Trump at roaring, hyperpartisan rallies like the one where he said of House Speaker Nancy Pelosi, "I don't mean any disrespect, but it must suck to be that dumb."
At the age of 68, Kennedy may not have decades to spend moving up the seniority ladder to a powerful committee post. He's unlikely to be a frontrunning contender for president. But he has found his own way to have outsize influence. "He's trademarked his folksiness. It's given him a unique selling proposition," said Fletcher.
It's worked beautifully. Kennedy gets to stand beside the president at rallies, then play the above-it-all voice of wisdom on TV. He gets to be America's folksiest senator, one of the most-quoted people in the Capitol, which, in Washington, is its own kind of power.