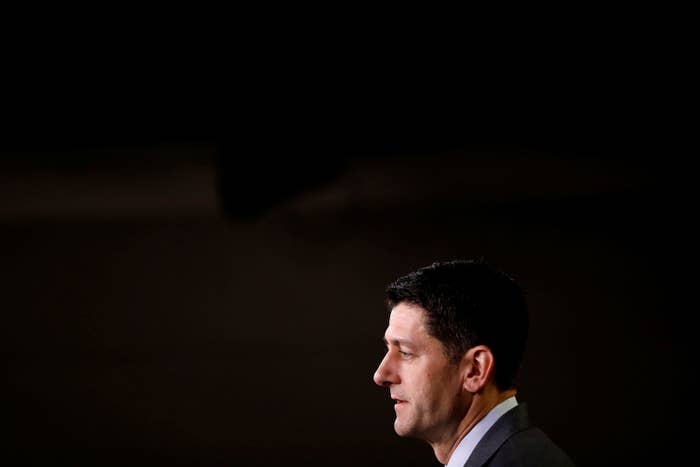 For two decades, Paul Ryan worked both publicly and behind the scenes for an immigration compromise. Now he's preparing to leave office as the house speaker who refused to move any immigration bill to a vote until his party forced him to.
Ryan's legacy on immigration may end up being nothing at all — barring a twist in the next few months, he will join a long line of speakers who weren't able to pass comprehensive immigration reform under their watch. But in Ryan's case, he spent much of his speakership blocking the types of bills he used to promote and boosting the ones he used to fight against.
As a staffer in the 1990s, Ryan helped kill a bill that slashed legal immigration. As speaker, Ryan spent months pushing a bill that would do just that. As a member of Congress in the 2000s, Ryan endorsed bipartisan immigration reform plans. As speaker, he employed his might to block a bipartisan bill from reaching the floor.
Such conversions typically don't happen overnight. But Rep. Luis Gutiérrez, a Democrat who used to work with Ryan on the issue, believes that Ryan's breaking point did happen in a day. One specific day, in fact — June 10, 2014.
Ryan's history with immigration dates back to at least 1994 when, as a staffer to Rep. Jack Kemp, he fought to kill Proposition 187, a California ballot initiative that banned noncitizens from using social services.

In 1996, momentum for an immigration bill seemed unstoppable. A plan led by Sen. Alan Simpson in the Senate and Rep. Lamar Smith in the House would have cracked down on illegal immigration while significantly cutting legal immigration rates. Then a speechwriter for Rep. Sam Brownback, Ryan authored a series of "Dear Colleague" letters warning about the impacts of slashing legal immigration.
"Once people learned what was actually in the bill, we were able to peel them off, one by one," Ryan told Wired in a 1996 interview.
Ryan's side won the day. Congress did pass a bill targeting illegal immigration, but only after the provisions on legal immigration were stripped out. "Everyone knew there would be a bill that was going to pass on immigration of some sort. The question was whether it included legal immigration," said Stuart Anderson, an analyst at the Cato Institute at the time who worked with Ryan.
As an elected official in the mid-2000s, Ryan endorsed a bipartisan immigration bill that included a pathway to citizenship for undocumented immigrants. He made economic arguments in favor of legal immigration, and wanted it to be paired with an increase in border security. Ryan was not always on the side of taking action — he voted against the DREAM Act in 2010 — but was seen as one of the Republicans who would work with Democrats.
Gutiérrez, a firebrand Democrat on immigration reform who has frequently attacked his own party over the issue, said Ryan cited his Catholic faith for his desire to find a permanent fix for undocumented workers. Gutiérrez once asked Ryan if he knew any Republicans who would join him to talk about immigration at an event in Chicago in 2013. Instead of recommending someone, Gutiérrez told BuzzFeed News that Ryan volunteered to do it himself.
During the event at the City Club of Chicago in 2013, Ryan called for a pathway to citizenship for undocumented workers, as well as "a far faster way" to gain citizenship for children who were brought to the country by their parents.
"We have to offer people a path to earn legalization. We have to invite people out of the shadows," Ryan told the crowd.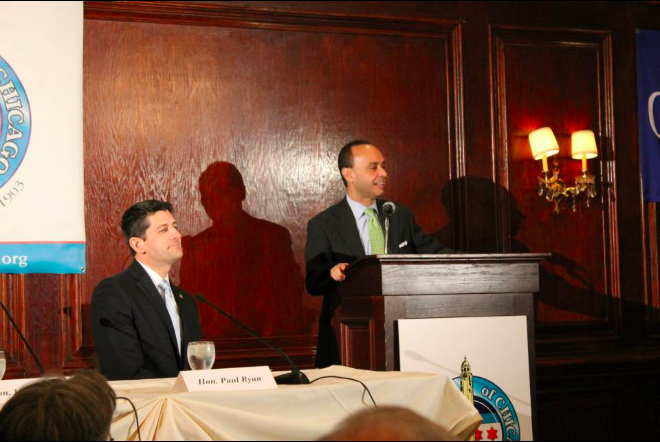 As the "gang of eight" bipartisan immigration push rose and fell, Gutiérrez said he continued to work with Ryan through back channels. With primary season coming to an end, he felt that they were within reach of having 40–50 House Republicans sign on to a bipartisan reform bill.
Then came June 10, 2014. That day, Republican Majority Leader Eric Cantor lost his primary to Dave Brat, who ran on an anti-immigration platform.
"I remember that day thinking good, Republican primaries are over, we can now begin to harvest all of our good work," said Gutiérrez. "[Cantor's loss] just derailed everything."
The rise of conservatives like Brat and Cantor's loss was a shock to the Republican system. They wanted the party to stop making concessions to Democrats, and were fiercely opposed to "amnesty" for undocumented workers. Gutiérrez said that after that date, the back-channel phone calls with Ryan stopped. The Republican Party was heading in another direction.
Brat and other conservatives formed into the House Freedom Caucus, and their power only grew stronger when they staged a successful coup against House Speaker John Boehner in 2015. Ryan was one of the names floated to replace him, but Freedom Caucus types were suspicious of Ryan's past on the immigration file. Breitbart.com and others ran stories accusing Ryan of supporting amnesty, which by then had become a dirty word in conservative media circles.
Ryan assuaged these fears by promising to abide by the "Hastert Rule," an informal principle whereby the speaker vows not to put any bill to a vote that is not supported by the majority of the majority. That meant only bills supported by a majority of Republicans would be brought forward. This killed hopes for a bipartisan immigration bill, which typically rely on a majority of Democrats and a minority of Republicans.
The promise was enough for Ryan to be elected speaker. Bipartisan immigration talks in the House were effectively over as Ryan abided by the Hastert Rule. "What can I tell you, he's kept that promise," said Gutiérrez.
Ryan did not bring forward any immigration bill for a vote during the next two years. The issue stayed on the back burner until President Trump announced in the fall of 2016 that he was killing the Deferred Action for Childhood Arrivals program, which granted work and residency permits to children who were brought into the US without documentation by their parents. Trump gave Congress six months to pass a permanent legislative replacement for DACA.
The situation had changed. While both parties speak of an urgent need for immigration reform, inertia tends to win the day. But now the status quo had a time limit. In six months, about 700,000 people who were brought to the US as children would face deportation. Democrats, many Republicans, and an overwhelming majority of Americans opposed this outcome.
Ryan called the DACA population "kids who know no other country, who were brought here by their parents and don't know another home. And so I really do believe there that there needs to be a legislative solution."
In the Senate, a bipartisan group met for weeks to try to hammer out a deal. They ultimately struck one, but Trump attacked it and it failed to gain enough votes to pass. In the House, there was no floor activity.
Ryan did not put any bill forward for a vote over the six-month grace window. Working with Democrats had been ruled out. A Republican bill, known as the Goodlatte bill, was developed, and Ryan insisted he spent six months working to whip the plan but couldn't pull in enough votes. The bill would have strictly limited what family members an American citizen can sponsor for citizenship, resulting in about a 40% cut to legal immigration.
In fact, this is similar to the 1996 bill that Ryan fought against. Stuart Anderson, now executive director for the National Foundation of American Policy, fought with Ryan to inform members about the full impacts of the bill on immigration rates. Asked if he was surprised to see Ryan publicly championing a policy he once worked to defeat, Anderson pointed to Ryan's different role.
"I think in his heart Paul knows that legal immigration is good for the country and that cutting legal immigration is bad. Unfortunately, as Speaker that's not where his caucus is right now," said Anderson. "He hasn't been able to move his caucus in that direction and as a result you've seen things like the Goodlatte bill."
Ashlee Strong, national press secretary for Ryan, said "his views have not changed" about legal immigration.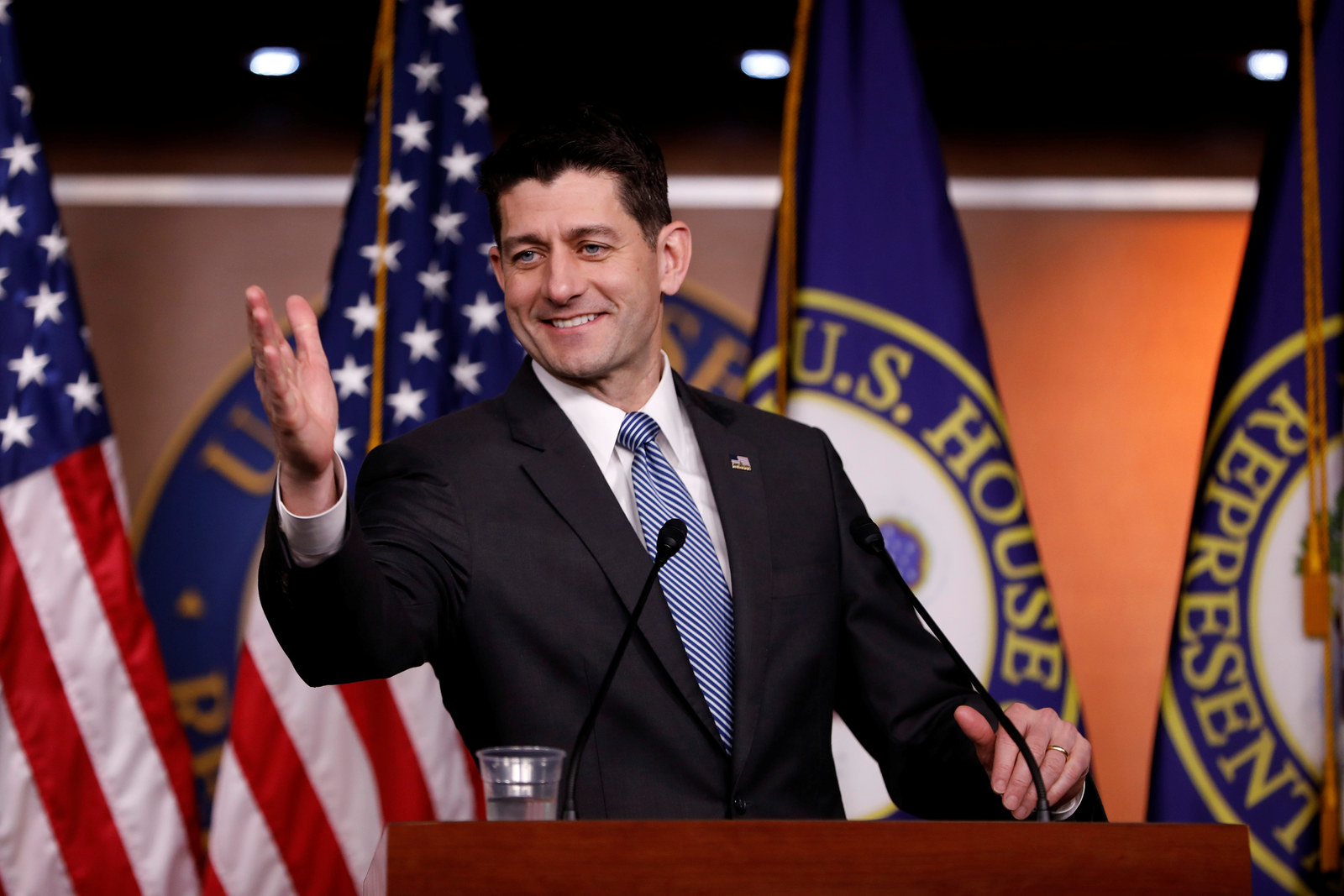 The DACA deadline came and went, but court injunctions kept the program on life support until legal challenges work their way through the court. Ryan was content to wait for the courts to rule. "As he has said many times, the DACA issue will likely not be resolved until the courts make a final ruling," Strong said.
But the House immigration debate wasn't over for Ryan entirely and he faced a revolt from inside his party.
A group of Republicans who support bipartisan immigration reform attempted to seize control of the House floor through what's known as a discharge petition. If two dozen Republicans could agree to team up with Democrats, they would have a majority and could force immigration to the House floor.
Democrats promptly got on board and a drove of Republicans signed up. The discharge petition was just two names short of being activated. If so, four immigration bills would have gone to a vote — Goodlatte, the liberal DREAM Act, a bipartisan compromise bill, and a blank slate for Ryan to propose his own solution.
If Ryan had done nothing, a bill might have passed. The bipartisan option was seen as the only one with a chance of success. It created a pathway to citizenship for DACA recipients, while funding border security and immigration judges to help tackle backlog in the system.
Because discharge petitions overrule the speaker, technically Ryan would not have been breaking the Hastert Rule. But discharge petitions are rare and seen as an embarrassment because the speaker loses control of the House agenda. Ryan went to work to kill it.
Shortly before the deadline to activate the petition, Ryan met with Jeff Denham, who was leading the charge, and the last two Republicans who had committed to signing the petition. The crucial last two members were dissuaded and did not sign.
"Leadership has made promises to some members," Denham told BuzzFeed News the following day.
The key promise was to hold a vote on a temporary guest worker program for farmers, which is sought by several Republicans, before the August recess. Ryan has since reneged on that promise and no vote is scheduled before the summer break.
Instead of the discharge petition, Ryan offered unhappy members of his conference votes on two conservative immigration bills — Goodlatte, and another bill to be negotiated between Republicans. There would be no bipartisan proposal. Both Republican bills failed to pass the House.
In the aftermath, both moderate Republicans and hardline conservatives vented frustration. Moderates were exasperated at having gone through the whole process of the discharge petition only to be left empty handed. Members of the hardline conservative Freedom Caucus accused Ryan of not truly supporting the Goodlatte bill.
"Where was the intensity of the whip effort for this bill? I mean, imagine if we had one-tenth of the intensity for this bill that we had on the tax legislation. We could've probably got this bill over the top," said Rep. Jim Jordan.
DACA recipients remain in legal limbo, awaiting the outcome of court challenges. They have no long-term protections, and the immigration system continues on after five decades without significant reforms. Ryan's navigating of the issue secured his seat, as there is no momentum for a Boehner-style coup, but it did spark some bitter criticism from members.
"I think it's been terrible. He hasn't even made a real attempt during his entire time as Speaker to resolve any immigration issues," said Rep. Justin Amash, a Freedom Caucus member. "His lack of leadership led to the discharge petition, which almost ended up succeeding, and led to these two failed bills."