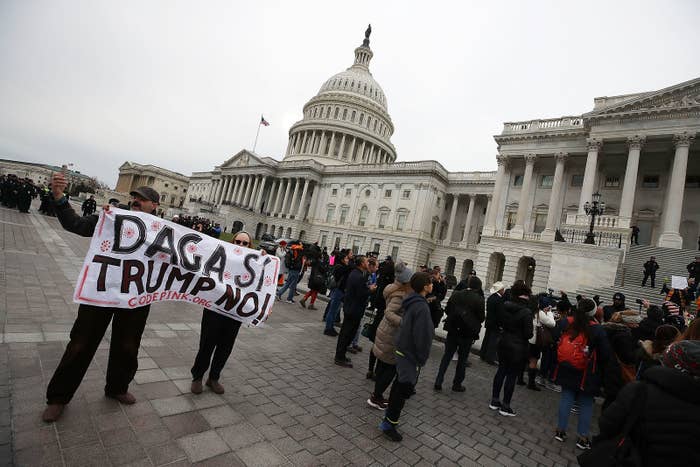 House Republicans are scrambling to hammer out an immigration bill but left a meeting Wednesday evening without a deal or a way forward about what to do with hundreds of thousands of immigrants brought into the US as undocumented children.
Republicans are trying to agree on their own plan in time to head off the embarrassing scenario of a bill backed mostly by Democrats getting through a GOP-controlled House. But it hasn't been easy.
Different factions of the party — including moderates, the conservative Freedom Caucus, and leadership — met Wednesday to try to reach a preliminary deal to present Thursday morning during a conference-wide meeting. But they emerged without a solution on the major sticking points.
"The devil's in the details and all those things have to be worked out. Potentially one thing could blow the whole thing up because everything's interconnected," said Freedom Caucus member Rep. Scott Perry.
The Deferred Action for Childhood Arrivals program, which granted the right to legally live and work in the US to 700,000 undocumented people who were brought to the country as children, was canceled by President Trump this spring, and DACA recipients have been in a fraught limbo ever since, their futures unclear. Trump tasked Congress to come up with a long-term solution, but they've so far failed to pass anything.
Court injunctions have spared the DACA population from deportation thus far, but there is no certainty how long that will last. Exasperated with the lack of action, moderate House Republicans have put forward a discharge petition to overrule Speaker Paul Ryan and force a series of immigration votes on the House floor.
Nearly every Democrat and about two dozen Republicans have signed the petition. It currently sits at 215 signatures, just three away from the forcing the votes. Moderate Republicans insist they have those last few signatures locked in and ready to go at any time, and the petition could be pushed over the edge as early as Thursday.
Republicans mostly agree that a bill should fund a border wall while also giving a pathway to citizenship to DACA recipients. But they remain extremely far apart on what that path should look like. And many insist that the parents who brought them to the US should not be able to later gain citizenship through family reunification.
The Freedom Caucus is adamant that the bill must not open up a "special" immigration stream for DACA recipients. That could mean that any green cards used to settle the DACA crisis must be subtracted from elsewhere in the system. "We've got the rule of law in this country and no one gets special consideration," said Perry.
The Freedom Caucus is also pushing for broad, restrictive changes to the US immigration system. Moderates are pushing back because they say those changes will doom the bill in the Senate, where Democratic support is needed.
Rep. Mario Diaz-Balart, one of the leading Republican moderates, implied that his group will force leadership's hand by finishing off the discharge petition Thursday. But he wouldn't conclusively say what their plan is or what they are pushing for in negotiations. "The bottom line is there's a million ways to skin the cat," he told reporters Wednesday evening.
If it hits 218 signatures, there would be votes on four immigration plans on Monday, June 25. One is the DREAM Act granting a DACA citizenship path, which is supported by Democrats but few Republicans. Another is the Goodlatte bill, a conservative proposal supported by many Republicans but zero Democrats. The third, seen as by far the most likely to succeed, is the bipartisan Hurd-Aguilar bill that combines border wall funding with a DACA pathway to citizenship.
The fourth is essentially a blank slate left open for a leadership bill. Essentially, Republicans would have until June 25 to come up with their own plan that can reach 218 votes and slot it in here.
"I think there is great progress being made," said Freedom Caucus chair Mark Meadows. "Hopefully what we'll see is the objections get smaller and less of a hurdle in the hours to come."