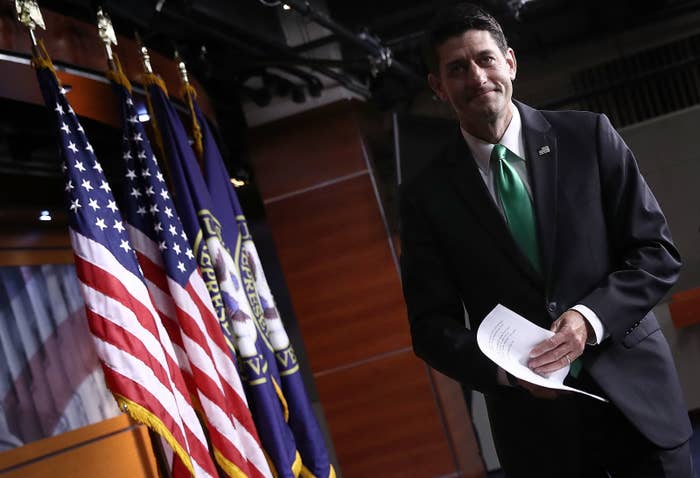 WASHINGTON — House Republicans are coalescing around a plan to fund the federal government through the beginning of December despite demands from conservatives for a long-term spending package.
The plan — proposed by House Speaker Paul Ryan at a closed-door meeting on Friday — would provide a stop-gap measure for three months, avoiding a dramatic government shutdown weeks before the election, and allow Republicans to craft so-called "mini-bus" appropriation bills in December.
A source in the room said that the majority of Republicans who spoke at the conference urged settling for a three-month continuing resolution, and a number of members believed they had their best chance at policy wins on mini-bus bills. But not everyone is happy.
The compromise would likely mean a clean Zika bill is passed without Republican riders that targeted Planned Parenthood funding. Many of the hard-right conservatives are flatly against any CR that expires in the lame-duck session.
Others, like retiring Rep. Matt Salmon, argued that Congress should stay in session in October to pass appropriations bills.
"Why would we want to postpone the work of the congress to the lame duck session with people who won't be standing for re-election?" he said. "The American people are really frustrated."

Rep. Raul Labrador, who has pushed for a long-term CR pushed past the New Year, left the meeting with a scowl on his face and told reporters he had no comment on the plan.
The Senate appears ready to link $1.1 billion in funding to combat Zika to the CR, and strip the bill of the "poison pill" amendments that had previously caused Democrats to filibuster the funding. That is expected to happen next week.
That won't be popular with the House Republicans who added those amendments. But several of them said Friday that they just don't have the votes to keep up that fight.
"If we can't get Zika funding by the end of September then we're nothing but a bunch of idiots up here," said Florida Rep. David Jolly.
"The votes just aren't there. We can have as many passionate fights about this Planned Parenthood rider as we want but the votes just aren't there for it. And so if we insist on it in the House we're not going to get ZIka funding," he said.
Another motivator to pass a deal and get out of town: the election.
Mississippi Sen. Roger Wicker said it was a "good suggestion" for senators to pass a funding measure along with a Zika bill as soon as possible so that vulnerable Republicans would have more time to campaign back home. Senators could pass a continuing resolution and leave as early as Thursday of next week.
"I think we have to ask ourselves what realistically can be accomplished between now and the election," Wicker said.
Tarini Parti contributed to this report.