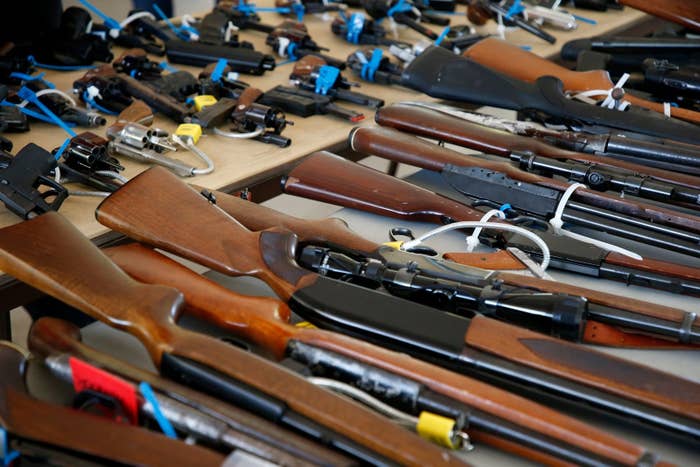 The National Rifle Association has suffered a string of surprising defeats this year on the state level, where gun control activists are finding success even as Congress avoids doing anything significant to address gun violence.
There has been a palpable spike in support for gun control across the country since February's Parkland, Florida, school shooting. This can be seen through hundreds of thousands of people attending a gun control rally in Washington, DC, several big-name brands breaking with the NRA, and just simple polling.
At the federal level, this momentum has not translated into action. Congress has declined to pass any gun measures since Parkland beyond providing funding to improve criminal record databases for background checks. President Donald Trump called on lawmakers to stand up to the NRA and pass several reforms. But none ended up happening and the White House's sole action has been to move to ban bump stocks, accessories that can increase a gun's firing speed.
But at the state level, it is a different story.
The NRA gave Florida Gov. Rick Scott an A+ rating and has actively campaigned for him. But three weeks after the Parkland shooting, Scott defied the NRA by signing into law a suite of gun control measures, including raising the legal age to purchase firearms from 18 to 21, introducing wait times on gun purchases, and giving police new powers to seize firearms before a crime is committed in what's known as a "red flag law."
Vermont Gov. Phil Scott, also a Republican with an A rating from the NRA, just signed into law the most restrictive gun control measures in the state's history. Three bills signed by Scott will ban bump stocks and high-capacity magazines, expand background checks, and introduce Vermont's own red flag law.
On down the line it goes. The Kansas legislature just overwhelmingly passed a law to disarm domestic abusers. The Maryland legislature passed a similar bill, along with its own red flag law. Gun control proponents also celebrated recent victories in Rhode Island, Oregon, New Jersey, Delaware, Minnesota, and Pennsylvania. Two dozen states have already passed laws to keep guns out of the hands of domestic abusers, and bills have been introduced in a slew of legislatures to expand background checks and introduce red flag laws.
Gun control advocacy group Everytown for Gun Safety, cofounded and funded by billionaire Michael Bloomberg, says its priority now is moving onto the offensive.
"Those things are happening in the states, they're happening really frequently," said Everytown president John Feinblatt. "Congress is the finale."
"If you had asked us six months ago and certainly a year ago what we thought our prospects of passing legislation of Vermont were, I would have said dim," said Feinblatt. "But [last week] the story changed quite radically."
But some gun rights advocates see no reason to panic. National Association for Gun Rights president Dudley Brown said that the landscape is constantly shifting, and while both sides get wins and losses, "no one pitches a perfect game."
NAGR is seen as more hardline than the NRA, and Dudley blames much of the recent movement on the NRA bowing to public pressure and failing to adequately push back.
"The NRA always turtles after a tragedy," said Brown. "They act just like a politician."
Brown cites Florida, where many NRA-endorsed lawmakers ended up voting for the sweeping gun control bill, while the NRA failed to put up a full-court press against the bill. Brown predicted that ultimately "cooler heads will prevail" and policies such as red flag laws — which are controversial because they allow police to seize a person's guns if they are believed to be a danger to themselves or others but before they have actually committed a crime — will not be passed into law. The NRA did not respond to a request for comment.
As for the youth movement being led by teenage shooting survivors from Parkland, Brown said he does not believe it will ultimately make much difference.
"They don't vote. One, they can't. And two, even when they are eligible they don't register in large numbers," said Brown. "When it comes down to it, politicians are afraid of organizations that can knock them out of office."
Changing this situation is Everytown's number one priority, according to Feinblatt. The group recently announced it is partnering with Gabby Giffords and NextGen America on the Our Lives, Our Vote project, which has already received funding of $1.5 million. The goal of the project is to register teenagers to vote, and it will focus on 10 swing states where NRA-aligned candidates are on the ballot — Arizona, California, Colorado, Florida, Michigan, Minnesota, Nevada, Pennsylvania, Virginia, and Wisconsin.
"Kids want to vote. This mass shooting generation actually is about to vote," said Feinblatt.
"Given that they told us through their polling that this was their number one issue, we're going to make damn sure they are voting in the midterms."