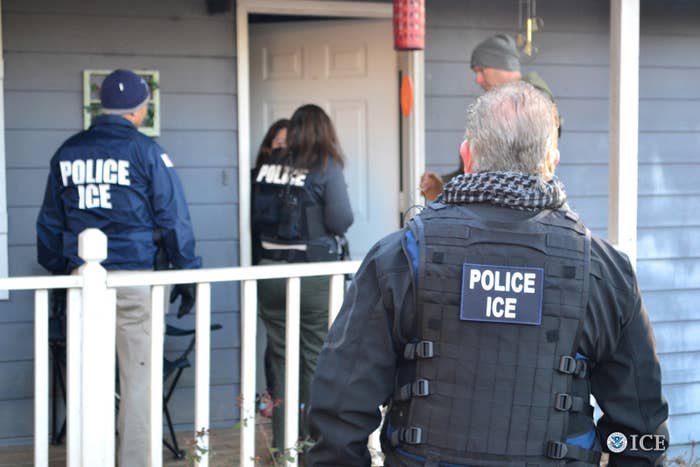 WASHINGTON — The chairman of the National Governors Association says the Trump administration promised only criminals will be deported and ICE agents will not perform random spot checks for people living in the United States illegally.

As the Department of Homeland Security moves ahead with plans to hire thousands of new agents and take a more aggressive approach to deportation, 46 governors came to Washington over the past three days to meet their federal colleagues for the NGA's winter meeting.
Virginia's Democratic governor Terry McAuliffe, who is chair of the group, said he was "emphatically" assured by Homeland Security Secretary John Kelly that only people involved in criminal enterprises will be targeted for deportation.
He said Kelly also assured him that Immigration and Customs Enforcement (ICE) agents will not start conducting random spot checks of individuals to see if they are in the country legally.
McAuliffe, a strong supporter and longtime friend of the Clintons, said he had dinner with President Trump Sunday evening and brought up the same issues. While he was more vague in describing that conversation, he said Trump made similar assurances.
"I have been very bothered. There were instances in Virginia where people had walked out of a church, a hypothermia center, and were stopped by ICE agents," said McAuliffe. "Is the new standard in America that we are just randomly going to stop individuals?"
He also said Secretary Kelly promised the administration would "absolutely not" undo DACA, the Obama White House's Deferred Action for Childhood Arrivals program, which protects children brought illegally to the country from deportation. McAuliffe said he urged Kelly to spread this message to the American people to counteract a "chilling effect" that had taken hold.
"If indeed what Gen. Kelly has indicated today, that most people are fine, they will not be touched, then he needs to convey that to the American public because you can't just continue to say 'we are deporting the bad guys," he said.
On Monday, White House press secretary Sean Spicer said a new immigration ban executive order would be coming later this week to replace the January 27 order that has been challenged in court.
Trump is addressing a joint session of Congress on Tuesday night and Spicer told reporters "you will hear a lot about immigration."