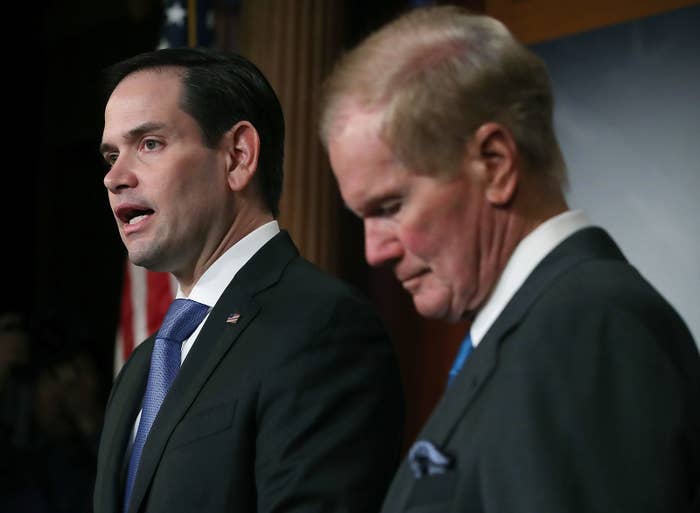 Florida Sens. Marco Rubio and Bill Nelson are introducing a bill that would encourage more states to allow law enforcement to temporarily seize a person's weapons if they are deemed to be a danger to themselves or others.

Three weeks after the Parkland, Florida, school shooting, Congress still has not passed or even started debate on any gun control measure. But the state of Florida is on path to pass a package of gun control reforms that includes allowing police to preemptively seize firearms.
The bill from Rubio, a Republican, and Nelson, a Democrat, would encourage other states to take similar measures. Only five states currently have these so-called red flag rules — California, Connecticut, Indiana, Oregon, and Washington. The bill would dole out a total of $20 million in grants through the Department of Justice to encourage other states to pass similar laws.
The system envisioned by Rubio and Nelson would allow courts to temporarily ban someone from purchasing weapons and seize that person's existing weapons if an advocate can show "probable cause" that an individual is a threat to themselves or others.
The proponent would have to provide "clear and convincing evidence" of such a danger for the ban to be made permanent. Rubio said he hoped the legislation could prevent future attacks like Parkland, where the shooter had been reported to authorities beforehand, but nothing was done.
But Rubio conceded there is no way to know if it would have made a difference. "That's the part we can't say with all certainty. Someone would have had to go to court and get this. But it certainly would have provided an option to whoever called the FBI hotline," he said.
The bill appears to be in line with calls from President Donald Trump for police to act more proactively. Last week in a meeting with lawmakers, Trump proposed "take the guns first, go through due process second."
But Nelson argued this bill is in some ways the opposite of Trump's proposal because it requires due process — going to a court — before any action is taken. Nelson described the bill as just a step in the right direction, while the ultimate solution is "background checks and the removal of assault weapons off of our streets."
The plan is likely to be controversial among some Republicans with concerns that seizing a person's guns, even temporarily, before they have a chance to defend themselves is a breach of Second Amendment rights. The influential House Freedom Caucus has been particularly vocal on such concerns.
Rubio said he does not know how many of his GOP colleagues would support the bill, but said he believes it has an easier path to the needed 60 votes in the Senate than other gun proposals.
"This is not an effort to say let's vote on this and call it a day. I just think that where we can find common ground we need to begin to work and get things done," said Rubio. "Even as I speak to you now the next killer like this could be out there plotting their move."
The proposal is similar to a bill offered by California Rep. Salud Carbajal last spring. Carbajal's legislation has 88 co-sponsors, just two of whom are Republicans, and is currently sitting in committee.
Connecticut Sen. Richard Blumenthal and South Carolina Sen. Lindsey Graham say they are working on legislation that would go a step further. Their proposal would create this "red flag" system nationwide rather than just incentivizing states to do so.e, though they have not yet introduced it. Rubio said he believed it would be less likely to pass Congress.
There appeared to be momentum to begin a gun control debate in the Senate last week, but after Trump criticized the leading Republican bill, majority leader Mitch McConnell stuck with the previous plan to dedicate this week to a partial repeal of Dodd-Frank banking regulations. There is no timetable for when Congress could begin debating guns.
CORRECTION
Rep. Salud Carbajal's legislation would create a grant program to incentivize states to pass "red flag" laws. An earlier version of this story incorrectly stated that it would make those laws federal.