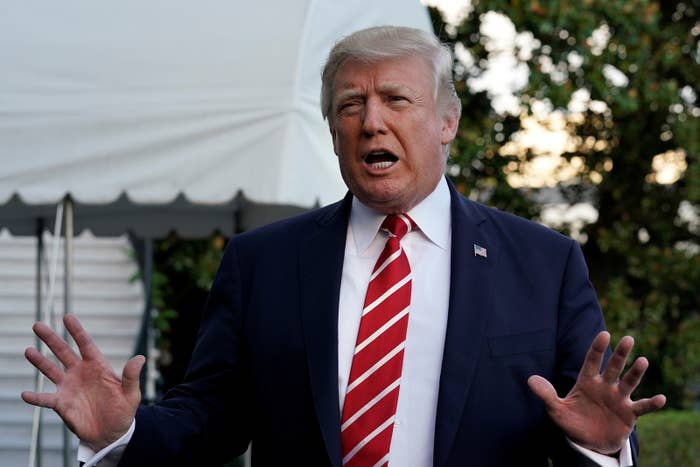 President Trump signed an executive order Thursday that could radically transform Obamacare and the American health care system in general, all without having to go through Congress.
Trump's order will allow small businesses to band together and join their own, unregulated insurance plans that can offer less coverage at cheaper prices. Obamacare rules would not apply to these plans, meaning they can drop coverage for things like maternity care, mental health services, and prescription drugs. Crucially, these off-market plans would open the door for people with preexisting health conditions to be charged higher rates.
That could leave behind a disproportionately sicker, and thus more expensive, group that needs the protections of Obamacare, driving up prices for those still on the small group or individual markets.
"I just keep hearing repeal and replace, repeal, replace, well, we're starting that process," Trump said Thursday, calling the order a first step "to providing millions of Americans with Obamacare relief."

The order does not appear to go as far as the plan pushed by Kentucky Sen. Rand Paul, which would have allowed individuals to leave the markets as well as small businesses. Health experts told BuzzFeed News that Paul's broader plan was akin to "repealing the ACA without Congress."
"President Trump is doing what I believe is the biggest free market reform of health care in a generation," Paul, who attended Thursday's signing ceremony at the White House, said.

Trump's order Thursday allows small businesses to band together to form "health associations" and buy their own group insurance plans outside of Obamacare markets.
Whereas the Affordable Care Act attempted to keep costs down by pushing as many people as possible into a single insurance pool with regulated, robust health plans, Trump's order incentivizes healthy people and businesses with healthy employees to leave the markets.
Associations could self-select by accepting only businesses with healthy employees. If a business has enough employees that require expensive health care, premiums for everyone in that workplace could be jacked up. By doing this, associations can keep their prices down and price out the most expensive workers.
Companies that can't afford to stay in an association would then have to turn to the regulated small group market, or have their employees get coverage on the individual market, where they can't be denied coverage.
But if enough healthy people join associations under Trump's new order, prices on the Obamacare markets will rise — potentially dramatically.
The order also loosens restrictions on "short-term" health insurance plans that were designed to offer temporary coverage for people who are between jobs, for example. Obamacare rules also do not apply to these plans, so prices can vary and they can cover fewer services. The Obama administration feared people would use the plans as a loophole to avoid regulations on insurance, and capped their length at three months. Trump's order would allow people to stay on these temporary plans for up to a year.
Some states will likely challenge the executive order in the courts and argue the Trump administration is misusing its regulatory powers to make new policy rather than going through Congress — a charge Republicans frequently made against Obama.
One quirk of the new executive order is that in order to allow businesses to form their own associations, Trump is not altering the Affordable Care Act but rather another law altogether — the Employment Retirement Income Security Act of 1974, known as ERISA. This was the law that created these health association insurance plans outside of federal and state regulations.
ERISA plans have traditionally been used by large companies that self-fund their own insurance plans, and millions of people get their health insurance through this kind of insurance today. Trump's order would open up these plans not just to coworkers but to any group of companies "in the same line of business."
While the order does not fully repeal Obamacare, as Trump has repeatedly vowed to do, it could go a long way to reshaping it. If the administration is lax on enforcement and allows virtually any businesses to band together to form an association, it could create two distinct insurance pools — an unregulated one covering predominantly healthy people, and a more expensive regulated one for those who need more health care.
Outside Your Bubble is a BuzzFeed News effort to bring you a diversity of thought and opinion from around the internet. If you don't see your viewpoint represented, contact the curator at bubble@buzzfeed.com. Click here for more on Outside Your Bubble.