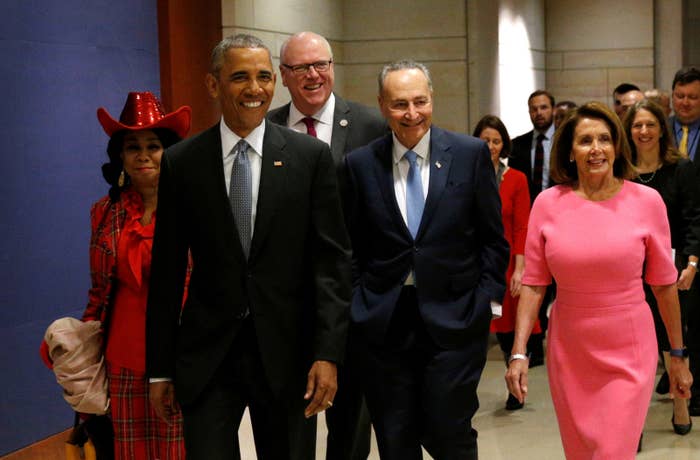 WASHINGTON — Congressional Democrats came out of a strategy meeting with President Barack Obama vowing to refuse to work with Republicans if they repeal Obamacare without a replacement plan.
Republicans have frequently promised to "repeal and replace" the Affordable Care Act. But while they are vowing to move rapidly on repeal, there are no details on a consensus replacement plan yet.
Obama met with Democrats on Capitol Hill Wednesday morning to chart out a plan to save Obamacare. They emerged from the meeting announcing they will not work with Republicans to craft that replacement plan if Republicans insist on forging ahead on repeal.
"We are telling Republicans, if you are repealing, show us what you'll replace it with first and then we'll look at what you have and see what we can do," said Senate Minority Leader Chuck Schumer.
"They're repealing, we're not. It's their obligation to come up with a replacement first and I think we have unanimity within our Democratic caucus on that position."
Though Republicans are about to control both Congress and the White House, Democrats say they can still rely on the court of public opinion and Republicans are going to quickly find themselves in trouble without a replacement for the health care law.
"The president laid out that we need to stay positive," said Rep. Joseph Crowley. "Rome wasn't dismantled in a day."
At a time when many states are seeing rising premiums and declining options, and the insurance industry is figuring out how to react to massive uncertainty, neither Democrats nor Republicans want to be seen as responsible for the fallout.
Earlier in the day President-elect Donald Trump tweeted a call to Republicans urging them to push health care problems onto Democrats. "Republicans must be careful in that the Dems own the failed Obamacare disaster, with its poor coverage and massive premium increases, like the 116% hike in Arizona. Also, deductibles are so high that it is practically useless. Don't let Schumer clowns out of this web. Massive increases of Obamacare will take place this year and Dems are to blame for the mess. It will fall of its own weight — be careful!" Trump wrote in a series of tweets Wednesday.
But Democrats say Republicans will have to own changes to the health care system from here on out — and they don't have enough votes to pass a replacement plan on their own.
"The Republicans say 'repeal and replace.' The only thing that has going for it is alliteration," House Minority Leader Nancy Pelosi said.
"They have no replacement plan because they don't have the votes for replacement. So to repeal and then delay is an act of cowardice."
Obama did not speak to reporters after the meeting, but several Democrats said he made a case for their party's accomplishments in health care reform over the past eight years, and urged Democrats to fight against reduced access to care while also being open to ideas from the other side.
"The personal stories are what really matters," said Rep. Michelle Lujan Grisham. "And we need to get those stories out there. I know that seems really practical, but people need to remember this fight isn't just about being here in the District [of Columbia]. It's about the fights back home in our districts that we represent."