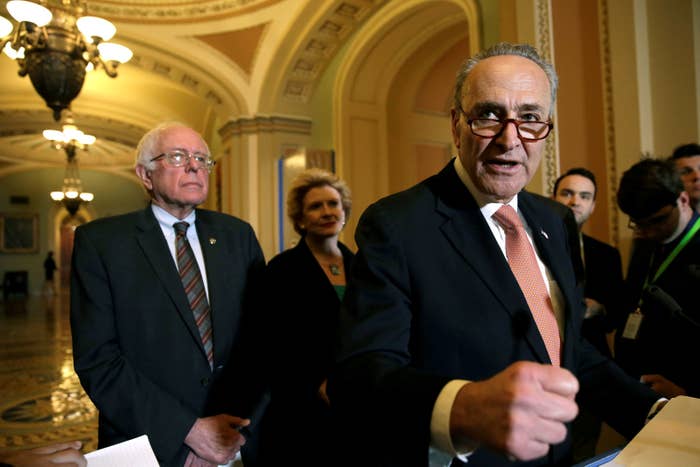 Democrats haven't been totally quiet about the Republican health care plan making its way through Congress, but they held back from going all-in as they waited to see if Republican negotiations would fall apart.

But after House Republicans revived the once-dead American Health Care Act and passed it through the House, and Senate Republicans, who are crafting a bill behind closed doors, appear to be close to having the votes to pass something, Democrats are finally shifting their strategy.
Senate Democrats are making their first major show of opposition in Congress Monday evening as they have announced they will enact a series of delay tactics, including blocking motions that are normally passed unanimously. They are also delivering a series of speeches throughout the night, an attempt to put the GOP health bill before committee study, and make a series of parliamentary inquiries to compare the current process to the passage of the Affordable Care Act.
"Now this is a bill that would likely reorder one-sixth of the American economy and have life-and-death consequences for millions of Americans…and it's being discussed in secret, with no committee hearings, no debate, no amendments, no input from the minority," Senate Minority Leader Chuck Schumer said on the Senate floor Monday.

Oregon Sen. Ron Wyden said that Democrats were taking this step to bring attention to the health care bill amid a hectic news cycle over the last few months. "I think the big challenge is that there is so much going on right now," he said.
"We are going to bring this up in every possible way," whether it's on the Senate floor, in committee, or with journalists, he said. "We're all in, this is go-time as it relates to health care — all health care, all the time."

As for whether Wyden will support efforts to slow or shut down the Senate's business on Tuesday, the Democrat said: "I'm supportive of what Sen. Schumer is trying to do, which is use the rules in the United States Senate to make sure that this critical topic doesn't get lost in a blur of news."
Schumer argued, in a speech on the Senate floor, that even though Republicans criticized Democrats for passing Obamacare without a single Republican vote in the Senate — they had gone through the hearing process and voted on amendments. In response to a question from Schumer, the Senate clerk confirmed Obamacare was debated over 25 days of consecutive Senate sessions, including an estimated 169 hours of total debate.
"Now that the shoe's on the other foot and Republicans are in charge, all those concerns and criticisms have disappeared. No committee process, no hearings, nothing, quite the opposite of what they called four or five years ago. What gall!" Schumer said.
Senate Republicans pointed out in a statement Monday night that Obamacare was initially designed behind closed doors as well, before it was brought to the full Senate for a vote, citing several news stories at the time.

Schumer and other Democrats called for the Senate to agree unanimously agree to send the health care bill through the hearing process, in which members from both parties could debate the bill publicly before it is brought to the Senate floor for a vote. But Republicans blocked those requests.
The Democrats' show on Monday night is mostly symbolic. Democrats can slow the gears but do not have the votes to block the health bill. That's because Republicans are using the Senate's budget reconciliation process, which requires 50 votes rather than the usual 60 (with Vice President Mike Pence voting to break the tie).
Exactly how close Republicans are to passing a bill remains a guessing game because negotiations are taking place entirely behind closed doors. Majority Leader Mitch McConnell has already placed the bill on the legislative calendar, meaning that if a deal is reached that 50 Republicans can support then it will move very quickly. The bill still needs to be scored by the Congressional Budget Office, but even that process is being expedited as the Senate is sending the CBO various policy proposals for pre-scores.
Republican Sen. Richard Burr told reporters that under the reconciliation rules, senators will get 20 hours to debate the health care bill before it's voted on as well as "an unlimited amount of amendments" that would be settled in what the Senate calls a "vote-a-rama" — basically an all-night session in which members vote on whatever amendments come up until they've exhausted their ideas for the bill (or decided they'd rather head home to their districts).
Asked if 20 hours is sufficient time to debate something that will affect one sixth of the US economy, Burr said: "I believe it is. That's about three [legislative] days."
When Schumer asked McConnell Monday night whether senators will get more than 10 hours to debate the final health care bill before members vote on it, McConnell responded: "There will be ample opportunity to read the amended bill."
"Obamacare continues to collapse. Republicans are working to implement better ideas. Democrats are trying to prevent Congress from acting," McConnell said on the floor Monday night.
Not long before Senate Democrats started their talk-a-thon on Monday night, Senate Majority Whip John Cornyn tweeted that Democrats were just obstructing and accused them of not working with Republicans to fix health care. "Senate Ds threatening obstruction this week. But what's new? They refuse to lift a finger to help with runaway premiums under Obamacare," he tweeted.
Senate Republicans hope to pass the bill before the July 4 recess. Then the House and Senate would take it up through the reconciliation process to see if they can reach a final agreement. Senators have said their bill will be substantially different from the House bill, but some House Republicans are warning that they will pull their support if too many changes are made.
Emma Loop contributed to this story.