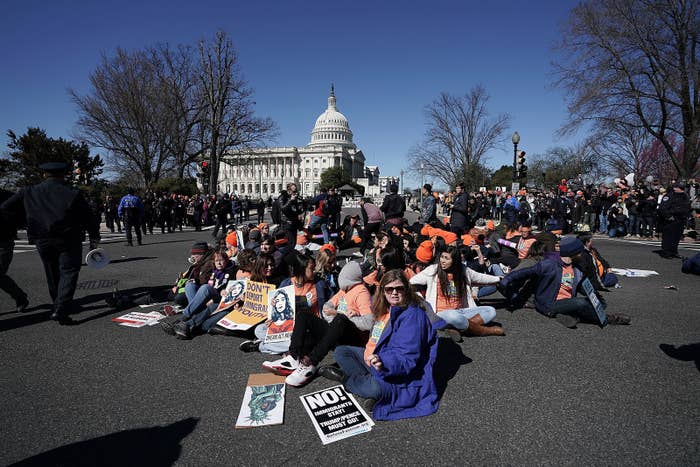 Tuesday was supposed to be the day House Republicans either reached an immigration deal or moderates would use their trump card. No deal was made, and then, no trump card was played.

A group of about two dozen moderates had been sitting on a discharge petition that was just three signatures short of hitting 218, at which point it would override House Speaker Paul Ryan and trigger votes on four immigration bills on June 25. They had been insisting they had the final signatures locked in and ready to go.
Ryan and other factions of the party were trying to head this off by working with the moderates on a Republican-only immigration bill instead. Because of a procedural deadline, moderates had to activate the petition by Tuesday for it to take effect this month.
A Tuesday evening meeting in Ryan's office ended with much talk of progress, but no legislative text and no deal. Hours later, the legislative day ended with no new signatures.
Members across the Republican Conference have negotiated directly and in good faith with each other for several weeks, and as a result, the House will consider two bills next week that will avert the discharge petition and resolve the border security and immigration issues," said Ryan spokesperson Ashlee Strong.

One of those bills will be the result of the current negotiations. The other, presumably, is the Securing America's Future Act, the only other Republican bill on the table. It is seen as too conservative to pass the House, let alone the Senate, because it dramatically slashes legal immigration and provides only limited help to DACA recipients.
This is a massive loss of leverage to the moderates, and a victory for the conservative Freedom Caucus, who is pushing for a much less lenient immigration bill. The Freedom Caucus has regularly banded together to maximize their influence. Moderates, who tend to represent swing districts, have been unwilling or unable to do the same.
This is also a relief to Ryan, who avoids the embarrassment of being overruled as speaker. Conservatives feared that the discharge petition would pave the way for a more liberal bill passing the House.
Almost every Democrat and about two dozen Republicans had signed the petition, and it came within three signatures of being activated. Reps. Dennis Ross and Dan Newhouse were expected to be part of the final push. Rep. Henry Cueller, the only remaining Democrat holdout, was expected to add his signature if it made the difference. In the end the moderate leaders were either bluffing or party leadership managed to flip back some of their supporters.
Republicans will continue to meet Wednesday and discuss a deal, though there is now less pressure to get a deal done quickly.
Moderates argued that they had no choice but to push forward with the petition given the urgency of America's current immigration system. In March, the Trump administration cancelled the Deferred Action for Childhood Arrivals program, or DACA, which grants legal residency to hundreds of thousands of undocumented people who were brought to the country as children.
Though most Republicans and Democrats alike agree that DACA recipients should not be deported, Congress has failed to pass any replacement program. Court injunctions have staved off mass deportations for now, but those legal cases should be settled by next year leaving DACA recipients future deeply uncertain.