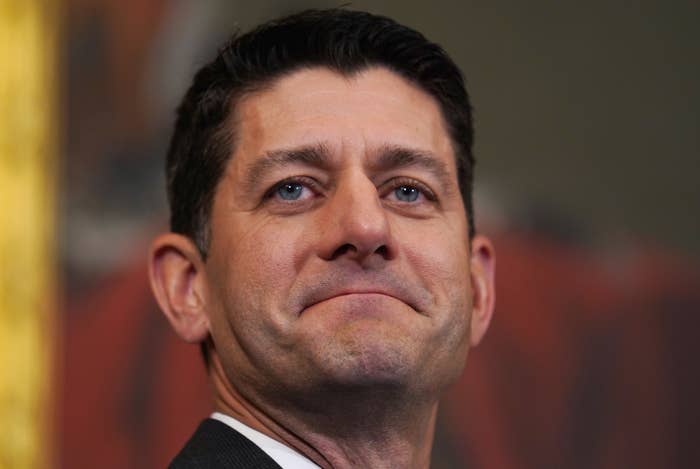 House Republicans may be on the brink of a historic immigration breakthrough as the party's dueling factions begin drafting a compromise bill that addresses DACA and border wall funding.
Or they may not be. The head of the group that supposedly offered the compromise package denies that a deal exists. Still, everyone agrees Republicans are drafting something and that they have a hard deadline to reach an agreement by Tuesday.
If talks fall through, moderates say they will activate their discharge petition Tuesday. That will trigger a series of immigration votes June 25, over the objections of Speaker Paul Ryan, and let Democrats potentially swing the balance of power.
Rep. Jeff Denham, a leader of the moderate group, said Thursday afternoon he has tentatively agreed to a proposal from the conservative Freedom Caucus. According to Denham, the deal involves:
* An eight-year-long pathway to citizenship for DACA recipients, people who were brought to the country as children and lived here essentially their whole lives. Trump canceled the program in March, and currently, the only thing shielding this community from deportation is court injunctions.
* The DACA population could more quickly gain citizenship by signing up for military service.
* The path to citizenship would come with certain conditions, such as avoiding a criminal record. It would apply not just to the approximately 700,000 people formally enrolled in DACA, but the "much larger number" of people who are eligible, whether or not they've enrolled. The Trump administration previously pegged this number at 1.8 billion.
* The citizenship path would come from combining existing visa programs into one new program that DACA recipients would be eligible for. This means the total number of immigration visas does not increase.
* The deal does not include e-verify, a proposal that would require checks that someone is a legal resident before they can be employed. If true, this would be a major concession from the Freedom Caucus, which has pushed hard for e-verify. The deal would include substantial amounts of money for border security.
Denham said his group has agreed in principle to the outlines of the bill but they are waiting to see the full text. He credits the threat of the discharge petition for getting a deal done.

"We needed a firm deadline. Because neither party has ever had a deadline on this issue and it continues to get kicked down the road for decades now. This should have been handled last year, but certainly it should have been done before [DACA expired] March 5," said Denham.
Confusingly, Freedom Caucus chair Mark Meadows denied there was any formal offer or deal. After a midday negotiation meeting Thursday, Meadows said the only consensus was "to be open and receptive to whatever we see."
Asked about signing off on an immigration bill that does not include e-verify, two other Freedom Caucus members expressed skepticism, though they did not definitively rule it out.
Caught in the middle is GOP leadership. House Speaker Paul Ryan is involved in the talks and his staff is involved in drafting the legislation, though the actual content will come from the negotiations between moderates and the Freedom Caucus.
Leadership is hoping to avoid the embarrassment of a discharge petition succeeding. It currently sits at 215 signatures, just three away from coming into action.
"I realize they're only three away, and the best we can do is basically make sure that we exhaust the possibilities of coming together as a House Republican conference to bring a bill to the floor that everyone can support," said Ryan.
Passing a Republican DACA bill through the House would be an unprecedented accomplishment, but it would still face long odds of becoming law. The bill would need to be approved by President Trump, but also win over 10 Democrats to pass through the Senate — assuming Senate Majority Leader Mitch McConnell even brings it to a vote to begin with.
"I don't know what the Senate's going to do," said Denham. "But I do know that the House has to do its job."