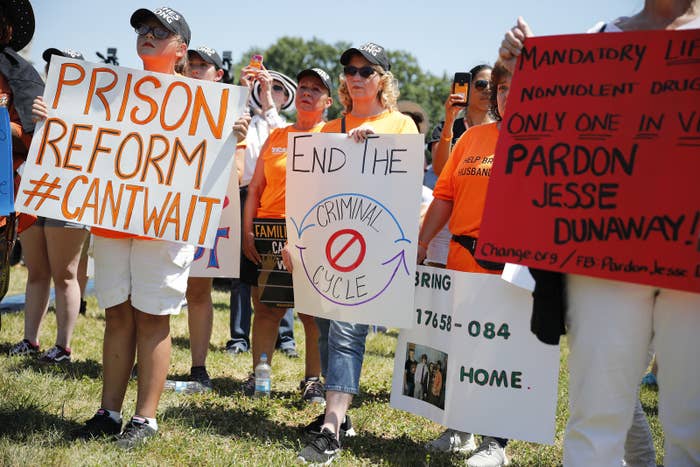 WASHINGTON — The Senate passed its landmark criminal justice reform package Tuesday night, teeing it up to potentially be passed into law by the end of the week.
The bill passed with a wide, bipartisan support vote of 87–12.
President Trump has endorsed the bill. Its major reforms include lessening "three strikes" sentences, granting exemptions to mandatory minimum sentences, and allowing for nonviolent offenders to work toward early release from prison.
Republicans have touted the package as being "tough on crime" while also restoring sanity to a justice system that saw people serving decades-long sentences for relatively minor crimes, such as nonviolent drug offenses. "There's got to be fairness to it," said Judiciary Committee Chair Chuck Grassley.
Congress had been trying and failing to pass criminal justice reform since the first term of the Obama administration. Many provisions had to be stripped out of the final package, but ultimately Trump and a majority of Republican senators were won over. "How do you eat 10,000 marshmallows?" said Grassley, describing the negotiations. "One at a time."
Criminal justice reform has also been a major priority of the Trump administration. The White House threw support behind the Senate bill, and Trump's son-in-law, White House adviser Jared Kushner, has been a driving force in the administration on the issue. Still, just weeks ago the bill seemed stalled as Senate Republican leader Mitch McConnell resisted putting the bill to a vote. He ultimately allowed the vote to move forward when it was clear the bill had overwhelming bipartisan support. McConnell ended up voting for it.
Sen. Cory Booker, a major reform proponent, said that a bipartisan group of senators had been working daily to win people over. In the end, longtime opponents like Sens. Ted Cruz and Orrin Hatch got on board.
"I'm very emotional. It's one of the main reasons I came to the Senate, to get this done," said Booker. "This got passed with 87 senators. It's a tremendous achievement."
Opponents of the bill tried to add new provisions during the amendment process that would have further restricted the bill and added new clauses, such as mandating that victims are notified when a prisoner is released. Those amendments, from Republican Sens. Tom Cotton and John Kennedy, were voted down.
Booker said House Speaker Paul Ryan has committed to picking up the bill quickly, putting it to a vote as early as Wednesday. It is expected to easily pass in the House and be sent to the president's desk to be signed into law.
The bill would grant relief to between 2,000 and 3,000 people still serving jail time under the old system when possession of crack cocaine was treated as 100 times more serious than possession of powdered cocaine. That disparity was greatly reduced in 2010 but was not made retroactive to people already in jail.
The bill also reforms "three strikes" laws by capping the second strike sentence to 15 years of imprisonment, down from 20 years, and the third strike to 25 years, down from a life sentence.
The bill allows prisoners deemed "low-risk" to earn early release credits by taking part in anti-recidivism activities such as behavioral courses. It also grants more leeway to judges to sentence nonviolent offenders to prison terms below the mandatory minimums.
Earlier versions of the bill would have allowed for a much larger share of the prison population to be eligible to work toward early release. But objections from some Republicans led to the bill including a longer list of crimes that would exclude someone from being eligible for early release. One of the biggest concessions was that many provisions of the bill will not be made retroactive, so people already serving jail time will not be eligible for early release.