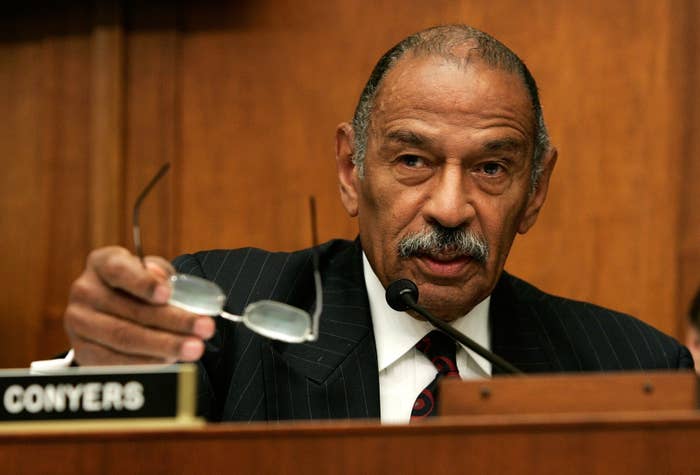 Democratic Rep. John Conyers said Tuesday he "expressly and vehemently" denies the sexual harassment allegations against him that were detailed in a BuzzFeed News investigation — as the House Ethics Committee launched an investigation into the matter.
Conyers also said he denied the claims at the time of the settlement with a former staffer and "continue[s] to do so."
"My office resolved the allegations – with an express denial of liability – in order to save all involved from the rigors of protracted litigation. That should not be lost in the narrative," Conyers said in a statement Tuesday afternoon. You can read the remainder of his statement below, in which Conyers also said he "will fully cooperate with an investigation" into the matter.

Conyers' comments after he told the Associated Press earlier Tuesday that "he knows nothing about any claims of inappropriate touching and learned of the story just hours earlier." A person involved in the case immediately said that Conyers did, in fact, know.
A person involved in the case — which went through the Office of Compliance which has a secret mechanism by which Congress has kept an unknown number of sexual harassment allegations quiet — said it had actually reached a point where he did know.
"We brought the complaint to the Office of Compliance. They didn't even tell him about it. You have to go through 'counseling' and all this stupid stuff. There's an informal mediation that takes place — the congressmen don't even know about this," the person said.
"He ended up knowing about this because we took it as far as you can take it before you get to the official hearing," the person said.
Conyers' office said Tuesday afternoon: "The Associated Press made an unannounced visit to the home of Congressman Conyers this morning. Congressman Conyers was under the impression the reporter was speaking of recent allegations of which he was unaware of and denied."

Conyers settled a wrongful dismissal complaint in 2015 with a former employee who alleged she was fired because she would not "succumb to [his] sexual advances."
The Ethics Committee began an investigation on Tuesday, saying it is aware Conyers "may have engaged in sexual harassment of members of his staff, discriminated against certain staff on the basis of age, and used official resources for impermissible personal purposes."
Michigan Republican Rep. Bill Huizenga became the first person to call for Conyers' resignation on Tuesday, saying that the Democrat should step down if the allegations by former staff that he used congressional funds to "fly in people from Washington DC for affairs with him" prove true. "If that's the case he ought to resign," Huizenga told Fox Business Network on Tuesday.
Earlier, House Speaker Paul Ryan said the investigation into Conyers was "extremely troubling."
"People who work in the House deserve and are entitled to a workplace without harassment or discrimination," Ryan said in a statement Tuesday morning, his first comments on the report.
Regarding the Office of Compliance, Ryan said: "Last month, I directed the Committee on House Administration to conduct a full review of all policies and procedures related to workplace harassment and discrimination," Ryan said. "Additional reforms to the system are under consideration as the committee continues its review."
He also noted that last week he implemented mandatory sexual harassment training for all congressional members and staff.

House Minority Leader Nancy Pelosi called for an ethics committee investigation in a statement provided to BuzzFeed News Tuesday afternoon, saying the House has "zero tolerance" for harassment.
"As Members of Congress, we each have a responsibility to uphold the integrity of the House of Representatives and to ensure a climate of dignity and respect, with zero tolerance for harassment, discrimination, bullying or abuse," Pelosi said. "As I have said before, any credible allegation of sexual harassment must be investigated by the Ethics Committee."
Asked Tuesday if he believes the Office of Compliance should release the names of other members of Congress who have settled sexual harassment claims, President Donald Trump told reporters: "I do. I really do. I think they should."
California Rep. Jackie Speier, a Democrat, had been pushing to overhaul the Office of Compliance even before BuzzFeed News published its investigation on the Conyers case on Monday night. In a statement Tuesday, Speier said the investigation "call into question the amount of money that is used to settle sexual harassment cases, and whether some Members are using their tax payer-funded office budgets to make settlements under the guise of severance payments. If this is true, the amount of tax payer money used to settle these cases is even higher than the number that's been provided by the Office of Compliance."

Pelosi again voiced her support for Speier's legislation Tuesday. "We must pass the Me Too Congress Act sponsored by Congresswoman Jackie Speier and enact other reforms to advance equity in all workplaces in America," the Democratic leader said her Tuesday statement.
Three top Democrats on the House Judiciary Committee, of which Conyers is chairman, also called for the Ethics Committee to investigate him on Tuesday.
"The reports about Congressman Conyers are as serious as they get," California Rep. Zoe Lofgren said in a statement to BuzzFeed News. "The Committee on Ethics should take up this matter immediately with a goal of promptly assessing the validity of the news account," Lofgren said in a statement to BuzzFeed News. "This reported behavior cannot be tolerated in the House of Representatives or anywhere else."
New York Rep. Jerry Nadler, the second most senior Democrat on the Judiciary Committee, behind Conyers, also called for a prompt ethics investigation.
"The allegations against Ranking Member Conyers are extremely serious and deeply troubling. ... There can be no tolerance for behavior that subjects women to the kind of conduct alleged," Nadler said in a statement. "We also must support efforts to reform the way the House of Representatives handles these matters to make the process easier and more supportive of victims, as well as more transparent."

Maryland Rep. Jamie Raskin said he supports an investigation and reiterated his support for Speier's legislation, adding: "I believe the U.S. Congress must be the nation's leader in opposing sexual harassment and ensuring that the American workplace is a site of safety, dignity and equity for all. We must lead not only by legislation but by example."
Both Speier also echoed calls for the Ethics committee to "immediately" investigation the harassment allegations against Conyers, calling them "serious."

Michigan Democratic Reps. Dan Kildee, Debbie Dingell, and Sandy Levin told the Detroit News that the allegations against their colleague make clear that Congress needs to overhaul its system for reporting and handling sexual harassment. Democratic Sen. Debbie Stabenow of Michigan also told MLive.com that she supports a full review of congressional policies on harassment, calling the allegations "deeply disturbing." Fellow Michigan Sen. Gary Peters, a Democrat, is out of the country and was not immediately available for comment, the site reported.
Michigan Democratic Party chairman Brandon Dillon called the allegations "incredibly serious and disheartening," telling the Detroit News that the party would implement sexual harassment training for all candidates and campaign staff that want the party's support in the future.
"We urge [Speaker Ryan] to order a full-scale inquiry into the abuse of authority that has pervaded the halls of power in Washington, along with state capitals across the country, for far too long," Dillon told the paper.
On Tuesday night, the editorial board of the Detroit Free Press, Conyers' hometown newspaper, called for the congressman to step down "now."
Here is the full statement from Conyers:
"I have long been and continue to be a fierce advocate for equality in the workplace and I fully support the rights of employees who believe they have been harassed or discriminated against to assert claims against their employers. That said, it is important to recognize that the mere making of an allegation does not mean it is true. The process must be fair to both the employee and the accused. The current media environment is bringing a much-needed focus to the important issue of preventing harassment in workplaces across the country. However, equally important to keep in mind in this particular moment is the principle of due process and that those accused of wrongdoing are presumed innocent unless and until an investigation establishes otherwise. In our country, we strive to honor this fundamental principle that all are entitled to due process. In this case, I expressly and vehemently denied the allegations made against me, and continue to do so. My office resolved the allegations – with an express denial of liability – in order to save all involved from the rigors of protracted litigation. That should not be lost in the narrative. The resolution was not for millions of dollars, but rather for an amount that equated to a reasonable severance payment. There are statutory requirements of confidentiality that apply to both the employee and me regarding this matter. To the extent the House determines to look further at these issues, I will fully cooperate with an investigation."