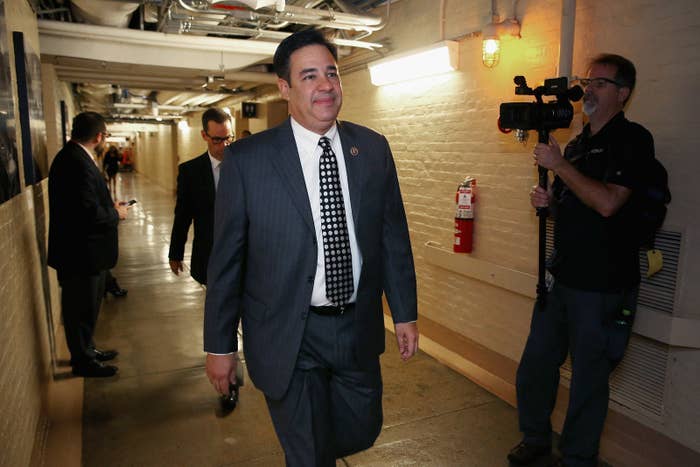 WASHINGTON — A group of Republican congressmen are attacking their own party leadership as "agents of our own obsolescence" if they let IRS commissioner John Koskinen off the hook.
The far-right Freedom Caucus is turning up the heat on Republican leadership by loudly declaring they will be letting down the American people if they don't support impeachment of the commissioner.
On Tuesday, Louisiana Rep. John Fleming filed a "privileged motion" in the House to impeach Koskinen. The House must act on the bill by Thursday, at which point any member of the House can call it up for a vote.

The vote puts party leadership in a tough spot. Actual impeachment is highly unlikely, as Democrats oppose it and many Republicans have little appetite just before an election. At their weekly "Conversations with Conservatives" briefing, Freedom Caucus members told reporters Tuesday that Republicans will be be standing with the Obama administration if they don't support the resolution.
"What we have in the House of Congress are agents of our own obsolescence, and it's because of the leadership of the Republican party," said Idaho Rep. Raul Labrador, paraphrasing the end of a George Will column.
Speaker of the House Paul Ryan has stayed publicly neutral on the resolution, but that hasn't stopped members of accusing him of planning to bury the resolution. Ryan's office did not immediately return a request for comment.

Fleming's motion can be adopted by a simple majority in the House. It would then go before the Senate, where a two-thirds majority would be needed to boot Koskinen from his job. It's unlikely that the Senate would take up such a measure, however, as Majority Leader Mitch McConnell is looking to quickly wrap up necessary legislative business — like a short term funding package and Zika funding — and leave town.

Conservative members accuse Koskinen and the IRS of politically targeting Tea Party-affiliated groups and lying to Congress about lost emails when it tried to investigate. The Republican-led Oversight and Government Reform committee voted to censure Koskinen back in June.
Kansas Rep. Tim Huelskamp, whose loss in the party primary fueled Freedom Caucus resentment of Ryan's leadership, said the party will likely try to hide the IRS vote.
Fleming, Huelskamp, and others charged this could be done through procedural slight of hand such as moving a censure vote against Koskinen before the impeachment vote. This would allow Republicans to support a symbolic vote of censure that would have no concrete consequences.
Fleming said he has not received any pressure from Republican leadership to hold withdraw his impeachment resolution. But he warned his colleagues that if they don't vote for impeachment they'll be seen as standing with the Obama administration.
"The American people have become very frustrated with Republicans because Republicans seem to be unable to or unwilling to hold high-level officials in this government accountable for their actions," he said.