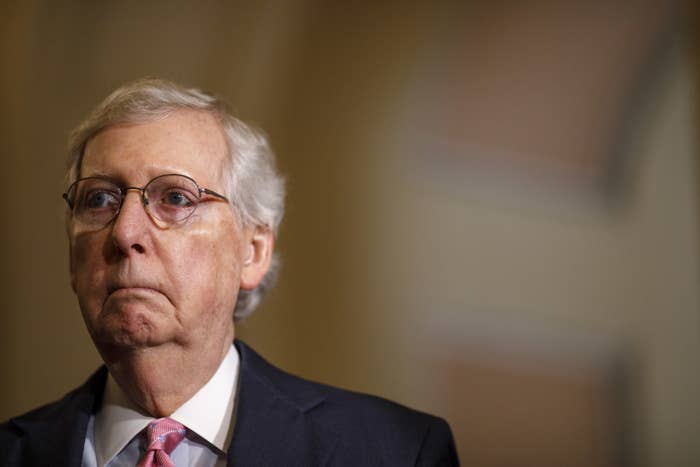 Congress will once again attempt to take up gun control after 19 students and 2 teachers were shot dead at a Texas elementary school days after a shooter killed 10 people at a Buffalo grocery store. This time, Democrats narrowly control the House and the Senate.

A handful of Republicans, such as Sens. Mitt Romney and John Cornyn, have expressed openness to changing gun control laws, but most remain firmly opposed to any firearm restrictions, including universal background checks. Sen. Ted Cruz is pushing for schools to only have one door in and out of the building.

But Republicans still have the power to filibuster any gun control bill in the Senate. On Thursday, Republicans successfully filibustered legislation intended to combat domestic terrorism. It takes all 50 Democrats and at least 10 Republicans to overcome a filibuster. Only 47 Republicans voted for the domestic terrorism bill.
If the parties cannot reach a deal, Senate Majority Leader Chuck Schumer could still bring forward a gun control bill for a symbolic vote, knowing it will fail.
"These families don't want thoughts and prayers, they want elected leaders to respond to their suffering," Schumer said Thursday. But in the next breath, he said Republicans are solidified in opposition to gun reform, signaling that any bill that comes to the Senate floor will likely be filibustered.

WASHINGTON — After dozens of people were gunned down across two mass shootings over the weekend, pressure is on Congress to address gun violence. If recent history is any guide, it will not.

"You can track every mass shooting that's happened in the last five or six years and look to see what Congress has done, and the answer is probably nothing," said Robin Lloyd, managing director at gun control advocacy group Giffords, named for the former member of Congress who was shot along with 12 others in a Safeway parking lot in Arizona in 2011.
Congress's only response to deadly shootings in places like Parkland, Las Vegas, and Sandy Hook Elementary School in Connecticut has been to fix gaps in the federal background check registry.
The reason is Senate Majority Leader Mitch McConnell. McConnell and Senate Republicans have successfully blocked any meaningful gun control measures from becoming law over the past two decades.
John Boehner and Paul Ryan, both Republican speakers of the House, also refused to put gun control measures to a vote when Republicans had the majority in the House. But in particular, the barrier has been the Senate, where 60 votes are needed to overcome a filibuster. Even when Senate Democrats have won a majority, they've needed Republican help to reach 60. They've never gotten it.
That could change, as Senate Judiciary Chair Lindsey Graham announced Monday he has reached a deal with Democratic Sen. Richard Blumenthal to jointly introduce legislation involving "red flag" laws that allow police, with the consent of a judge, to seize an individual's weapons in advance if they are deemed to be a threat to themselves and others.
Red flag laws are already in place in 17 states and the District of Columbia. Graham's bill would not expand them nationwide, but instead provide grant funding to states that set up red flag systems. Despite being less controversial than other policies pushed by gun control advocates, such as universal background checks and a ban on assault weapons, there are still doubts it will pass.
"I'm skeptical that Sen. McConnell will allow a proposal like this to move to the floor, based on history," Lloyd said.
Here's a rundown of the recent times Congress has tried, and failed, to pass gun control measures:
2019 — House tries to expand background checks
The Democrat-controlled House of Representatives passed two packages of gun control legislation: One would expand mandatory background checks for nearly all gun sales; about 1 in 5 gun sales are currently exempt from background checks because they are private sales, online sales from nonlicensed dealers, or sales at gun shows. The other would close the so-called Charleston loophole, which allows a gun sale to automatically go through if a background check is not completed within three days.
President Donald Trump declared he would veto the legislation because it placed burdensome delays on people buying firearms. To date, McConnell has refused to take up either bill in the Senate. House Democrats are now pushing for McConnell to bring the Senate back from their August recess to pass them.
2018 — Trump calls for gun control
After 14 students and three staff members were killed at Marjory Stoneman Douglas High School in Parkland, Florida, Republicans proposed a modest response: pass a bill ensuring that federal agencies report information to the National Instant Criminal Background Check System. But they found their plan lambasted by an unlikely source: Trump. "Some of you people are petrified of the NRA. You can't be petrified," Trump told surprised lawmakers at a White House meeting.
Trump called for stronger measures like universal background checks and raising the legal age limit for buying some weapons from 18 to 21.
But days later, Trump had what he called a "great" meeting with top NRA lobbyist Chris Cox. Cox then tweeted that Trump and Vice President Mike Pence "don't want gun control." No gun control measures came up for debate. In the end Congress passed only the original bill to improve the background check registry, and Trump signed it.
2016 — Democrats stage sit-in on House floor
After a shooting at a nightclub in Orlando left 49 people dead and 53 injured, House Democrats demanded a vote on a "no fly, no buy" bill that blocked people on the "no fly" list from being able to purchase firearms. But Speaker Paul Ryan refused to put the bill to a vote.

Dozens of Democratic lawmakers staged a sit-in on the floor of the House in protest. When Republicans responded by recessing the House, thus shutting off C-SPAN cameras, Democrats tweeted photos and live video of the protest, in violation of House rules.
Republicans dismissed the protest as a publicity stunt, and Ryan refused to budge. While the sit-in received a wave of media attention, it did not succeed. A day after it started, the Democrats ended their protest while vowing to continue to fight for the bill. It never went to a vote.
2013 — Feinstein tries to ban assault weapons
After 20 children and six teachers at Sandy Hook Elementary School were murdered, the Obama administration launched a gun violence task force that came up with a dozen recommendations for Congress. One of those was to ban assault weapons. A bill from Sen. Dianne Feinstein cleared the Senate Judiciary Committee, which was then Democrat-controlled, and went to a floor vote needing the support of 60 of the 100 senators to pass.
It fell well short. Republican senators criticized the bill as "a slippery slope of compromising the Second Amendment" — and all but one, then-senator Mark Kirk of Illinois, voted against it. Republicans were joined by 15 Democrats, and the bill failed with only 40 votes in favor.
2013 — Manchin–Toomey bill introduced to close background check loopholes
While the assault weapons ban was seen as doomed to fail, there was more hope for a bipartisan bill from Democrat Joe Manchin and Republican Pat Toomey. The bill would only have required background checks on all commercial sales of guns, a more modest proposal than the Obama task force's call for background checks on commercial and private sales.
The NRA attacked the bill and warned senators that anyone who voted for it would find themselves knocked on the group's report cards that score politicians for bring pro- or anti-gun. The bill ended up falling short by a vote of 54–46. Four Democrats, all of whom represented red states and are no longer in Congress, voted against the bill. Four Republicans (Susan Collins, John McCain, Toomey, and Kirk) voted for it.
2004 — Assault weapon ban
A decade after Bill Clinton signed an assault weapon ban into law, the ban was set to expire. Sen. Dianne Feinstein proposed legislation to extend the ban another decade and managed to get the Senate to attach her bill as an amendment to a Republican bill that would have shielded gun manufacturers from lawsuits. Another successful amendment would have closed the "gun show loophole" that allows firearms to be sold at gun shows without going through a background check.
Because of the amendments, the NRA campaigned to kill the legislation. The Republican sponsor, then-senator Larry Craig, urged his colleagues to vote down his own bill because of the amendments. The bill now was receiving fire on all sides, from those who objected to extending the assault weapon ban and those who objected to protecting gun manufacturers from liability. It was defeated in an overwhelming vote of 90–8. In fall 2004, the assault weapon ban expired and has not been replaced since.