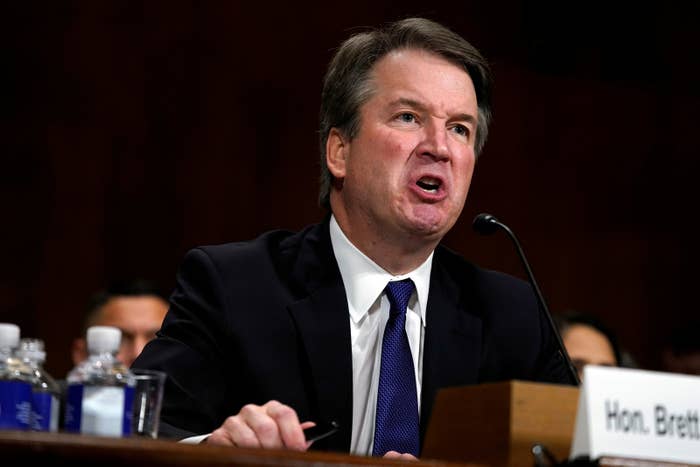 WASHINGTON — After an intense, nearly nine-hour Senate Judiciary Committee hearing over sexual assault allegations against President Donald Trump's Supreme Court nominee on Thursday, the question is what's next for Judge Brett Kavanaugh.
The Republicans in the Senate had the same question, scheduling a members meeting for Thursday night to discuss the upcoming schedule — in other words, to determine where the nomination goes from here.
The hearing itself focused on Christine Blasey Ford's allegation that Kavanaugh sexually assaulted her in high school — an allegation she said she was 100% certain of on Thursday and that he 100% denied — with occasional attention paid to other allegations made by women who were not invited to testify at Thursday's hearing.
In a smaller hearing room and much more closely controlled environment than Kavanaugh's previous hearing with senators — that had dozens and dozens of interruptions from protesters — Thursday's hearing only featured protests from Kavanaugh over the treatment he faced from Democrats. It also featured major disagreements between senators on both sides of the dais over the process that the other side has taken to address Ford's allegations.
So, what happens now?
Does the vote happen?
It seems so. Judiciary Committee chair Chuck Grassley scheduled a committee executive meeting for 9:30 a.m. Friday, and leaving Capitol on Thursday night Majority Leader Mitch McConnell confirmed the committee would vote. "The committee is going to vote tomorrow and we'll move forward," he said. McConnell did not respond when reporters asked if the Republicans had the votes to move Kavanaugh favorably out of committee
Grassley walked out of the Republicans' meeting Thursday night, saying only, "we're meeting at 9:30."
Regardless of how — and when — the committee ultimately votes, Kavanaugh's nomination can still move forward. The committee is only voting on its recommendation for the nomination — and the committee can send a nomination to the floor with no recommendation or even an unfavorable recommendation. Majority Leader Mitch McConnell could still schedule a vote on Kavanaugh in the full Senate even if the committee opposes him, but it is not clear that he would do so.

Republicans can only lose a single vote to confirm Kavanaugh in the full Senate, absent any Democratic support. Possible Republican swing votes Jeff Flake, Susan Collins, and Lisa Murkowski were spotted huddling with Democratic moderate Joe Manchin after the hearing. It's quite possible Kavanaugh's fate was decided in that meeting.
If the committee goes forward, what do Sens. Jeff Flake and Ben Sasse do?
Flake had previously asked Grassley to hold off on the scheduled vote until Ford could testify. He gave no sign which way he was leaning during his one short speech in the hearing and did not ask Kavanaugh any questions. "In the end, there is likely to be as much doubt as certainty coming out of this room today," Flake said.
Sasse, who has been mostly silent since the allegations became public, said on Thursday that he believes that Ford is a victim — but he also heavily criticized the approach his Democratic colleagues took to handling Ford's allegation.

Their votes will be key votes on the committee, as either one of them could flip the slim 11–10 Republican majority.
In the full Senate, are the Republicans holding onto their more moderate colleagues, like Sens. Susan Collins and Lisa Murkowski?
Collins and Murkowski have both expressed dissatisfaction with aspects of the Senate's and Trump's approach to dealing with the allegations against Kavanaugh.
The questions about those two senators — and other possible wavering Republican votes — are twofold: Will they ask for further investigation from the committee or otherwise for Senate Majority Leader Mitch McConnell to hold off a floor vote? And, if a vote does go forward, how will they vote?
Both Collins and Murkowski were targeted as possible no votes because of fears that Kavanaugh would be the deciding fifth vote to overturn Roe v. Wade. But Collins has since said she does not believe Kavanaugh would overturn Roe because it is settled law. If Kavanaugh's nomination fails, it will be due to the sexual misconduct allegations.
Regardless of the Senate, what will Trump do?
For now, Trump appears to be standing by his nominee, who said earlier Thursday that he would "never quit." As the hearing came to a close, Trump tweeted that Kavanaugh "showed America exactly why I nominated him."
If it appears Republicans do not have the votes and Kavanaugh isn't willing to step aside, the only person who can withdraw the nomination is Trump. Given Trump's apparent renewed strong backing of his nominee, it's not clear he would do so, setting up a possible confrontation between Trump and the party.
How quickly can Republicans bring this to a close?
If the committee votes as currently planned on Friday, McConnell can set the motions in place for a climactic vote on the Senate floor as early as Monday. If Democrats are unanimously opposed to Kavanaugh, it would take just two of the 51 Republican senators to vote no to prevent the nomination from moving forward, effectively killing it.
Although the power dynamic in the Senate means the focus is on Republicans, a secondary question is: Did Democrats miss an opportunity Thursday?
A large chunk of the Democrats' time questioning Kavanaugh was focused on asking him whether he supported the White House reopening the FBI investigation.
He repeatedly refused to answer, often saying he would defer to the Republican-controlled committee's decisions.
Sen. Kamala Harris, the last Democrat to go, noted that she had heard Kavanaugh asked four times about whether he, personally, supported reopening the FBI's background investigation — before asking a fifth time.
That focus, however, meant that many other areas of focus went unasked. When asked if it was a strategic decision to not ask any questions about the Deborah Ramirez or Julie Swetnick allegations, Democratic Sen. Chris Coons laughed and said, "we're not that organized."