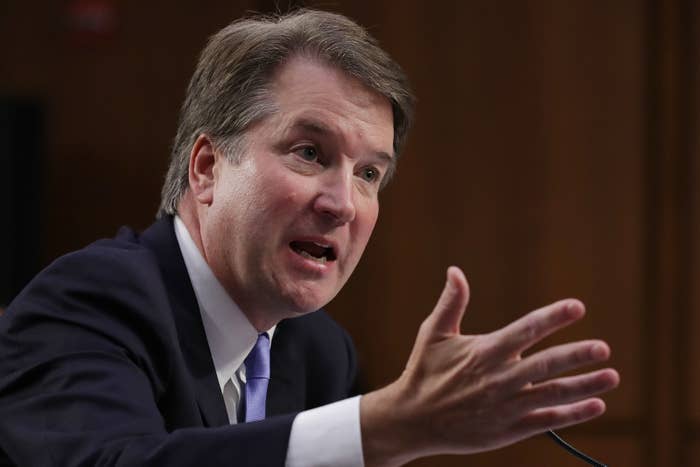 Ask any Republican senator and they'll tell you the current chaos around Supreme Court nominee Brett Kavanaugh is due to Sen. Dianne Feinstein withholding a secret letter until the last minute for maximum political impact.

But a closer look at the play-by-play of just how the world came to know of the letter containing sexual assault allegations against Kavanaugh tells a different story.
Rather than 4D chess and political gamesmanship, the events tell a messy tale of a politician losing control of the situation, news outlets struggling to stay ahead of the competition, intra-party tension, and a woman contemplating the loss of both her privacy and her life as she knows it.
Feinstein, the ranking Democrat on the Senate Judiciary Committee, obtained a letter over the summer dated July 30 that outlined allegations of sexual assault by Kavanaugh. She kept it secret, later explaining that she was following the wishes of the author, Dr. Christine Blasey Ford, who did not want to come forward.

Ford's lawyer agrees with that version of events. But the timing has raised questions, and this hasn't stopped Republicans and observers in the media from alleging a cover-up.
Top Republicans have spent this week accusing Feinstein of holding back the letter for political purposes. Majority Leader Mitch McConnell called Feinstein's conduct "disturbing" Tuesday. Senate Republican Conference Chair John Thune said there was "never a whiff of this letter until just this last week." Whip John Cornyn said he was "skeptical about rewarding this bad behavior" with a new hearing to look at the allegations.
Republicans have repeatedly made the argument that if these allegations are so serious, why did Democrats not bring them up earlier?
This has drawn exasperated responses from Democrats, even those on the Judiciary Committee who were also kept in the dark about the letter. They say that it is a foundational principle to honor the wishes of sexual assault survivors. This wasn't about politics, they argue, but letting the woman choose how and when to tell her story. "It's hard to push back against complete nonsense like that; it's hard to even find a foothold in fact to push back against," said Sen. Sheldon Whitehouse.
When asked, Republican senators have struggled to say exactly what Feinstein should have done differently. They won't say she should have disregarded the wishes of the woman. But when pressed, they have come down to the same point, the supposed smoking gun that reveals Feinstein's manipulation — the timing of the letter becoming public.
The letter did come to light late in the process — last week, after Kavanaugh's hearings were concluded — and through an unusual set of circumstances. In recent weeks there had been hushed, thirdhand talk about the existence of a letter and what it contained among Democrats both on and off of Capitol Hill. Some news outlets were on the case, including BuzzFeed News, which was tipped off by a source off the Hill. Feinstein was rumored to have a copy of the letter, as was Rep. Anna Eshoo, but both were keeping it a tightly held secret.
BuzzFeed News reached out to Ford in person, but she declined to comment. By mid-September no outlet had managed to confirm the story, and it seemed as if it might never come to light. Then, on Sept. 12, the Intercept reported on the whispers. Citing anonymous sources, the Intercept reported that Senate Democrats on the Judiciary Committee had asked to view a secret letter and Feinstein's refusal to share it was causing tension. Sources said the letter described "an incident" between Kavanaugh and a woman while they were in high school.
With the existence of the letter out in the open, reporters and senators took notice. That evening, Feinstein and Judiciary Committee Democrats huddled with Feinstein in the Senate lobby. Ford's lawyer, Debra Katz, was spotted in the building at the time of the meeting.
The next day, Feinstein referred the letter to the FBI. This for the first time confirmed that a letter involving Kavanaugh was real. But it had another consequence that may have been unintended. The FBI included a copy of the letter, with the name of the accuser redacted, in Kavanaugh's background file. Though a closely guarded confidential document, each senator and the White House then had a right to view the file, significantly expanding the number of people with access to Ford's allegations, which, at the time, she wanted to be kept private. It is not clear whether Feinstein knew the FBI would take this step, and her office declined to answer the question on multiple occasions.
Around this time, journalist Ronan Farrow was spotted in Palo Alto, California, where Ford lives and works.
On Friday, Sept. 14, two days after the Intercept story, Farrow in the New Yorker for the first time outlined the allegations in the letter: that Ford alleged that when they were both in high school, Kavanaugh pinned her down on a bed, groped her, attempted to remove her clothes, and put his hand over her mouth when she attempted to scream.
Two days later, Ford came forward in a Washington Post story confirming the allegations and making her name public for the first time. The Post reported that as well as writing the letter, Ford had reached out to the Post "in early July," but refused to go on the record for weeks as "she grappled with concerns about what going public would mean for her and her family — and what she said was her duty as a citizen to tell the story."
By late August, Ford had decided she did not want to upend her life by going public, the Post reported. But in September after being contacted by reporters, including BuzzFeed News, seeing the surge in media attention that followed the Intercept story, and seeing false information about herself spread, she changed her mind. "I feel like my civic responsibility is outweighing my anguish and terror about retaliation," she told the Post.
There is no evidence that Feinstein or her office leaked the story at any point in this process. If Democrats were once angry at Feinstein, they are now rallying around her. Asked about the reports that Judiciary Committee Democrats were frustrated with her secrecy, Sen. Chris Coons says they grew to understand.
"Well, until we heard the details — we came to understand what Sen. Feinstein was facing. Here was a person disclosing this information with the understanding that her identity would not be disclosed," said Coons. "It was a very tough position to be in."
None of this has slowed down Republican attacks on Feinstein. Through Tuesday evening they were continuing to accuse her of a "drive-by" in Senate floor speeches, claiming she intentionally held on to the letter until the "11th hour" to upend Kavanaugh's nomination.
Democrats are fighting for a full investigation that includes third-party investigators and putting witnesses beyond just Ford and Kavanaugh under oath. So far Republicans haven't given in, and continue to blame Feinstein for the haphazard process. When asked what the evidence is for their claim that Feinstein held back the letter to release it at the 11th hour, they keep pointing to the timing.
"Well, I understand that," said Republican Sen. John Kennedy when it was put to him that the woman had asked the letter be kept secret. "But anybody who thinks this doesn't have a political angle is like a rock, only dumber."