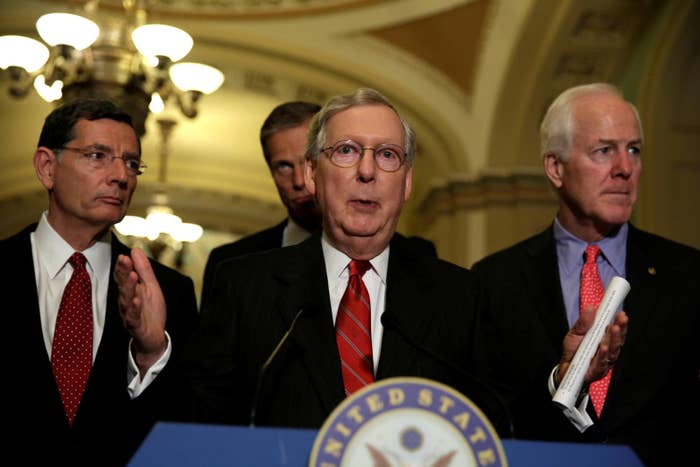 WASHINGTON — Congress has only been back in session for a few days but a "raw tug of war" is forming within Republican ranks.
Senate Majority Leader Mitch McConnell signaled Wednesday that he is in talks with Democratic Minority Leader Harry Reid and the White House on a continuing resolution to approve federal funding at current levels until December 9.
But they'll get a fight from the conservatives in the House, particularly from members of the Freedom Caucus, who insist that any continuing resolution must extend into the new year to get them past a lame duck Congress.
"Battle lines are forming, we'll see how much of a battle it proves to be," said South Carolina Rep. Mark Sanford.
"It's going to be raw tug of war between conservatives who want to go into the new year to avoid a lame duck session, lame president and a whole bunch of things coalescing against the taxpayer, and folks who say 'this is the best we can get'."
South Carolina Republican Mick Mulvaney, said a short-term CR "puts the ball right in Harry Reid and President Obama's court."

"I hate it," he said.
Mulvaney and Sanford are both members of the House Freedom Caucus — a deeply conservative group of members who are often at odds with their leadership. Freedom Caucus Chairman Jim Jordan said the group's position has been "very clear" to House GOP leaders. While Majority Leader Kevin McCarthy and Speaker Paul Ryan have indicated they would prefer a stop-gap spending measure to go to December, the entire Republican conference will meet on Friday morning for a closed-door session to discuss how they will move forward.
To win over the Freedom Caucus, a short-term CR would likely need to include provisions such as halting President Obama's plan to take in 10,000 Syrian refugees.

But McConnell isn't waiting: a CR could be approved in the Senate as early as next week. McConnell told reporters talks were underway on both a CR and a $1.1 billion funding package to combat the Zika virus.
Democrats have now filibustered the Zika funding bill three times over several riders they describe as "poison pills" that were added by Republicans.
McConnell said he's hopeful that both the CR and Zika issue could be worked out by next week.
But Louisiana Rep. John Fleming said Senate leadership is just trying to avoid a dramatic showdown.
"I do think they are making it as drama-free as possible because they've said so," he said.
Fleming and Mulvaney said they want the CR to extend to March. Fleming noted politicians will be more accountable then and a new president will be settled in.