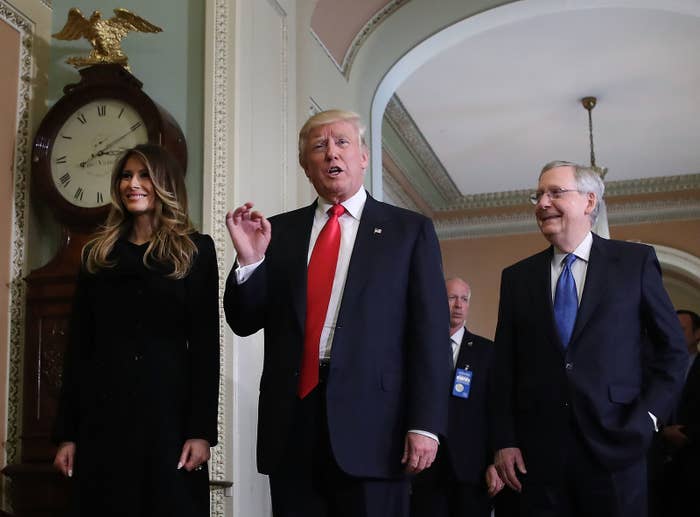 Senate Republicans have not been able to reach an agreement on a repeal bill but they may have found a new compromise — punting the decision down the road.

One Obamacare repeal plan was voted down on Tuesday evening and a second plan, to just repeal Obamacare and it replace it later failed on Wednesday afternoon, with seven GOP no votes. But Republicans are already looking toward the end of the week, when the true life-or-death vote will take place.
The current plan by Senate Majority Leader Mitch McConnell, according to a spokesperson, is to pass a bill — any bill — through the Senate just to move it ahead to the next step, which is a conference with the House. Senate and House Republicans would then try to hash out a bill that they hope can pass both chambers without any Democratic support.
The pitch from Senate leadership will be to pass a bare-bones repeal bill now, and then figure the rest out in conference. That bill is expected to repeal Obamacare's requirement that people who are able to buy insurance do so or pay a tax penalty, known as the "individual mandate." The mandate, which was used to help pay for popular measures that protect people with preexisting health conditions, is disliked among Republicans.
The Congressional Budget Office projects that repealing the individual mandate would lead to 15 million fewer people with health insurance compared to Obamacare over the next decade. The CBO projects many of those 15 million would be healthy people who leave the insurance markets because there is no incentive to stay, thus driving up premium prices for everyone else. As prices continue to rise, more people would be incentivized to drop their insurance, causing prices to rise even higher. This cycle is known as a "death spiral," and ends with insurance plans so expensive only people who desperately need care will buy them.
Republicans are aware of these issues, and McConnell will presumably argue they will be fixed later in conference.
In other words, McConnell will frame the vote not as a decision on a specific health care plan, but as a decision on whether to keep negotiating.
Here's the timeline of how that would work:
The Senate is already debating the health care bill, even though no one knows what the final bill will look like. Over the next three days there will be hours of debate and dozens of votes on amendments. But the only vote that will truly matter is the final vote.
There is expected to be an overnight session of votes on Thursday as Democrats and Republicans offer amendments to the bill, most of which will likely be voted down. Once that has been exhausted (likely sometime on Friday) McConnell will propose a final amendment that will serve as the new Obamacare repeal bill.
McConnell's office won't say what this bill will look like, but it is expected to be a pared-down bill that does away with Obamacare's individual mandate but little else. Neither conservatives nor moderates are likely to be too happy with such a plan but it has one thing going for it — it qualifies for the budget reconciliation process, and can thus be passed with just 50 votes (plus Vice President Mike Pence breaking the tie) rather than the usual 60. Republicans, who have 52 Senate seats, can pass it on their own.
If this bill does not pass, Obamacare repeal is dead for now. Republicans would have to start over from scratch, and may turn to Democrats to work on a bipartisan plan. They can only use the reconciliation process once per fiscal year, and they want to use the next one on tax reform.
If the bill does pass, Democrats and Republicans from both the House and Senate would put forward members to form a conference committee to negotiate a final bill. While Democrats would be present, only a majority is needed to pass any agreement, meaning Republicans could come up with a joint plan themselves. Then, that plan would need to pass both the House and Senate before it could go to President Trump's desk to be signed into law.
The conference will take at least two weeks, according to a McConnell staffer, because members will wait on scores from the Congressional Budget Office estimating the effects of different options.
"There's a consensus that we need to produce some outcomes," North Carolina Sen. Thom Tillis said Wednesday, before his colleagues voted down another bill to repeal Obamacare. "It's just moving the ball along because the problem doesn't get solved if we fail to produce an outcome."

If the last six months of debating and scrambling are any indication, Republicans would face many challenges in reaching a conference agreement on a bill that can actually pass both the House and Senate.
Hardline conservatives in the House pushed for and won on repealing Obamacare regulations in the House bill that the Senate quickly ignored. The House also voted for provisions that would defund Planned Parenthood and stop federal tax credits paying for insurance plans that cover abortion — policies that almost certainly cannot pass the Senate. Both were deemed to not fit the Senate's rules for the reconciliation process, and would thus need 60 votes (i.e., the support of at least eight Democrats) to pass.
It's also not clear whether Senate Republicans will vote to go along with this plan at all. If three Republicans vote against the final bill at the end of the week, the whole repeal effort dies without going to conference. Sens. Susan Collins of Maine and Lisa Murkowski of Alaska would seem to be solid no votes after voting against a motion to proceed to debate any of the health bills to begin with. But no third Republican joined them, and the motion barely passed with Pence there to break the tie. If that dynamic repeats itself at the end of the week, the Senate will be able to pass something on Obamacare this week, but nothing close to what Republicans initially wanted.
Emma Loop contributed to this story.