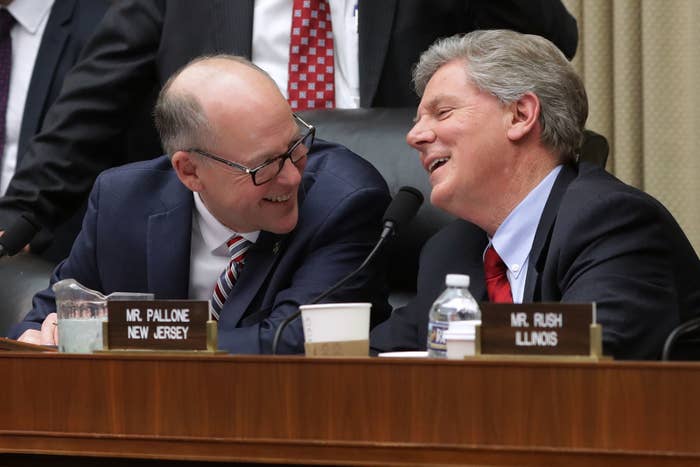 WASHINGTON — Republicans emerged groggy, but victorious, after a marathon overnight committee hearing on their American Health Care Act.

It wasn't always pretty, but after 27 and a half hours of debate, Republicans on the House Energy and Commerce Committee stuck together Thursday to move the AHCA forward by a vote of 31–23. Only one minor technical amendment was adopted.
What started Wednesday at 10:30 a.m. as a lively ideological debate about the future of American health care turned into a grueling battle of attrition after about 12 hours. Hypothetical constituents were invented, given names and personalities, and diagnosed with debilitating diseases.
"We're almost to the tweeting hour," one Democrat said as midnight approached.
Chairman Greg Walden speculated it may have been the longest continual markup session in the committee's history. At times there were pitched arguments and at other times near silence, as members of Congress stared at their phones lifelessly while another colleague spoke. Topics ranged from women's reproductive rights to the font of text on the pages of statistics Rep. Joseph Kennedy was throwing down like Bob Dylan.
At 2:30 a.m., sleep-deprived reporters checked to confirm they were not hallucinating when Missouri Republican Rep. Billy Long said he was voting in favor of stripping federal funding from Planned Parenthood in order "to protect the unborn miniature women."
Democrats objected to moving the health care bill forward before the Congressional Budget Office is able calculate its costs or impact on the number of insured Americans, but they had no power to stop it. What they could do was slow it down.
Democrats spent 10 minutes objecting when Republicans tried to shorten a speech by three minutes. An amendment to change the name of the AHCA to the "Republican Pay More For Less Care Act" was debated for three, increasingly surreal hours.
But at around 2 p.m. Thursday, after more than 27 hours, Democrats lost their energy and agreed to move to a final vote that passed along party lines.
But there was some final drama just before the finish line when Texas Rep. Joe Barton proposed a major amendment to curtail the Obamacare Medicaid expansion.
Then, moments after introducing the amendment, he withdrew it. Co-sponsor Rep. Marsha Blackburn said later they wanted to show the amendment to the public, but were not yet ready to move it forward.
"We're working it. We've made a tremendous amount of progress," said Blackburn.
The amendment is a clear pitch to win over conservative Republicans who are in open revolt over the AHCA.
As currently written, the bill would allow states to continue to enroll people onto an expanded Medicaid program, the publicly funded health care program for low-income people that was broadened under Obamacare, until 2020. After that, the more flexible criteria introduced under Obamacare would be reversed.
People already on Medicaid rolls at that point would be grandfathered in and Washington will continue to contribute to their care. About 11 million Americans are currently on Medicaid due to the Obamacare expansion.
The Barton amendment would make two key changes. It would give states only until 2018 to keep adding to Medicaid rolls, rather than 2020. And while it would not kick people off of Medicaid, it would significantly reduce federal funding as of 2023. States would essentially have a five-year window to figure out what to do with those 11 million people.
Barton said the Republican Study Committee and the right-wing Freedom Caucus both support the amendment, and the White House is still considering it. But it may be a tough sell for President Trump, who has repeatedly promised to defend Medicaid. And while it may win over far-right conservatives, it could alienate moderate Republicans in the Senate.
"We have members on both sides of that amendment," said chairman Walden.
But that fight is for another day. For now, Republicans have some progress they can point to. The next step is to send the bill to budget committee.
"I'm still standing. I don't have a clue what I'm saying," Walden joked after the meeting finally ended.