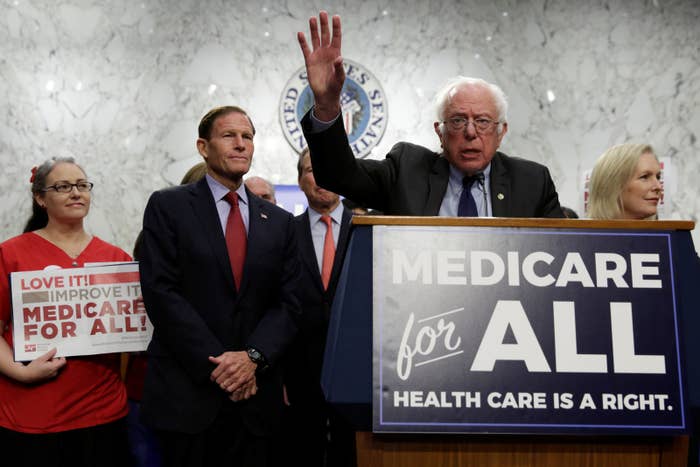 Sen. Bernie Sanders has won over several big-name Democrats and rumored 2020 presidential candidates for his new universal health care bill, but many of his more vulnerable colleagues remain unconvinced.

The Independent senator from Vermont introduced a Medicare-for-all bill Wednesday that would provide free health care to all residents of the United States and relegate the private insurance industry to the margins, covering only elective and plastic surgeries.
Sanders' bill is supported by several high-profile Democrats whose names have been floated as 2020 presidential contenders, though most of the endorsements came from blue-state senators. Big names include Sens. Elizabeth Warren of Massachusetts, Kamala Harris of California, Cory Booker of New Jersey, Kirsten Gillibrand of New York, and Al Franken of Minnesota.
In total, 15 Democratic senators have come out in support of the universal health care bill, a sign of the growing popularity of an idea that has conventionally been thought of as a political pipe dream.
But party leadership remains noncommittal, and Democratic senators in swing states have put distance between themselves and Sanders' plan. Missouri Sen. Claire McCaskill, who is up for reelection next year in a state President Donald Trump won by nearly 20 points, said Wednesday that many workers have sacrificed salary increases for better health plans and she would be reluctant to take away those plans.
"[Medicare-for-all] requires people to give up the insurance they have. I've been down the road of requiring people to do things the government says on insurance, and it's a road paved with big, rocky boulders," said McCaskill.
Senate Minority Leader Chuck Schumer said only that he would be looking at many options to expand health care. House Minority Leader Nancy Pelosi declined to endorse Sanders' bill and said the priority right now is protecting Obamacare.
Other Democrats echoed the view that the party should focus on improving the current system rather than creating a new one. "The decision was made in 2009 to go with a market-based system — the question now is how we improve the system we have in a bipartisan way," North Dakota Sen. Heidi Heitkamp, who is also seeking reelection in 2018, said in a statement.
"I've been down the road of requiring people to do things the government says on insurance, and it's a road paved with big, rocky boulders."
Virginia Sen. Tim Kaine, the former vice presidential nominee who is also up for reelection in 2018, is going a different direction than Sanders. He supports a plan that would keep the private insurance industry in place, but introduce a public option to compete with it — a proposal that was originally a part of the Affordable Care Act but was dropped before it became law.

"I'm going to be working with others to put in a public insurance plan that anyone can buy into in any zip code in the United States," said Kaine.
If some Democrats seem reluctant to take up the mantle of a single-payer health care system, Republicans seem positively giddy at the opportunity to fight it. When Republican Sen. Lindsey Graham introduced a last-ditch Obamacare repeal bill Wednesday morning he referred to his GOP colleagues as a "band of brothers" standing between America and universal health care. He framed the health care debate as a choice between his bill and "Berniecare" — although both bills having astronomically long odds of becoming law for the foreseeable future.
Under Sanders' bill, all residents of the United States would have health coverage (28 million people in the country currently have no health insurance). Going to the doctor or a hospital and many other services would be free. Unlike a public option system, there would be no deductibles or copays; health care costs would be entirely paid by the tax base.
The bill would expand Medicare to all residents over four years, and expand it to cover new areas such as dental, vision, and hearing aids. The result would be a system more broad than even Canada's, which does not cover dental and vision under its public health care system.
The bill would keep only a tiny remnant of the private insurance industry to cover elective procedures, such as plastic surgeries. Sanders' pitch is that the bill will cover everyone, liberate employers from the complex burden of providing insurance, and bring down costs by allowing the government to directly negotiate with drug manufacturers.
The question, of course, is how much this system would cost and how the tax base would pay for it. Sanders released a discussion document outlining several options, including raising income taxes for the wealthy, estate taxes, and capital gains taxes.
Sen. Chris Murphy of Connecticut, whose name is also tossed around in 2020 presidential race discussions, has not signed on to Sanders' plan but said he supports moving toward a universal, single-payer system. He said in an interview that expanding Medicare is just one of the ways to get there.
"I think the success of Bernie's campaign in 2016 was his willingness to talk about big, bold, easy to understand ideas," said Murphy. "Clearly, the American people still think we have work to do on health care, and Democrats need to have some big, easy to understand ideas on how we take the next step on health care reform."
Tarini Parti contributed reporting to this story.